Watchman Campground must be an icon in the world of National Park Campgrounds.  I heard so much about it, we were determined to get a site for our Lance 1685 camper — and not just any site, but a good one — for our stay in Zion National Park.
And we got the best spot in the campground… #B056R, Loop B.  We could hear the babbling brook and look out the trailer (or relax in the campsite) and look directly at Watchman Mountain.  Does it get better than this?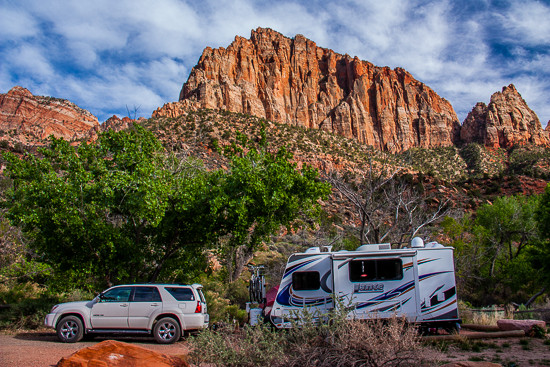 However, as it turned out, the spring break crowds had even the rangers apologizing to us for overcrowding, and the relaxation that Watchman Campground provided was even more crucial to our enjoyment  – in fact, I think I can say it was the HIGHLIGHT of our visit to Zion.   Sad, because it was simply a bad choice of a time to visit, but we didn't know that when we made the reservation six months in advance.
Speaking of making a reservation in the most popular campgrounds.  It's CRUCIAL … and more difficult than I ever imagined.  Click here for 10 Tips for Getting the Best Campsite Reservations!  Little things make a big difference and I never would have imagined!
Website:  Watchman Campground, Zion National Park
Campground/Park Map:  Watchman Regulations and Official Site Map
Reservations: Recreation.Gov/Watchman or call 877-444-6777
Local Park Telephone Number:  1-435-772-3256

Showers:  No Shower Facilities, but nice flush toilets and outside utility sinks.

Scenic Value:  Best anywhere.  The photos say it all – and there are thousands of photos, luckily, I've just imposed a few on this blog post!  Even better, you can easily walk to the main Visitor Center where you catch the shuttle bus into the park. If you're camping, you can leave your vehicle in the campground.  Here's a link to a page with more info including the current shuttle schedule.   There's no driving your own vehicle into the best parts of the park, but the shuttle buses are free and run every 10-15 minutes during busy times. Plus they run on propane, so there's no nasty air pollution from all the buses!
Mosquitos/Bugs:   None in April 2015.  Your experience may vary.
Noise Levels:  The most noise was actually from the commerical campground across the creek.  But it's a distance away and not noticeable … usually.
Campsite:   Level and easily the nicest campsite we have ever had the privilege to occupy.  The only downside was the fire ring was too close to the picnic table after we rearranged to fit both a tent and our 21′ travel trailer on the site.  But not a big deal.  We had plenty of room to set out our patio mat & chairs and enjoy the Watchman Mountain view.
Claustrophobia Quotient:  No claustrophobia in the campground, although there wasn't a great deal of separation between sites, they were nicely spaced.  Since our little compound was facing the mountain and not the campground, we couldn't see another camper unless we left our area to walk to the restroom or Visitor Center.
The claustrophobia issue in the PARK itself was another issue.  It was horrendous!  We didn't hike Angel's Landing even though it was on our "must do" list because it was too windy and WAY overcrowded.  The Ranger at the ranger station recommended against it and gave us some good advice for areas to hike that would not be overrun with too many people.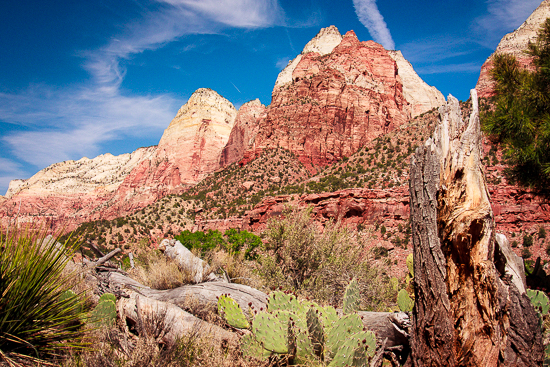 Access to Essentials:
Springdale is limited in what is available to purchase.  Like most places in Utah, buying spirits, wine and beer is very difficult, although there is one place at the far end of Springdale that sells wine … ask me how I know.  Come stocked with whatever you may want for however long you're staying.
Campsite Price  Our "riverside electric campsite" was $20/night with electricity ($10 with our half price senior pass). I understand camping prices are increasing January 1, 2016 to $30 a night for campsites with electricity – so we would have paid $15 with our half price senior pass.  Still quite a deal! 

Have you camped at Watchman Campground?  Any other advice or important information for those looking to camp here?  Please leave a comment and share!  Cheers!  Jan