One of the things we discovered as we visited lighthouses down the Outer Banks and all the way to the Florida Panhandle, is every lighthouse has a story.  Apparently the original engineers didn't always understand shifting sand and how far back from the surf a lighthouse needed to be over time.  Such was the case with the Cape St. George Lighthouse on St George Island, one of our favorite places.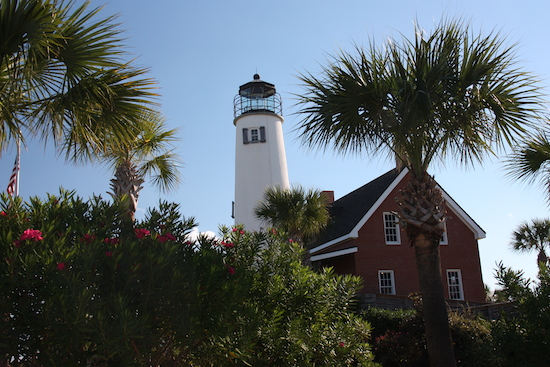 The Cape St. George Lighthouse was erected in 1852 on the southern tip of Little St George Island, 8 miles from Apalichacola, FL.  For 153 years it weathered hurricanes, wars (turned off for 3 years during the Civil War so it didn't aid Yankee ships), erosion, wind, waves and weather. Until it literally toppled into the ocean in October 2005, surprising two fishermen who happened to be in the area at the time.  The historic lighthouse was the 3rd in a succession of lighthouses built and re-built because the original position was misjudged – the first was erected in 1833 and abandoned in 1846.   The replacement was built in 1848 and flattened by a hurricane in 1851.
The lighthouse was deactivated by the US Coast Guard in 1994 after Hurricane Opel left it listing at more than 7 degrees – the leaning lighthouse of St George became a landmark.
Immediately after collapsing into the ocean, the local St George Lighthouse Association which had taken steps to save the lighthouse in the past, stepped in and started salvaging everything possible, reclaiming it from the ocean waves.
All in all St George Lighthouse Association volunteers cleaned the mortar off 22,000 (TWENTY TWO THOUSAND!!!) individual bricks in preparation for rebuilding the lighthouse in a safer place on the island.   Every Friday afternoon/evening for 18 months, the social event of the island was held, cleaning bricks, and preparing the lighthouse to be rebuilt.  Some said eventually even the volunteers prayed for rain on Friday so they'd have a week off.  But they perservered and obtained the original plans from the National Archives in Washington D.C. so the lighthouse could be rebuilt to the original specifications with as much of the original materials as possible.
It's fascinating for a visitor to walk through the exhibits, but the best part is to get the visitor center volunteers talking – they know which bricks were from the 1833 lighthouse, which were from the 1848 lighthouse and which were from the 1852 version.  They were the ones that did the cleaning and restoration of the lighthouse and there are many fascinating tales – I literally could have stayed all day listening to lore about this lighthouse.
Climb the 92 steps to the top, marvel at the view and each cleaned brick and do NOT miss the visitors center and the opportunity to chat with the folks that actually restored the lighthouse!
Do you have any lore to add to this fascinating lighthouse?  Please leave a comment and share!  Cheers!  Jan