Life on a boat (or in a travel trailer) frequently involves pot lucks. Pot lucks are never something I'm good at, despite being a cookbook author.
They always seem to spring up when I least expect it and I'm never prepared. Like the night after our overnight sail…  a Full Moon Party Pot Luck with a band, "Lung".  It's our experience that almost any band playing anywhere near Key West is usually pretty talented.  Sounded like fun and David really wanted to go, but what to bring?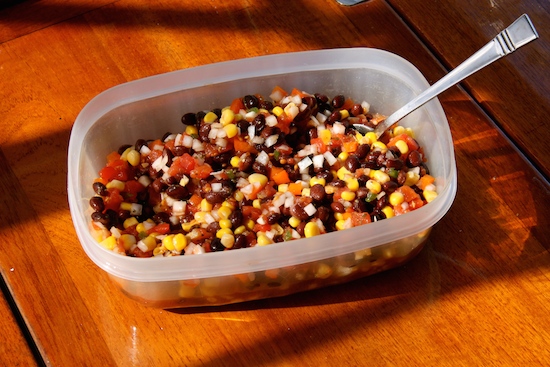 Luckily, I had almost all the ingredients on hand for Black Bean, Corn and Tomato salad, which is colorful and always a hit.
It's on page 156 in The Boat Galley Cookbook, but I embellished a bit. I didn't have any fresh cilantro, so in keeping with the theme of The Boat Galley Cookbook, I improvised (there's an entire chapter of the book devoted to substitutions which comes in very handy FYI). In this case, since I was only missing the cilantro, I substituted dried cilantro spice. But when I tasted the salad, it was clear the fresh cilantro is what gives it the most flavor.
It needed more flavor. Looking through the refrigerator, I found part of a jalapeno pepper, an orange bell pepper and some Tabasco Smoked Chipolte Sauce which I would happily add to everything.
Here's the recipe and the "extras" that made it really good! Remember, The Boat Galley Cookbook not only has an entire chapter devoted to Substitutions, but also a chapter devoted to Potlucks! If you don't have it onboard, maybe you should! Click here for more information, to read all the Amazon reviews or just to order it!
Black Bean, Corn and Tomato Salad
3 Tablespoons Lemon or Lime Juice
2 Tablespoons Olive (or Canola) Oil
1 16 oz can black beans, rinsed and drained
1 8 oz can corn kernels
1 tomato chopped (I used a can of diced tomatoes because I didn't have a fresh tomato on hand)
1 small onion chopped
2 Tablespoons minced fresh cilantro (I substituted a teaspoon of dried cilantro, but it wasn't the same)
dash of cayenne (I dashed more than a dash of Tabasco Smoked Chipolte Sauce)
1/2 orange bell pepper, diced
1/4 jalapeno pepper, no seeds and finely diced
Salt/Pepper to taste
Mix the lime juice, olive oil and salt/pepper.  Stir in the remaining ingredients. Let marinade in the refrigerator – best is overnight, but I only had a couple of hours.  For a quick meal, add a can of chicken.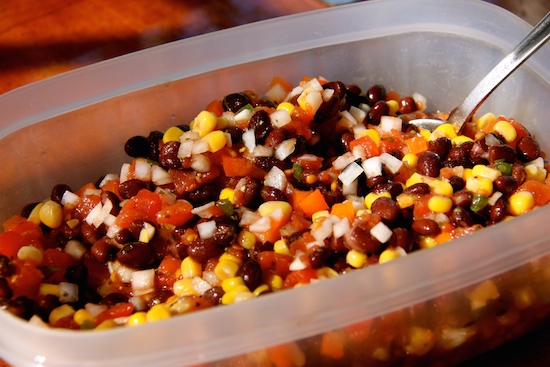 It turned out to be a wonderful evening – great music, plus we met several more potential cruising friends!  And the Black Bean, Corn and Tomato Salad disappeared early.  Gotta love a good potluck!
What's your favorite dish to take to a potluck?  Please leave a comment and share.  Cheers!  Jan