Saguaro is the giant iconic cactus that symbolizes the US Southwest with more cameo appearances in Western movies and Cowboys & Indians flicks than all other symbols combined!  I was amazed at how much we learned about this towering cactus from visiting Saguaro National Park!
1. Surprisingly, Saguaro are found nowhere else in the world other than the Sonoran desert with the Saguaro National Park residing at the US eastern edge.  The Sonoran Desert occupies parts of southern California and Arizona, but resides mostly in Mexico, including the Baja Peninsula.
2. Saguaro are very slow growing cactus. A 10 year old plant might only be 1.5 inches tall. Saguaro can grow to be between 40-60 feet tall and live between 150 – 200 years.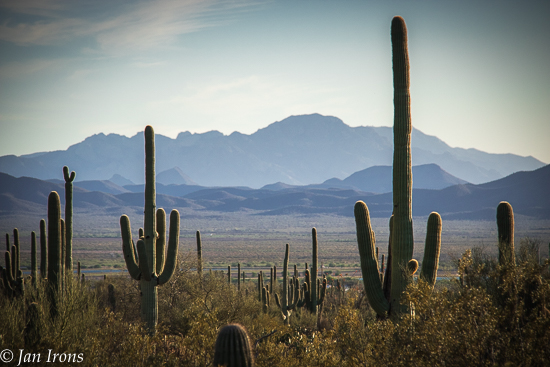 3. They don't even start to grow their famous arms until they're 95-100 years old and stand 15-20 feet tall.
4. At 125 years old, saguaro are finally considered adults and can be 40-60 feet tall and have as many as 25 arms.
5. The tallest saguaro ever towered 78 feet in the air!  At an average building story of 11 feet, this saguaro would be taller than a 7 story building!  Yikes!!!
6. After the first 35 years or so, Saguaro have white flowers with waxy creamy white petals that appear from April through June, opening after dark and closing mid-afternoon.
7. Saguaro have ruby red fruit in June.  The fruit is 3 1/2 to 4 1/2 inches long and contains thousands of seeds.  The Saguaro fruit is prized by many native cultures and they are legally allowed to harvest it in Saguaro National Park and other protected grounds.  The harvest itself sounds fascinating – the fruit must be harvested using a long pole.  Some native people even make a fermented drink to celebrate the beginning of their summer growing season.  Too bad we weren't there in June!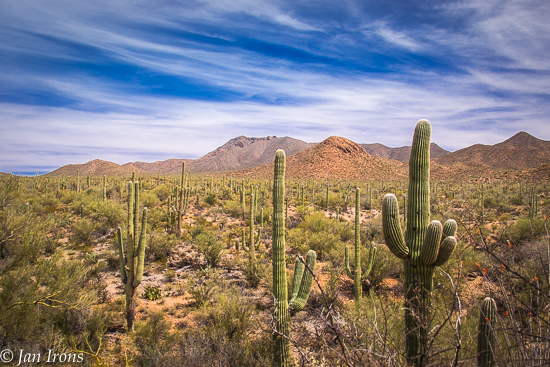 8.  Despite their extreme size, Saguaro have small root systems.  Most saguaro roots are only 4-6 inches deep but radiate out as far from the cactus as it is tall.  There is a tap root which extends into the ground more than 2 feet – which in relation to a 50 foot plus tall saguaro, is not very deep!
9.  Saguaros have "pleats" that expand when they store rainwater.  These pleats all have woody ribs.  After the saguaro is dead, the ribs are used to build roofs and fences.
10.  The Saguaro is not currently listed as endangered or even threatened.  Arizona has strict laws prohibiting harming or moving of Saguaro.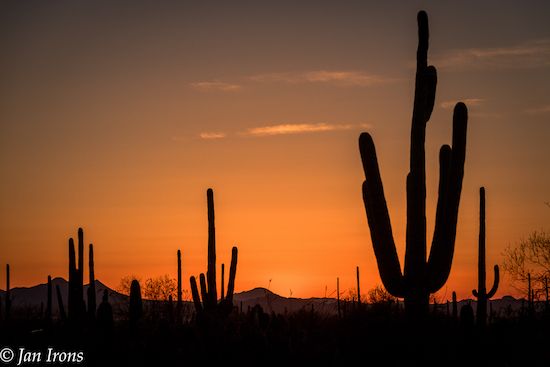 Fun Things to Do In Saguaro National Park
We had a very limited 2 days, so we crammed in as much as possible.  If you hope to attend a ranger walk or program, be sure to call ahead and see if you need to sign up.  We were unable to attend any programs because of our impromptu visit which was unfortunate.
Take in the Visitor Center Museum and of course, the movie!
2. Have a picnic at the Signal Hill Picnic Area (be sure to check under your picnic table for rattlesnakes before sitting down!)
3. After lunch, hike to the top of Signal Hill to see the petroglyphs.
4. Drive the scenic Bahada Loop Drive.  There are several hikes off the drive, take a walk, but watch out for rattlesnakes.
5. Walk the Desert Discovery Walk – go a bit before sunset to walk the half mile trail and read all the exhibits.  Then pick your favorite spot for a great sunset photo (or 25) with the mountains in the distant background and saguaros galore.
6. Take more sunset photos!!!
Where to Camp/Glamp
We opted to stay outside the park, but close in the Desert Trails RV Park and for us, it was a wise decision. Desert Trails is 11 miles from the national park and is surrounded by trails and desert.  It didn't hurt that good friends recommended it.  We also enjoyed the free musical entertainment and swimming pool!
Gilbert Ray Campground is a county campground that is actually closer, but no showers and questionable electrical service (after we had just been camping in 107 degrees with no A/C and no electric) seemed a bit over the top.  I'm a wuss, I admit it.  I don't mind being overheated for 10 days or a couple weeks, but beyond that I want a couple day break from the heat!
Enjoy your visit to Saguaro National Park! Please leave a comment and share!  Cheers!  Jan