It's off season for commuter cruisers, as we anxiously wait out hurricane season closely watching every "Invest" or more. But we don't just sit around worrying, oh no!  Too much to do in life to waste a day sitting around.  We just returned from a long weekend in Denver to visit our son, Billy.  If you have 4 days to spend in Denver, we have some ideas you may want to incorporate into your trip.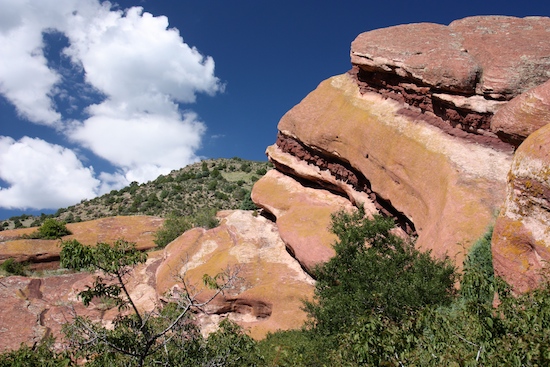 Hiking the Trading Post Trail at Red Rocks. "Only 1.4 miles" at 6.400 altitude was challenging. The hot hot temps didn't help.
Day 1:  Head out of town to (1) Red Rocks State Park and Amphitheatre.  Denver is at roughly 5,200 feet and Red Rocks adds another 1,000 feet which makes it a perfect "acclimatizing" first day.   Be sure to visit early in the day as concert crowds start early … or if you're lucky enough to have concert tickets, be sure to go early and enjoy the park.  After enjoying a quick tour of the museum to acquaint ourselves with the history and geology of the area, we hiked the Trading Post Trail, which at 1.4 miles winds through some amazing red rock formations.  When everyone recommended Red Rocks as a must see during our short weekend to Denver, my thought was why should I waste time going to some amphitheatre, even if it is scenic, when the Rocky Mountain National Park is so close….   trust me, spend a few hours at Red Rocks.
We had a late lunch at (2) Snarf's Capitol Hill – close to Billy & Laura's apartment in Capitol Hill.  Literally the best sandwich I ever ate, try it, you won't be sorry.   Then a mandatory trip to (3) REI's flagship store located downtown on the Platte River in Denver where we spent too much money, but did get several needed items on clearance (is that rationalizing or what???).   🙂
A late dinner was take out at (4)Wokano Asian Bistro – I can recommend the Pad Thai and David loved the Sesame Chicken – followed by a highly competitive card game of Monopoly Deal rounded out our first evening in Denver. (Be careful, Monopoly Deal is a blast, Monopoly Millionaire, not so much, in our opinion…)
Day 2:  White water rafting?  ME?   Not just NO, but HELL NO!  I am NEVER going white water rafting.  Never say never, I blew that one too & I am SO glad.  It was an amazing experience.  We chose the (5) Colorado Adventure Center's beginner trip on Clear Creek.  Only 45 minutes-ish from Denver in Idaho Springs, the rafting company was located in a really cool old gold mine (with a free self-guided tour) and featured beginning rafting — some level 2 rapids and a couple 3 minus rapids, created especially not to scare scaredy cats like me.
Lucky for me, Laura had never been white water rafting either and it wasn't high on her bucket list, but we all had a good time.  We deliberately chose an 11 AM time slot, because August is "monsoon season" – afternoon thunderstorms starting as early as 2 PM which can be wicked … or non-existent, but even the weather forecasters never seem to know.    The time on the creek was only a bit over an hour and was appropriate for little kids as well as me.  Next time, we'll try something a bit more adventurous.  The down side was that since it's so close to Denver, the rafting isn't through pure wilderness, but the up side is that it wasn't scarey and it was a perfect introduction.
After rafting, we were ravenous, so we stopped and devoured BBQ and the local micro-brew. (6) Smokin' Yards BBQ and Tommyknocker brew were both winners.  On the way back to Denver, David spotted the (7) "Buffalo Bill Overlook and Grave Site" — Laura & Billy both recommended it,  so we made a quick side stop.  Great view & interesting history.  I didn't know Buffalo Bill won a Medal of Honor which was later taken away and then restored!
Later we stopped at the (8) Boulder Running Company to get David some new tennies – his were drenched from white water rafting and worn out anyway.  So he had no dry shoes for hiking in the Rocky Mountain Nat'l Park scheduled the next day.  Not good.  We followed up by a 2 1/2 mile loop walk around (9) Washington Park to make sure the new shoes worked before hiking.   Billy made dinner!  A special treat!
Day 3:  After much debate about where to spend our one day hiking in (10) Rocky Mountain National Park, Emerald Lake in the Bear Lake area, close to Estes Park was our choice.  It was close to Denver – thunderstorms were forecast for the afternoon & we had to get an early start to make sure we got in some hiking before the storms.  Turned out they held off, but we enjoyed 5 1/2 miles+ hiking at the highest altitutes yet – Emerald Lake is over 10,000 feet and we also hiked down to Glacier Gorge and enjoyed the Alberta Falls.   Wow.  Words do it no justice, and neither do my photos, but trust me, it's well worth a day.  We stopped in Estes Park at the Safeway Supermarket and picked up fruit and snacks for the morning's hike.
After a late lunch at (11) Mountain Sun Brewing Company in Boulder we retired to our own apartments for the evening – everyone was too exhausted to think about going out for dinner.  BTW, we booked an apartment near Billy's apartment in the Capitol Hill region of Denver via AirBnb.  Never heard of AirBnb?  Here's a description from their website – check it out, it's vastly superior to a hotel room!  "Whether an apartment for a night, a castle for a week, or a villa for a month, Airbnb connects people to unique travel experiences, at any price point, in more than 34,000 cities and 190 countries. And with world-class customer service and a growing community of users, Airbnb is the easiest way for people to monetize their extra space and showcase it to an audience of millions."   We definitely appreciated our one bedroom apartment and cozy couch with big screen TV after hiking.
Day 4:  David and I explored by taking the (12) 16th Street Mall free bus down the mall and then walked through the parks and over the pedestrian bridge over the Platte River right downtown.  Then Billy picked us up and we drove out to Mount Evans/Echo Lake hoping to drive to the top – at 10,600 feet, it might have been the highest place I've ever been (even higher than Macho Picchu in the Peruvian Andes).  But when we got to Echo Lake at 10,600 feet, we had light rain and clouds and opted for a hike around the lake and enjoying the views rather that attempt the drive to the top (with no guard rails on a reportedly twisty mountain road).
After a snack at (13) Illegal Pete's downtown, we made a quick stop at the renowned (14)  Tattered Cover Bookstore.
If you don't know about the Tattered Cover Bookstore, it's everything a bookstore should be – and some were before Amazon and the internet took over books.  A real old fashioned bookstore with nooks to browse and coffee and everything I could want to spend an entire day — but it wasn't to be since we didn't have an entire day.
Then a surprise for my birthday!  Billy treated us to a visit to the (16) Denver Botanic Gardens.  If you're saying WHAT?, just go and see for yourself.  While we were there, the Chihuly blown glass exhibit was incorporated into the extensive gardens (through November 30, 2014).  It defies words, so I hope you enjoy a few photos.  GO!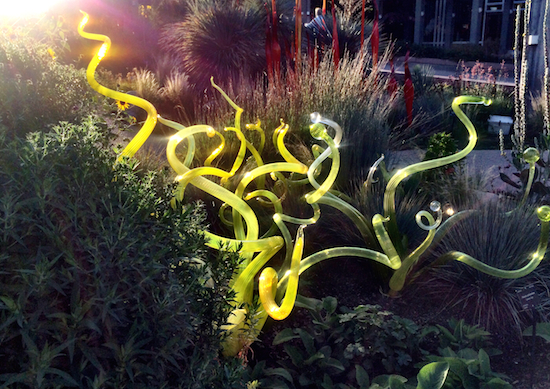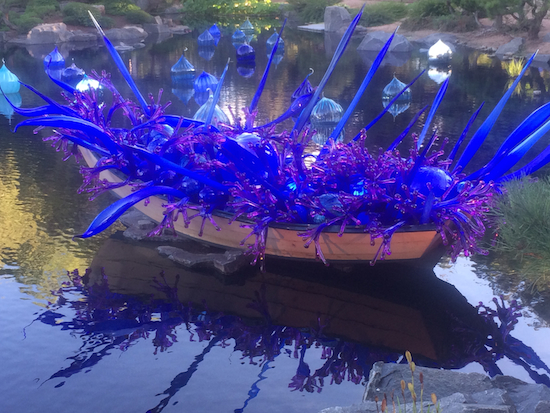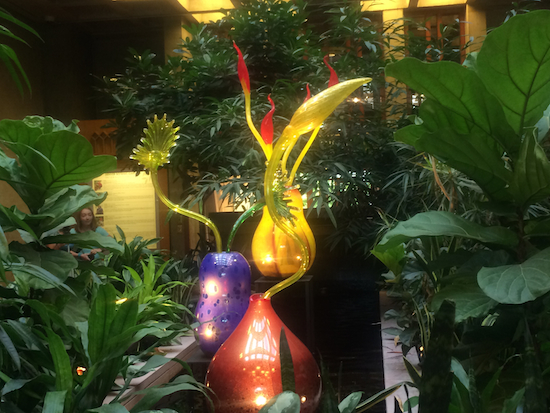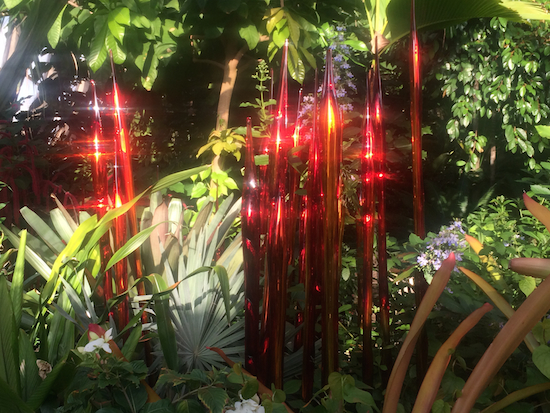 After resting a bit (again, grateful for our own little apartment through AirBnb), we walked to (16 – OK, I like, it's not 15, but sixteen great ideas) Odyssey Italian Restaurant on 6th Street in Capitol Hill, Denver.  This little local family owned restaurant in an old house has a feeling of the old country … plus the owner and family will be by your table and make sure your food is amazing.  We loved it.  Go three times and they'll greet you by name, as they did our son & Laura.  Laura wanted a certain cocktail and they were out of one of the liquors, so they ran down the street to a liquor street to get the missing ingredient.  Did I mention that all our food was an experience not to be missed.  GO!  You can sit outside or inside and enjoy.  Be sure to save room for dessert — good thing we walked everywhere in Capitol Hill – averaging over 11,000, sometimes 13,000 steps a day according to Billy's FitBit.
Bummer, our long weekend visit with Billy & Laura is over … but our appetites, both for adventure and amazing food, have only tasted the tip of what's available in this amazing city.  ENJOY!