Ironically, our very first campsite with our new Lance 1685 travel trailer was an accident.  Firsts are more rare as we get older.  So when we get a chance for a first, it's a big deal, even if the circumstances don't quite cooperate.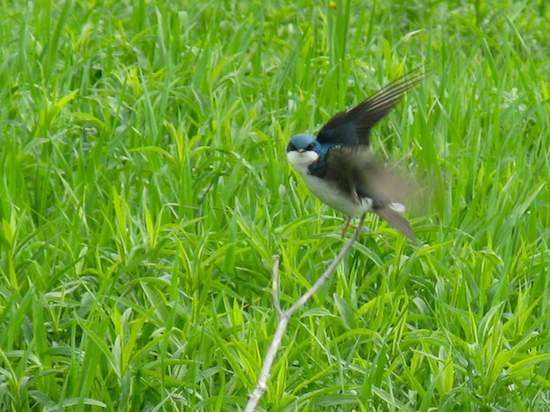 Picking up our new trailer we were a bit overwhelmed by the 2+ hour demonstration of all the systems, followed by pulling it for the first time with our Toyota 4 Runner and camping for a few days in Chain O'Lakes State Park.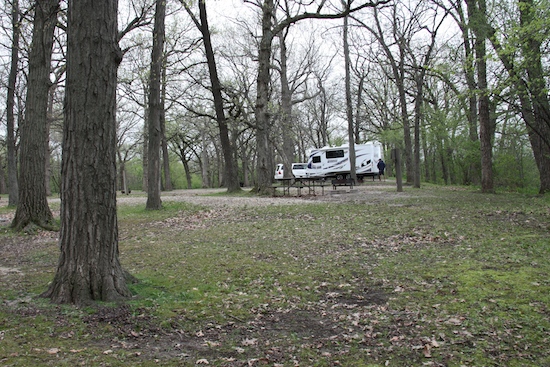 We hadn't planned on camping in Chain O'Lakes State Park, but it was COLD and raining.  Our dealer wisely convinced us that camping right on Lake Michigan at Illinois Beach State Campground would not be the best idea — and in fact, would be 10 degrees colder than a bit inland in Chain O'Lakes State Park.  Good thing we're smart enough to occasionally utilize local knowledge, because 38 degrees was chilly enough at Chain O'Lakes.  The new trailer is a dry warm haven and we enjoyed the solitude of being almost alone in the campground.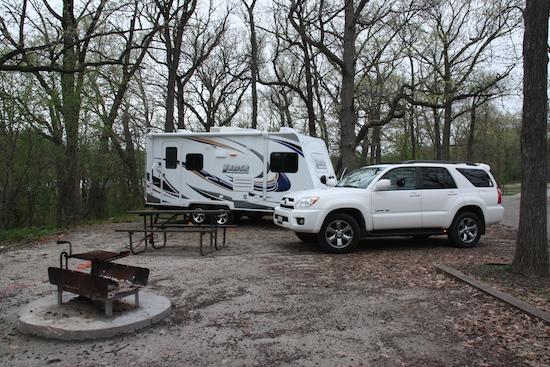 I decided to do a bit of a wrap up on each campground we experience for those campers that follow in our wake and this is the first of hopefully a very long and interesting series.
Location —
Google Maps Link to Chain O'Lakes State Park, Spring Grove, IL
History:
The Chain O'Lakes area was inhabited by central Algonquian Tribes when Europeans first arrived in the Mid-1600s. The predominant tribes in the region at that time were the Miami, Mascouten and Potawatomi. These Native American groups led a semi-mobile lifestyle and grew corn, hunted, fished and gathered wild plant foods.  The first Europeans in the area were the French trappers, Joliet and Marquette, passed through what became Chain O'Lakes State Park in 1673 as they traveled the Fox River during their Illinois explorations.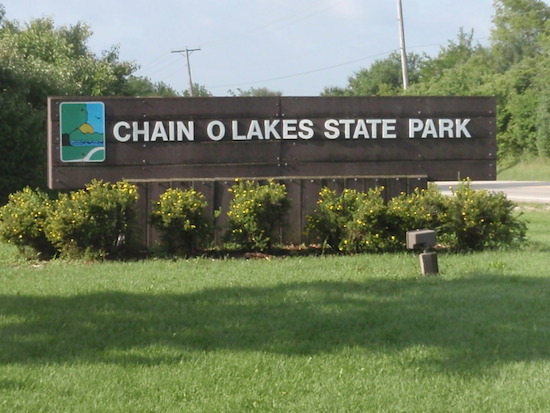 A Few Camping Details:  
First, click here for a link to the campground maps, rules and telephone numbers (scroll down the PDF).
We stayed in the nearly deserted Honey Suckle Hollow campground, at spot #83.  The spot was fairly level and backed up to Turner Lake.  Nice spot except the electric plug-in was on the wrong side of the trailer – our "shore power" cord wasn't long enough, good thing we had an extra extension cord.  We asked at check-in about a "Senior" rate and found that Illinois state park campsites are 1/2 price — for the CAMPING fee only — for Illinois residents.  Always always always ask about a discount.  The worst they can say is no — and it's usually with a smile.
The park has Class A-Premium areas (Honey Suckle Hollow and Fox Den) with a total of 151 sites. Sites are for $25 per night, except on Memorial Day, July 4th and Labor Day weekends when the fee is $35 per night. Three Class B-Premium camp areas (Turner Lake South, Prairie View and Mud Lake East) have a total of 87 sites for $12 each per night.  Maximum stay at campsites is 14 nights in a 30 day period.  All campers must have a permit (receipt for payment). Gathering of firewood from the park is strictly prohibited! Alcohol is prohibited in the campgrounds. Campsites are available for reserving. Reservations are accepted through Reserve America at www.reserveamerica.com.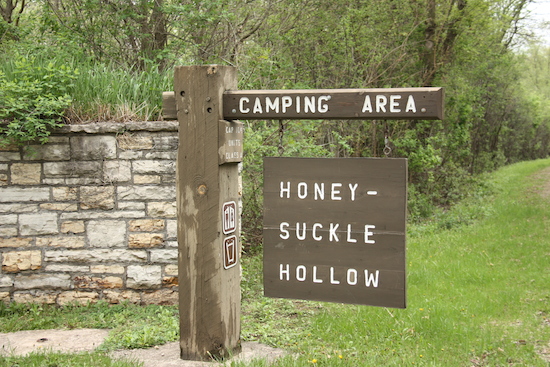 Things to Do:
Our experience was fairly limited since it was so cold and pouring rain most of the time we were there, but we still enjoyed a couple of good hikes – on bike paths since the "real" trails were deep in mud that didn't entice enough to wade through to find out.  Driving in we saw a group of wild turkeys and pheasants and should have stopped to take a photo — it's the only time I've ever seen a tom turkey in the wild with his feathers displayed.  BUT it was also the first time we'd towed a travel trailer into any campground and we were somehow distracted.  Now I'm kicking myself.
After setting up the trailer we hiked for several miles on the biking/hiking trail and saw more bluebirds than we've ever seen in any one area — really quite cool.  The pheasants were back, although running over the top of the ridge away from us, so again, no photos.  Heard before we saw a big owl perched on a high up branch observing the crazy people walking in between rain storms bundled up in North Face jackets and rain slickers – and no snow in sight for cross country skiing.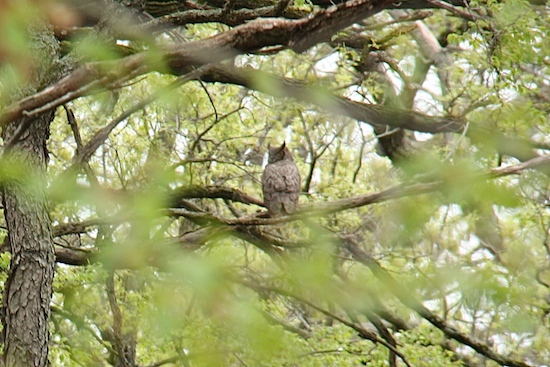 Chain O'Lakes has four trail systems. The Nature's Way hiking trail starts at Oak Grove Picnic Area and is 2 ¼ miles in length. The Pike Marsh North Picnic Area has an accessible trail that is ¼ mile long. The park also contains an equestrian trail with three loops and a total length of 8 miles. Visitors can bring in their own horses for enjoyment on the trail. A parking lot for horse trailers with access to the equestrian trails is located near the park entrance. A biking/hiking trail, 6 miles in length, can be accessed at any picnic area between the concession stand and the park office. All trails can be used by cross-country skiers.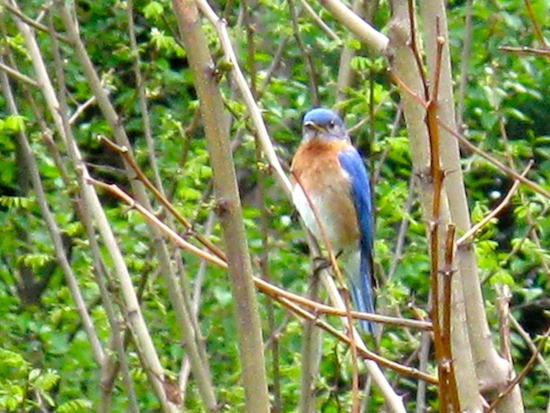 Need Stuff?
The state park is a bit out of town, thankfully.  But within a 10-20 minute drive (maybe less) we found a WalMart, a few grocery stores, a Menard's, restaurants, etc.  Plus Kramer's Kampers, our Lance dealer, is a half hour drive.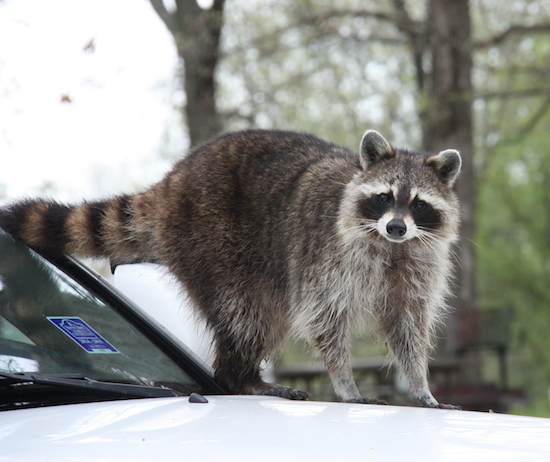 So we sit, sipping our steaming hot coffee, listening to the loon like warble of what we discovered was a bunch of sand hill cranes down by the lake, watching the resident giant raccoon stalk around the trailer in search of any crumb we might have discarded and enjoyed the comfort of our new trailer.
Yes, we are officially "trailer trash" and loving it.  See you next time!  Anyone have recommendations for camping spots not to be missed — anywhere between Illinois and the East Coast (Outer Banks), the Outer Banks and Florida, and/or Florida to SW Utah?  Please leave a comment and share!  Cheers!  Jan