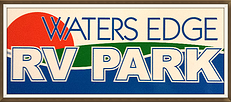 HOT SHOWERS, of course!  After camping in the national parks campgrounds, with their luxurious COLD showers and abundant mosquitoes, David was ready for a good shower … and so was I! Plus we needed somewhere close after we left the Ocracoke Island to Cedar Island ferry because we wanted to stop and see Cape Lookout Lighthouse & the Shackleford Banks wild horses on the way.  And be camped before sunset.
Back to the showers ….
Water's Edge RV Park gets 11 stars on my 12 star shower rating scale — click here for more.  Kudos are earned for hot steamy water, good water pressure, no shower curtain (tile showers were big enough not to need one – bonus points!), A/C (or heat), clean, plenty of hooks, a place for my soap, separate changing area with dri-decking to keep pants bottoms dry, The only reason it doesn't rate 12 stars is the fixtures were a bit dates and my handheld shower head didn't function – but the other one was wonderful.
We boarded the ferry at 10 AM and were disembarking at 12:15 at Cedar Island.  After stopping at the Harkens Island Cape Lookout Visitor Center for yet another ferry ride (passengers only), we headed south on 12, then 70, made our detour, continued on 70 to NC 24 west.  And from there to Waters Edge RV Park.  Despite our stop, camp was set up, we were registered and paid and on our way to the IGA that's a mile away by 4:30 PM.  Plus seeing the lighthouse and wild horses!  What a great day!
Waters Edge RV Park is literally on NC24 … on our way to Atlanta to visit our grandkids!  Stopping for just a night because of the convenience, we were pleasantly surprised and could have happily stayed a few nights.  Things to do in the area include historic Beaufort, NC and the Cape Lookout National Seashore as well as plenty more.
The sites were gravel, larger than normal for a commercial RV park and mostly level.  The water, electricity and cable were good, but the best thing about Waters Edge RV Park after camping in the Cape Hatteras National Seashore campgrounds for the past two weeks was the HOT SHOWERS!
Topping it off was the people – so helpful and nice – southern hospitality!  Reservations are recommended as many of the 72 spots are leased seasonally. The phone number is 252-247-0494.
The only thing slightly unusual about this park is you choose "full hookups" of either electric/water/cable OR electric/water/sewer.  Apparently you can't have both water and sewer.  Since we were only staying one night (and it was a Monday night … as in Monday Night Football…), we chose cable.  There's a convenient dump station on the way out.
There's also a dock onto Bogue Sound with a phenomenal view of the sunset.  Great place to stop for a night enroute!
Where do you like to stop after leaving Ocracoke Island?  Please leave a comment and share!  Cheers!  Jan