In general, books don't get to travel with us in our #LanceCamper 1685 because there's just not enough space in a 20'9″ travel trailer.  But there are 4 books that are used so frequently that they've earned the honor of the "Most-Dog-Earred Books Award".  The books are dog-earred with wear … and tattered with stick it notes and bookmarks.  There are two categories – travel books and bird books.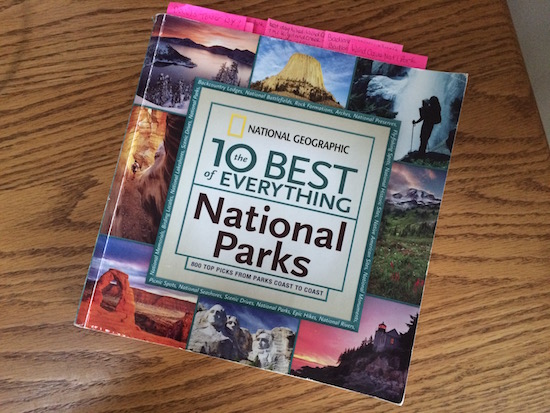 #1.  The top spot goes to National Geographic 10 Best Everything National Parks.  This idea-filled guide covers "classic" parks, national historical parks, national monuments, national battlefields, national scenic trails, and more. Hundreds of Top 10 lists are highlighted—best birdwatching sites, best hikes, best ranger programs, best wildflowers, best star-gazing spots, best sunsets … you get the idea.  Prior to EVERY trip we take, I peruse this book searching for ideas for where we're headed and bookmark them with color coded sticky notes — Big Bend National Park, South Padre Island National Seashore … etc.  Add great ideas to your next trip by adding this book to your bookshelf!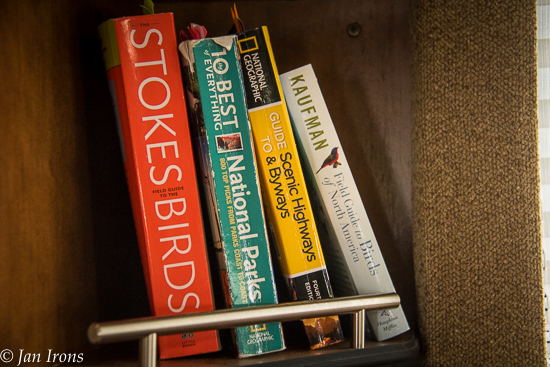 #2.  Another National Geographic favorite … Guide to Scenic Highways & Byways – The 300 Best Drives in the U.S.  Discover America's best scenic drives mile by mile, in the detail-packed guide.  There are famous drives, including the Blue Ridge Parkway, the Natchez Trace; but we bought the book for the lesser-known drives, including for this winter's adventure the "Texas Alps" back roads on the Davis Mountain Loop; and New Mexico's Billy The Kid Trail, Trail of Mountain Spirits Scenic Byway and the Gerinomo Trail Scenic Byway. Some drives are jaw-droppingly magnificent and some thrive on almost forgotten history.  Some are dirt roads and some are parkways, but all have been worthwhile.
Transitioning to what we like to DO while we're exploring in our camper … birds, wildlife, star-gazing, photography, bike riding, hiking…  most don't require a book along, but birds are different.  We have two versions – one for taking with us along the trail or walk and another with more details for looking up more information when we return.  We keep running dates notations of new species spotted in the guides.  Here in south Texas, the birdwatching is spectacular and the books are getting more notations than usual!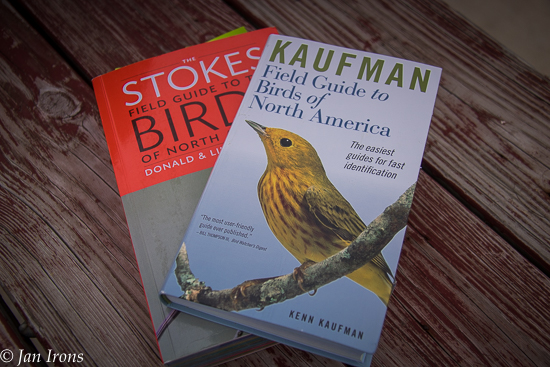 #3.  My favorite bird book is the Kaufman Field Guide to Birds of North America.  This smaller size book is the one we throw in David's cargo pocket or my daypack when we're out exploring.  It's amazing how quickly we forget the distinguishing marks of the birds we spot – did he have a long curved yellow bill or a short and stout black bill?  But with the Field Guide's innovative design – the easiest we've used to locate the bird we're looking at – we can ID the bird and get basic information.  Obviously due to the smaller compact size, there's more information in the larger Stokes guide, but Kaufman has colorful photos/illustrations as well as geographic maps and basic information.
#4.  And the final book earning a well-deserved space on our extremely limited bookshelf is the Stokes Field Guide to the Birds of North America.  This expanded guide is almost too big, packed with too much information for field identification in our opinion, but it's great to look up the birds we've spotted and ID'd with Kaufman and learn more about them.  Back at the lake house, we have the Stokes Field Guide to Birds Eastern Region which we actually like better, but since we're traveling the entire US in the travel trailer, the larger version covers more country.
So what do we read?  We both have basic Kindle's and enjoy reading outside no matter how bad the glare (I have an IPad too, but the Kindle is far easier to read).   But the BEST thing about e-readers and Kindle books is I get them online from the library anywhere we happen to be. In Florida, our local library card was free – and good for 3 years. When we arrived in Southwest Texas, someone told me I could get a year's library card at Port Isabel for $5.  FIVE BUCKS!  Best deal going if you like to read!  I download Kindle books and both of us enjoy whatever we want no matter where we are in the USA – I'm currently reading "All The Light We Cannot See" and David's enjoying some Vince Flynn novel.  If you're traveling, check with the local library where you happen to be and see if they have an ebook online service and how much a library card for a year might cost.  I'm betting you can read all year long for far less than buying e-books!
Disclaimer:  If you enjoy TrailerTraveler.net, you can help us pay online expenses by buying from our Amazon links.  It's free to you and covers TrailerTraveler's web hosting, domain registration and theme costs.  THANK YOU so much!  
So what books have earned their space in your RV?  Please share by leaving a comment and let us know!  CHEERS!  Jan