After spending 10,000 miles and several months in our #Lance1685, we knew there were some annoying things in our living space.  Especially that never used, but gorgeous solid wood magazine rack … that totally blocked access to the only 110V outlet on that side of the slideout!  We've also learned it's better to fix annoyances rather than live with them.
Here are 8 of our annoyances that you may wish to consider for your own camping lifestyle.
We removed the offending magazine rack, cut it in half and repurposed the two pieces!
Adding one beneath an existing spice rack gave me an additional spice rack and installing the other inside the dinette drawer gave me a secure place to store olive oil and other cooking essentials.  Now I have extra space to store spices, olive oil AND access to an important electrical outlet!   WinWin!
And with access to actually use that electrical outlet, I decided to expand the outlet capability a bit …
PlugIn Surge Protectors/3 Outlet plus Dual 2.4 amp USB Charging.  We needed more outlets to charge all our stuff – phones, IPad, camera batteries, FitBits … how can we possibly have this much stuff that needs charging?  Regardless, it's just easier with additional USB plug-ins and the extra surge protection is nice.
Luci Light Our Carefree Awning is wonderful, but it has "arms" on both sides and I'm always afraid someone will bang their heads on the low hanging spots.  On the boat we had a wonderful solar LED inflatable light called a Luci Light.  On our recent camping weekend, I hung it on the low spot of the awning to remind everyone that there's an obstacle.  It worked so well, I added another one for the other side!  Deflated, they store almost flat taking no room at all.  Being solar and LED, they don't require recharging except being outside (even in total shade it recharged).  What could be easier!
Raid Bug Barrier Bug Spray.  Despite the fact that we have the worlds quickest and easiest Clam Screen Enclosure, some nights it's just nice to sit out under the awning in our zero gravity chairs.  We're trying the same approach we use at the lake, bug spray around all the openings in our #Lance1685 and outside around our "patio awning rug".  Hoping to keep the mosquitoes away at sunset.
Anyone else have a slideout cover that vibrates generating unwanted noise when the wind picks up?  We've tried various remedies, including putting a swim noodle between the cover and the slideout top.  But nothing has worked well … someone told us to use a piece of foam intended to be a toddler safety table edge, attached it to the slideout top edge with the included 3M 2 sided tape.  Here's the one we ordered from Amazon.  Time will tell, but we're hoping this solves the issue.  For less than $9 and 20 minutes of our time to install it, it's worth a try!
Replace the Water Filter.  One of those things we should have known, but didn't think about … During our recent weekend "shakedown" camping trip, we discovered the water pressure inside the trailer even though we were hooked up to water was dismal (good thing the state park had showers because this water pressure wouldn't have rinsed shampoo out of even my short short hair!!!).  We changed the Camco water filter and voila, what a difference!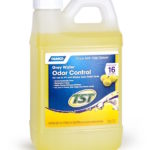 Gray Water Tank STINK!  It never occurred to us that the gray water tank would stink, but it smells as bad, if not worse, than the black water tank.  We didn't put anything in it during our last trip out west, but this trip will be different.  I'm not sure if this is the best stuff yet, but it's our starting salvo to try and get the stink under control.  If you have something you like better, PLEASE leave a comment and share below!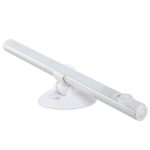 LED Light Strip for Under Bed Storage.  We have GREAT underbed storage … and I was using a little LED handheld light to see in the storage containers we added.  The lack of light was getting frustrating.  So I added this cool little adjustable battery powered motion light.  So far it's just right!  With the lid up, I needed the light to focus down, not out as most of the usual LED light strips do.  This one adjusts for any direction and it's motion sensor is a useful addition – especially the part about turning off automatically when I shut the top.
Now if I can just figure out how to make the shower enclosure a bit more spacious — or at least keep the shower curtain from sticking to me while I'm showering.  I called Lance Camper to see if there were any options – like adding doors instead of a curtain, but so far I'm back to square one.  We'll figure it out – it's likely we'll see a good idea along the way while we're camping!  Other RV-ers are great sources of ideas!
Anyone have things that have drastically improved your camping lifestyle?  Please leave a comment and share!  ESPECIALLY if you've figured out that tiny corner shower annoyance!  🙂  Cheers!  Jan
Save
Save
Save
Save
Save
Save
Save
Save
Save
Save
Save