Vogel State Park is one of Georgia's first two state parks, located at the base of Blood Mountain, Chattahoochee National Forest in the Northern Georgia Mountains.  In the heart of the north Georgia waterfall loop, it seemed a good choice for an August retreat with grandkids – heavily shaded and  the higher elevation hopefully somewhat cooler than scorching temperatures and lower humidity.
The kids loved playing in Wolf Creek directly behind the campsite – no trips to the playground on this adventure!   Another plus: having electricity meant we could run the A/C if it was an absolute necessity.
Plus there was so much to do for our 6 & 3 year old grandsons.  They played endlessly in the creek, they swam on the beach at Trahlyta Lake (pond?), competed fiercely on the putt-putt golf course, hiked around the lake to find the waterfall and fell fast asleep after s'mores at the campfire each evening.
Another falls, Helton Creek falls, is a family (and dog) friendly falls located 2.5 miles outside the state park entrance.  The boys enjoyed frolicking at the bases of both the upper and lower falls, Dad & GranDad swam under the upper falls and we even taught our 3 month old GranPuppy to swim.
Website: Vogel State Park Website.  With over 100 campsites, both tent and RV (up to 40 feet), plus 35 cabins, this campground is located minutes from the visitor center, putt-putt golf and Lake Trahlyta (pond & waterfall). There are 18 miles of trails, including a 12 mile backcountry trail, a popular 4 mile loop and the 1 mile walk around Lake Trahlyta.  Plus it's DOG FRIENDLY (on a leash).  What more could we want!
Campground/Park Map.  Click the map to go to the clickable campground map at Reserve America.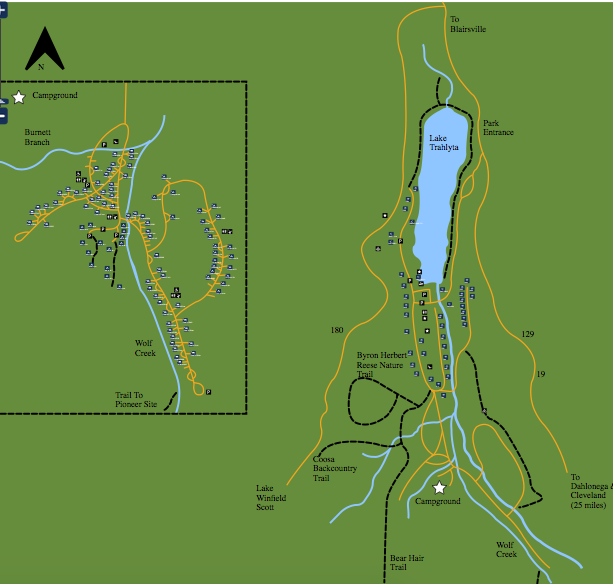 Reservations:  Reservations are through ReserveAmerica/Vogel State Park at this link.  This is a very popular state park so reservations in June and July, plus the colorful fall foliage in the BlueRidge Mountains, are strongly recommended.
Local Park Telephone Number:  706-745-2628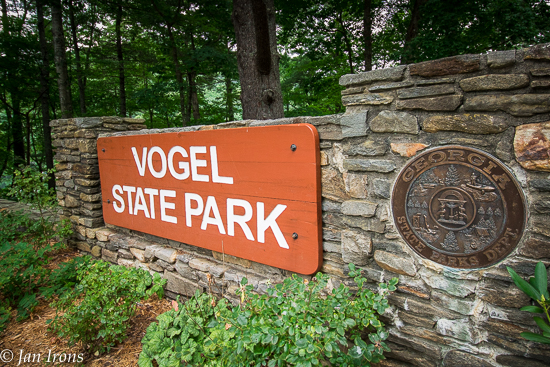 Showers:  Good, a bit above average for a state park.  4 total comfort stations located throughout the campground, 2 women's showers & 2 men's showers in each comfort station.  Good water pressure, plenty of hot water, a separate changing area with a seat, but only one hook to hold "stuff".   Could have been cleaner, but still acceptable.
BONUS POINTS!   Washer & Dryer at the visitor center, Miniature Golf – 2 courses also at the visitor center (altho' it was a pricey $8 per person including the kiddos!), good hiking for the youngsters, plus a swimming beach and waterfall.

Scenic Value:  10!  Gorgeous campsite (#59) located right on Wolf Creek under abundant hemlock trees for shade, nestled in the heart of the Blue Ridge Mountains on Northern Georgia.
Mosquitos/Bugs:  Not as many as expected.  Some campers had screen enclosures up, most did not.  Surprisingly, we weren't bothered by bugs even during sunrise and sunset. 

Noise Levels:  Minimal even though the campground was full.  Lots of kids (we went the week before school started in N. Georgia), but little noise.
Campsite:  Our campsite #59 was a 40′ pull through, graveled, with a fire ring and separate stand up grill, located directly on Wolf Creek.   Most yellow campsites had a separate tent pad (although some had the fire ring located in the middle of the tent pad?), #59 did not, but we were able to pitch a tent in front of our Lance 1685 (20'9″ trailer) with level ground and still park an SUV and full size pick up behind the trailer. 

Claustrophobia Quotient.  For our site, nil.  For other sites you might be able to see your neighbors, but overall the site spacing is very good.

Access to Essentials:   Vogel State Park is 11 miles south of Blairsville, GA with the closest real grocery store and WalMart.  The visitor center has some supplies and firewood available.

Campsite Price:   In August 2016, the yellow RV campsites with electricity and water were $30/night, plus the $5 park entrance fee (it's a daily fee, but overnight guests only pay once and receive a tag for the mirror).

Have you camped at Vogel State Park?  Please share your comments below!  Cheers!  Jan
Save
Save
Save
Save
Save