Which campground in Theodore Roosevelt National Park?  Cottonwood Campground, in the south unit, gets mixed reviews with complaints about interstate traffic noise.  Juniper Campground in the north unit looks wonderful, gets great reviews, is more remote than Cottonwood, but is over an hour away from most park "attractions" – especially the Wildlife Loop, Petrified Forest, the Roosevelt cabin, the main visitor center (with the movie – I'm a big Nat'l Park movie fan!).
Reluctantly, we opted for Cottonwood Campground … and made a great choice!  Initially we discussed not making a reservation, just waiting until we arrived and picking the campground we preferred. Good thing we made a reservation!  It was FULL!  With people complaining to Park Rangers about how could the first come first serve sites be all taken by noon (or before) — and it was several weeks after Labor Day!
Cottonwood is situated right on the Little Missouri River. One morning I noticed a blur outside the window and realized it was wild (feral) horses running literally within touching distance to get to the river for their morning drink!  Wandering down to the river (a few steps from our campsite) to look for wildlife and birds became a favorite early morning and just before sunset activity.
Oh, and the interstate traffic noise that lots of reviewers complained about? From our site, tucked down by the river, we could hear it … maybe … if we really really listened.  But it was nothing like what we've experienced elsewhere and didn't detract from our experience at all.
76 spots total campsites, with half reserveable.  Don't forget your Senior Pass – sites were $14/night but at the Senior Rate were only $7!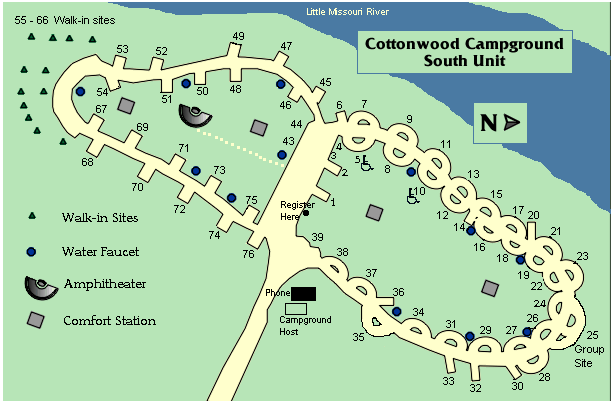 Website:  Camping: Theodore Roosevelt National Park
Campground/Park Map: Cottonwood Campground Clickable Reservable Map
Reservations:  Recreation.gov
Local Park Telephone Number: (701)623-4466

Showers:  No Showers, but Flush Toilets were open in the summer/fall.

BONUS POINTS!  Generator Hours 8 AM-8PM.  Firewood gathering is allowed!

Scenic Value:  The river, the wildlife, the birds … the campground is nestled in a relatively flat valley and while I wouldn't describe it as a scenic campground, it certainly has appeal.
Mosquitos/Bugs:  None that we noticed in mid-September.

Noise Levels: Minimal – none from other campers and minimal from the interstate as noted above.
Campsite:  Small! And not level, sloping back toward the river.  Very tight for our 21′ travel trailer and our Toyota Tundra pickup truck – we had to very carefully maneuver our truck between the trailer, a tree and some wooden posts to get it out of the road.  Challenging, but not impossible.  And once situated, it was a spacious campsite toward the picnic table and river.
Another notable difference between this and many park campgrounds, is NO DUMP STATION!  Luckily just outside the park gates (turn right) is a commercial campground.  It was closed when we were there, but the dump station just inside the entrance had a sign and an honor box to deposit $5 to dump.
Claustrophobia Quotient:  Usual National Park Campground, I call them spacious with trees and brush between campsites you barely notice the site next door.  The pull through spots were a bit less private. 

Access to Essentials: The little town of Medora is right outside the south unit park gates, but doesn't have much, especially after everything shut down at or just after Labor Day.  There was a gas station/convenience store and a pizza place (that was closing the next weekend).  During the season, it's a typical tourist town with shops and conveniences. 

Cell Phone/WiFi … we had minimal Verizon cell signal, but enough to make my 4G Verizon wifi router work.  No park wifi at least in the campground, didn't check the visitor center.
Campsite Price:  Senior Rate of $7/night! 

Anyone have additional comments or corrections about Cottonwood Campground?  Please leave a comment and share!  Cheers!  Jan