Ten of the most fun things to do on Ocracoke Island are FREE!  Where else can you go in the world where the most fun things to do are free?
1.  Watch sunrise over the sand dunes and beach.  It's a brand new day!  Now to make the most of it!
2.  Visit the wild ponies at the pony pen.  Unfortunately the wild ponies on Ocracoke are kept in a huge fenced in area because they didn't get along well when the road and cars came to the island.  But you can visit and even feed them if you go when the park ranger is giving a talk about them!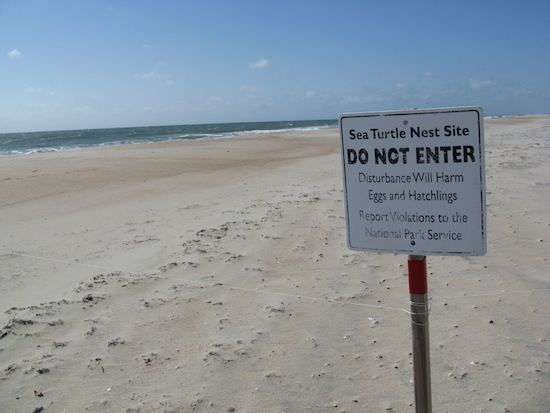 3.  Call the Sea Turtle Evacuation Hotline every morning to see if the Park Rangers are going to release any sea turtles during your stay!  Click here for more!
4.  Ride bikes all over the island.  There's an especially nice bike path between the Ocracoke National Park campground and the village – approximately 3 miles one way … and flat.  Perfect!
5.  Attend a ranger talk … we heard about sea turtles, the Ocracoke lighthouse and the wild ponies — highly recommended and again, free!
6.  Visit the Ocracoke Island Light Station and learn about how it was lit the day the economy crashed!  Click here for more.
7.  Hike the Springer Point Nature Trail and see Blackbeard's last camp — he was beheaded just off this point!
8.  Go beachcombing at low tide and collect shell fragments that are so highly polished by the sand and sea, they're even more cool than beach glass!
Did I mention collecting the shells?  Not sure what I'll do with our collection … David wants to put them in a display vase back at the lake … I was thinking of trying to make some jewelry, but we'll see…
9.  If you're on Cape Hatteras and just want to visit Ocracoke for the day — the ferry is FREE!  Come on over and play and go back later that same day … or stay a few days like we did to enjoy even more.
10.  Don't forget to take in the sunset when the day is done.
Plus there's a great free museum and village to wander around, explore all the little shops and artsy places.  Lots and lots of people enjoy surf fishing (but that requires a fishing license, so it's not totally free).  Hard to beat the laid back fun we had on Ocracoke Island!  Anyone have other favorite free things to enjoy on Ocracoke?  Please leave a comment and share!  Cheers!  Jan
Save