3 amazing scenic drives in South Dakota … all within a few miles of each other and all with dramatically different scenery. When we picked Custer State Park as a centrally located campground to explore the Mt Rushmore area, we had no idea that it would prove to be one of the highlights of our trip.  And when we stopped at the visitors center to find out what there is to do, we had NO idea of the diversity we had accidentally stumbled onto.
There are three separate drives, a total of 49 miles of the some of the most unexpected and spectacular scenery anywhere, not just in South Dakota.  Don't let the short total mileage fool you though … these drives may vary from 14 to 18 miles each, but that's not indicative of the time they'll take to explore.
They are narrow twisty turny paved mountain roads (including several tunnels blasted out of mountains).  Click here to download the Custer State Park PDF map including the above scenic drives.  If, like us, you're driving a pickup truck with side mirrors, be sure to fold them in.  And if you're driving an RV, you may want to think twice and if you decide to go, triplecheck your dimensions at the visitors center – many of the tight turns and a couple of the tunnels have no way around.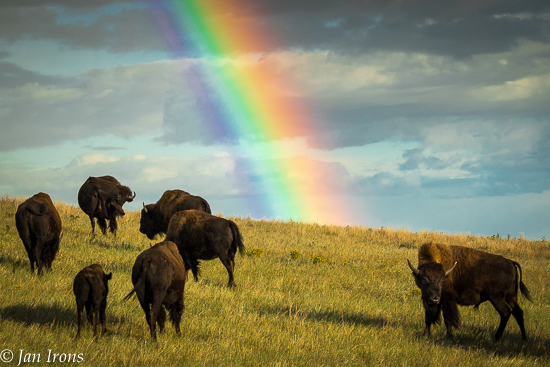 Wildlife Loop
Distance:  18 miles, not including the not to be missed gravel roads criss-crossing the inside loop
Time:  The park recommends 45 minutes, our experience was more like 2+ hours by the time we explored the inside gravel roads where some of the most magnificent critters were hiding in plain sight!
Timing:  Late afternoon or early morning.  We started about 4 PM and the wildlife increased it got later.  When the Park Ranger led tour is running, they start at 5 PM.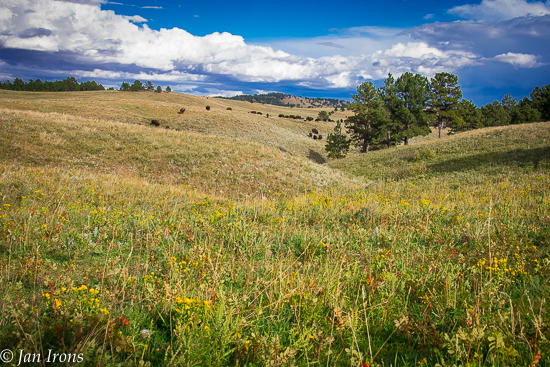 Our first scenic drive, didn't seem very scenic at first.  Rolling hills, lots of prairie and grassland — wait!  What's that in the distance?  Our first bison … of course, I took pictures, not imagining how up close and personal we were about to become with these critters!
Watch both ways – as I was taking rainbow buffalo photos, this guy came right up to the car window and scared the you know what out of me! He really needs to brush his teeth, his hot breath was absolutely atrocious!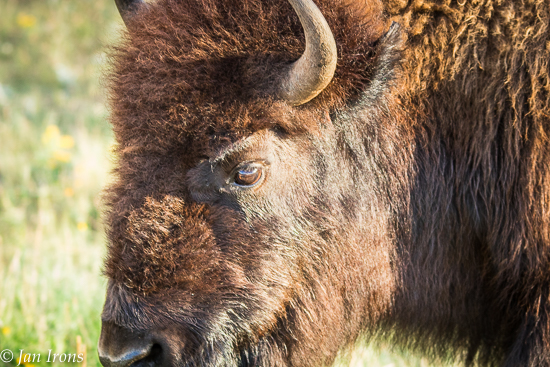 We turned at the first gravel criss-cross road for an inside the loop loop that came back out at the Wildlife Center.  This was where we spotted the most wildlife including the world's fastest animal, the pronghorn (antelope), wild turkeys,  playful prairie dog colonies, a bald eagle, grouse, mule deer, white tailed deer, magpies and of course, the buffalo … herds and herds of the park's 1300 buffalo!
And lest we forget, the park's freeloading burros!  Watch out, they'll come right up to your open windows and expect a food handout!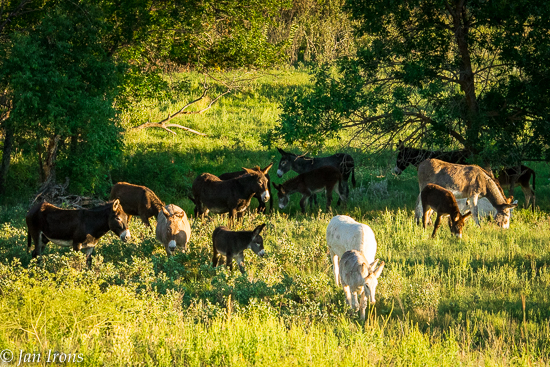 Next up …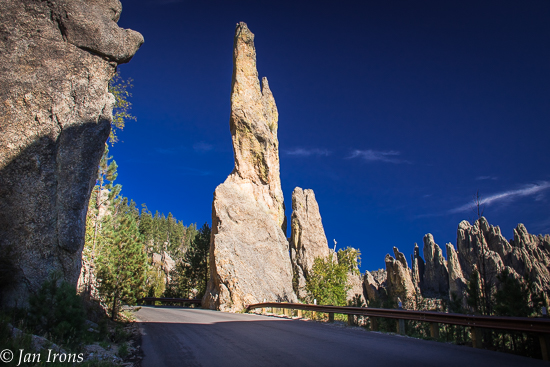 Needles Highway
Distance: 14 twisty turny narrow "highway" miles
Time:  60+ minutes; again, we spent 2 hours with stops.
Timing: Anytime of day,  visibility may be better mid-day before the sun casts long shadows.
Tunnels:  Tunnel 5 (Near Needle's Eye), 8′ 4″ wide by 12′ 0″ high;  Tunnel 6, 9′ 0″ wide by 12′ 3″ high. View map
The Needles Highway is a spectacular but narrow paved road, twisting and winding through conifer forests,  aspens, meadows and its namesake rugged granite mountain spires.
Carefully marked by hiking and horseback by former South Dakota Governor Peter Norbeck, the road's construction was completed in 1922.
Traveling the Needles Highway, you'll also pass Sylvan Lake and immediately after a tunnel, a unique rock formation called the Needle's Eye, created over time by wind, rain, freezing and thawing.
Iron Mountain Road

Distance:  17 twisty narrow "highway" miles
Time:  60+ minutes.  This one only took us a little over an hour with stops since we spotted Mt Rushmore, our destination after the first tunnel.
Timing:  Anytime of day, again visibility may be better midday.
Tunnels:  Tunnel 1, 14′ 0″ wide by 12′ 9″ high (has bypass);
Tunnel 2, 13′ 2″ wide by 12′ 2″ high (has bypass); Tunnel 3, 13′ 4″ wide by 12′ 4″ high. View map
The Iron Mountain Road connects Custer State Park and Mount Rushmore National Memorial. The highway switchbacks through some of the most beautiful scenery in the Black Hills and includes three tunnels that frame Mount Rushmore in the distance.
According to the Park Rangers, the original construction was completed in the 1930's and the "architect", again, former Governor Norbeck said:  "this is not meant to be a super highway, to do the scenery justice you should drive no more than 20 mph and to do it full justice you should simply get out and walk."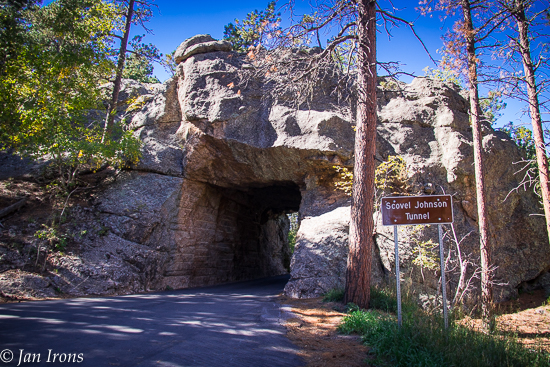 Experience the road that engineers once said couldn't be built; and don't miss the "pigtail bridges" that allow travelers to gain or drop altitude rapidly.
Take your time, drive slowly and marvel at the totally different scenery during the three drives – one for wildlife, one for the granite needles worn by weather and time and one for the scenic Black Hills vistas.  I'll guarantee it will be time well spent!
Do you have other scenic drives in the area that you loved?  Please leave a comment and share!