So now we've towed our Lance 1685 over 10,000 miles with both a Toyota 4 runner, 6 cylinder and a Toyota Tundra V8 monster pickup truck.  Which tow vehicle is better?  We defected from our beloved 4 Runner to the monster Tundra earlier this year.
We started towing our 3800 lb net/4800 lb gross Lance 1685 travel trailer with our 2006 6 cylinder Toyota 4 Runner – over 10,000 miles, out west (BIG mountain passes) and back to the Midwest and LOVED every minute.  But this year we replaced the 10 year old 4 Runner with a 2016 Tundra.  Why?  Because the 4 Runner was 10 years old and we replace vehicles every 10 years.
Having said that, there IS a difference … here are the biggest differences we notice in our first 10,000 miles with the Tundra (again, out west and back to the Midwest).
Pros and Cons of our 4 Runner vs. our Tundra
1.  The 4 Runner got slightly better overall gas mileage – maybe 10-11 mpg over our 10,000 miles, but had a 22 gallon gas tank.  So every 200 miles we were looking for a gas station.  The Tundra with the larger gas tank (38 gallons) has averaged 10.2 mpg so far from Illinois through SD, ND, MT (Glacier Nat'l Park), Yellowstone Nat'l Park and now to Grand Tetons Nat'l Park.  So we get almost 400 miles per tank or double the distance between looking for gas stations.  The difference takes on much more importance during long stretches out west with few or no gas stations.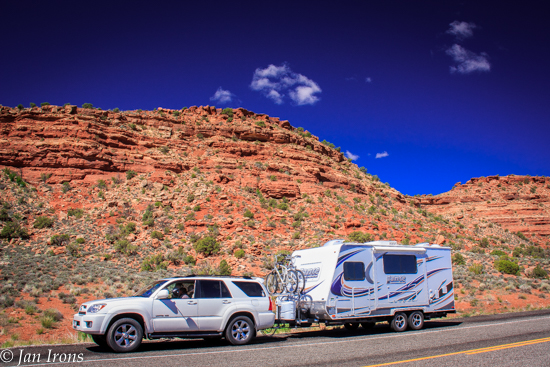 2.  Having said that … the difference NOT towing since we don't have a dedicated tow vehicle is HUGE!  21-22 mpg for the 4 Runner vs 15 for the Tundra – UGH!
3.  There's no denying the power difference in the 6 cylinder vs the 8 cylinder for acceleration when necessary to get around a slow moving vehicle.
4.  We were always conscious of the trailer behind the 4 Runner.  With the Tundra we have to be mindful not to forget it's back there, even in a crosswind.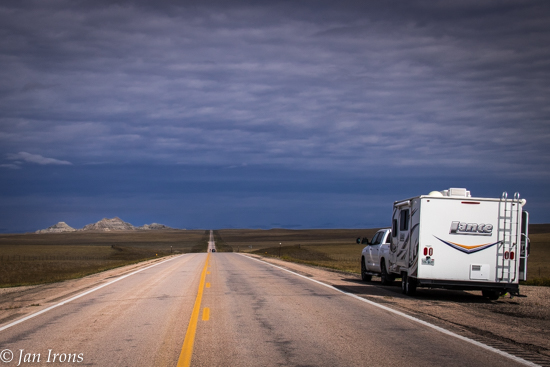 5.  Semi-truck's whizzing past on the interstate inevitably caused the 4 Runner to be buffeted by the wind.  The Tundra, not nearly as much.  And speaking of wind – with a crosswind of 30-40 driving through western Kansas, we were thankful for the Tundra's weight keeping us in line.
6.  We LOVE throwing all our stinky soggy hiking (or whatever) stuff in the pickup truck bed and not smelling it all the way home.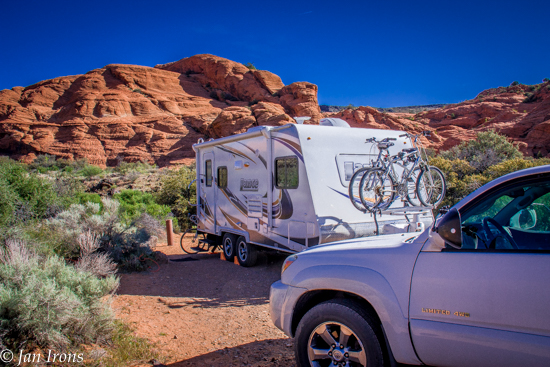 7.  Both trucks use the same Fastway E2 weight distribution hitch – we had to move it down a couple notches to accommodate the Tundra's higher bumper, but we were able to use the same hitch and sway bars with no trouble.  Bonus!
8.  Despite the fact that the 4 Runner had a factory tow package rated to 5000 pounds and extra cooling on the transmission, David always worried about the toll that the strain of pulling almost 5000 pounds would put on the 4 Runner.  We never had any trouble, but he was concerned enough to want a half ton pickup rather than another 4 Runner.
9.  PRICE!  Trading vehicles for our 10 year exchange, we looked at 4 Runners first.  The 2006 was the 2nd 4 Runner we'd owned and we love them.  But new 4 Runner's cost as much (or more) than a similarly equipped Tundra. Tundras have better tow capabilities.  Plus we were lucky enough to find a discounted "used" Tundra with only 800 miles – so we got a "deal we couldn't refuse".  Nuff said.
10.  An aside… when we can't find a picnic table, the back tailgate of the Tundra makes for a great picnic – perched and legs dangling!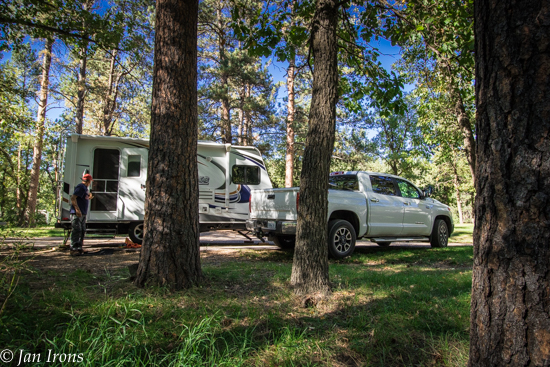 11.  More space … with the full size crew cab and short bed, the Tundra has far more space (and weight carrying capability) than the 4 Runner.  Lucky for us, the prior owner of our "used" Tundra had already gone to the expense of a bedliner, almost waterproof rollback aluminum bed cover and running boards.  Now we have a place to put our Honda 2000 generator, gravity chairs and other "stuff" that doesn't involve finding somewhere inside the travel trailer.  UGH – I always HATED having that stinky gasoline generator in my shower inside the trailer… and we didn't like carrying it in the back of the 4 Runner.  Nothing that we didn't manage with the 4 Runner….. but ….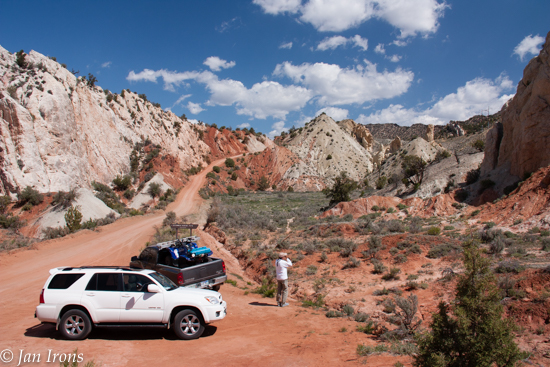 12.  9.6 inch ground clearance for the 4 Runner … versus the Tundra at around 11 inches – doesn't sound like much, but feels like much more.  Plus, our 4 Runner wasn't set up with skid plates and other off road must haves because we didn't buy it originally to pull a travel trailer, just a sailboat, and never on dirt/gravel roads.  It is possible the 4 Runner was more nimble on our version of offroads, which was more like dirt/rock/uneven roads, not exactly cross country.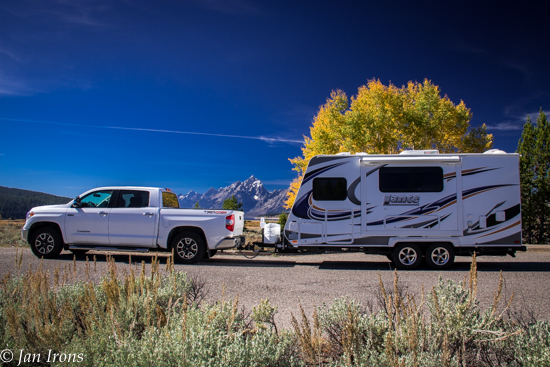 So bottom line … which is better?  For us, it all depends on what we have.  David said I couldn't have a new truck when we bought our Lance 1685 travel trailer 2 years ago.  So we had to find a travel trailer that we could pull with our 2006 4 Runner, 6 cylinder.  And we did … for more than 10,000 miles, across the USA … from the east coast to the four corners of Utah/Arizona.  When it was time for a new truck, we opted to spend less for more truck … the Tundra.  Both trucks were right for us at that particular time.
No right or wrong answer.  Please leave a comment and share your thoughts.  Cheers!  Jan
Save
Save
Save