Whether aboard a cruising sailboat or in our Lance 1685 travel trailer, it seems like almost everyone, including us, underestimates the amount of electricity we use, especially when planning alternative energy.  Determining RV amp usage can be very frustrating when your goal is to live by the sun and not have to run the generator!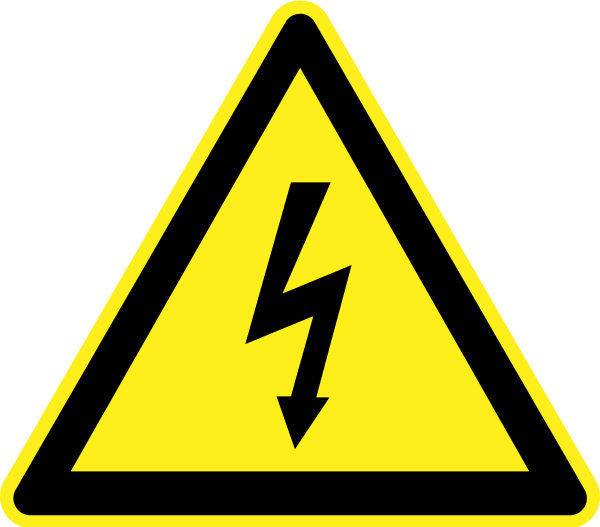 DISCLAIMER:   I am NOT an electronics guru – I don't really understand much more than basic principles.
Hopefully, this will help you think about your alternative energy needs BEFORE you go boondocking or dry camping and your furnace won't run at 4 AM when its 24 degrees outside because you underestimated how many amps the furnace blower takes (or, like us, didn't even realize the propane furnace needs electricity for the blower to function).
Before you can start to plan, you need an idea of how many amp hours of electricity you use each day. Unfortunately there's no shortcut easy way to calculate this information — I can't tell you because it's vastly different for everyone.  There's no one size fits all equation.
When we started ordered our Lance 1685 (a 20'9″ travel trailer), we added a 2nd battery and upgraded both batteries to Group 27's. Between the two Group 27 batteries, we have somewhere around 200 amp hours.
Battery manufacturers recommend using 50% of your available battery capacity – so we have 100 available amp hours. Why 50%?  I don't know, the manufacturers say it will extend the life of your batteries – which given the price of deep cycle batteries, we like more years rather than less.
The first step is to calculate how many amps you use daily.  To do this, you must go through meticulously and calculate amp usage by hours used.  If you don't know how to calculate amp usage for each individual thing that uses electricity, you're going to have to be a bit of a sleuth – you need to find the watts and voltage for each light bulb, each appliance and so on.  Most packaging will contain the information you need, or often you can look it up online.  As an example, look on the bottom of an appliance – here's our coffeepot.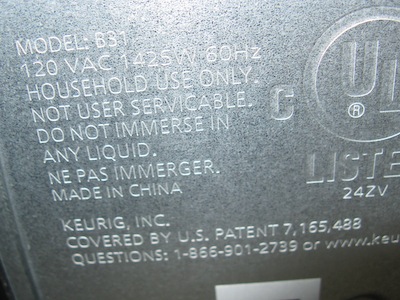 You can see that it uses 1425 watts and it's 120 volts.  WATTS divided by VOLTAGE = AMPS is the formula.
So 1425 divided by 120 = approximately 12 amp hours PER HOUR.  But an individual cup of Keurig coffee doesn't take an hour, so you have to determine how long each cup takes (approx 3 minutes) and do the math.  We each have 2 cups a morning, so 4 cups of coffee times 3 minutes per cup = 12 minutes of Keurig Coffee Maker use daily.   Let's round it up to be safe and assume we use about a quarter of an hour of coffee amps per day or 3 amps.
THE INVERTER FACTOR
HOWEVER,  it's not this simple — of course not!  Not 3 amps but SIX amps/day if we used an inverter.
All inverters are different, but ALL inverters waste power.  To simplify a really complicated equation of how much power is wasted converting DC to AC, I just use a "wasted" ratio of 2-1 — i.e. it takes twice as many DC amps to power AC through the inverter.  I automatically double the amps used for anything that requires an inverter.
In the travel trailer, we simply don't use the Keurig when we're dry camping or boondocking.  A teapot and Melita Filter, plus a good insulated carafe replace it and require zero amps.
However, the coffeemaker isn't the only thing in the trailer that uses AMPS and some of them require A/C 120v current.  We try to use 12V converters as much as possible – I use one to charge my Apple MacBook Air.  Why spend the money for 12V converters when you could just use an inverter and plug in as usual?   I guess it just depends on how much stuff you need to power with 120 AC and how much you can innovate around needing it.  Whatever you do, keep in mind, if you're trying to power a 1425 watt Keurig coffee maker, you'll need a really big inverter!  Ours on the boat is 1700 watts and will grudgingly make us coffee in the mornings, but we have 600+ amps in our battery bank on the boat, the trailer has 200.
How Many Amps Per Hour?
Here's our starting point.  You'll need to make your own list. Note that you need to know amps per hour and an estimate of how many hours you use the item to calculate daily amp usage.  Luckily, the travel trailer has propane refrigeration and a propane water heater (when not connected to electricity) – two of the biggest amp burners aboard our sailboat are propane in the trailer!  BIG help when it comes to electrical consumption.
LED Interior Lights:  avg 3 lights on for 3 hours each = .20 amps/hour X 9 = 2 amps/day (gotta LOVE those Lance LED lights inside!  Beware!  Without LED lightbulbs, amps will skyrocket!)
CO2 Sensor Alarm: ??? Minimal but I can't find the data.
Water Pump: between 2.8 – 6.1 amps depending on pressure used – if we assume 4 amps/hour as an average and we use the water pressure for a total of 25-30 minutes with showers = 2 amps/day
Jensen Radio:   3.3 amps/hour: on for 2 hours/day = 7 amps/day
Coffee Pot:  4 cups of coffee – see math above = 6 amps (3 amps X 2 with the inverter)
Fantastic Fans: "Less than 3 amps/hour on high" – if it's hot we leave our fan on 24 hours, because the thermostat control cycles on and off.  So guessing somewhere between 4-8 hours out of 24 = 11 – 22 amps/day if in use
Bathroom Vent Fan: 1.2 amps/hour on for 1 hour/day = 1.2 amps
Jensen 12v TV: 3.3 amps/hour:  2 hours of TV = 6.6 amps
TV Antenna: .1 amp/hour:  2 hours of TV = .2 amps
Wineguard G2 Dish & DirecTV Receiver (requires an inverter): .5 amps for receiver plus 5 amps for satellite = approx 6.5 amps/hour X 2 hours a night = 13 amps
Laptop Computer:  2 hours/day 5 amps/hour = 10 amps (using my 12V charger cord)
Charging Stuff (from phones to drills to cordless vacuum etc):  5 – 10 amps/day average (using the small inverter)
So you can see with just the basic daily electricity, we average around 80+ amps a day and our Group 27 battery bank at 50% is 100 amps.  So each day, we use up a large percentage our available amps – and that's without needing the furnace.  Without recharging daily we'll either drain and kill the batteries or be freezing at 4 AM when the battery voltage is too low to power the furnace blower.  On the other hand, if we just read good books or play scrabble and don't include TV or radio, we can cut our daily amp consumption significantly – and if I don't use my MacBook Air and play with my photos, we can reduce it even more!  🙂
So we added a 160 watt GoPower solar panel and controller.
Although it's not up to an engineers standard, my easy rule of thumb is 1 amp hour of electricity from every 15 watts of solar, our single 160 watt solar panel can generate up to 11 amp hours.  But on a perfect sunny day with the trailer in no shade, there are maybe 4 total hours when we generate max amps – so 10 amps X 4 hours = 40 amps.  And an additional 5 hours of daylight where we'll generate increasing and then decreasing percentages that I'm guesstimating at another 20 amps for the day.  That's a total of 60 amps on a perfect sunny day with our current solar.
Bottom line, depending on sun for the solar,  we can go about 3 days without having to use our Honda 2000 portable generator to recharge our 2 Group 27 wet cell batteries.
Other Stuff Not Daily:
Furnace Blower:  4.6 amp hours per hour X 4 hours on a chilly night = 18.4 amps (or 46 amps if it runs 10 hrs)
A/C:  12-17 amps
Converter:  2-3 amps
Microwave:  7.5-13 amps – can't use the microwave unless plugged in or the Honda 2000 generator is running
VCR/DVD Player:  1 – 1.5 amps
Atwood Power Jack MPD87083:  up to 30 amps/hour X 5 minutes used = 2.5 amps
I hope this is a good starting point for you to develop your own energy plan for your adventures.  It's certainly an eye opener to know how many amps it costs to listen to a little Zac Brown Band on the radio during happy hour!  🙂
Anyone with other items to add to the list, please leave a comment and share – we'll all benefit from knowing how many amps different common household items use!   And if I'm completely crazy and don't know what I'm saying, please leave a comment (or send me a e-mail) so I can get this right!  I think it's pretty close from our 15 years experience living on the sailboat.   🙂  Cheers!  Jan