Campground Full!  The unanticipated sign we kept seeing over and over again on our Wild Wild West Fall Foliage Road Trip in September. All around us lodges and restaurants near National Parks were closing, despite crowds waiting to get in.

Not good business, but their season is over and staffs have gone back to college…   No available people = no open lodges/restaurants etc.  Several campgrounds had already closed, resulting in the oversold conditions in the few remaining campgrounds.
We like to travel a bit spontaneously, so when we arrived in South Dakota a day earlier than planned, we added Badlands National Park to our road trip.  I even called ahead to find out about the national park campground and was told "wide open, no problem".  By 4 PM, the campground was totally full.  Luckily we were able to get an overflow commercial campground spot a mile down the road.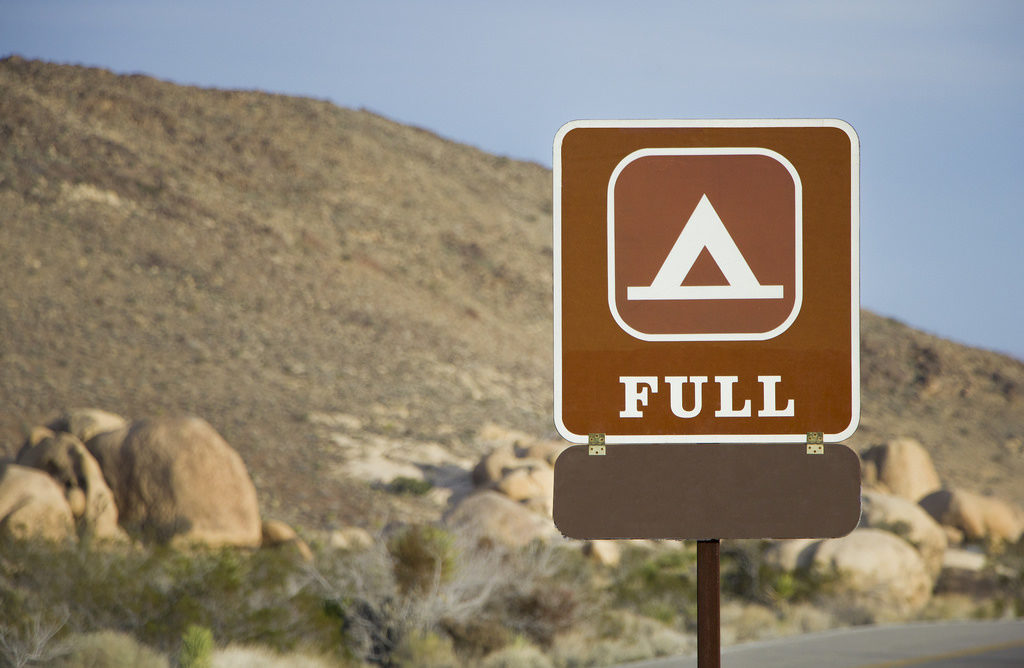 Rangers repeatedly told us that after Labor Day, campgrounds are empty and reservations not needed.  They also told us that they have NO idea what's going on this fall with everything being full.
During the "season", you'll need reservations for most of the National Parks (especially the most desirable campgrounds).  Click here for 10 Tips for Reserving the Best Campsites in the Most Popular Parks. 
On our very first "Snowbird" winter (which started a week ago!), we're having the same issues.  We didn't plan early enough & when I called to get a spot in Fort DeSoto Park/Bradenton, Florida for November, it was FULL, along with all the Florida Panhandle Beach State Park Campgrounds.  FYI, anyone planning to spend a winter in Florida, make reservations WELL in advance … as much as a year in advance for the most desirable campgrounds in south Florida.  (We're not staying in Florida after November, we're venturing west to South Padre Island, Texas and beyond.)
Obviously we need more planning. 🙁  Can't wait to get back out west and start exploring BLM/Nat'l Forest and other "free" camping possibilities … aka "boondocking"!
What about you?  Do you plan ahead and have reservations or just wing it?  Please leave a comment and share!