In 1938, Charro Days burst into the Rio Grande Valley during the dark days of the Great Depression.  Initially intended to lift locals spirits during the Depression, the Charro Days Fiesta continues to unify two nations in these times of uncertainty… Matamoros, Tamaulipas, Mexico and The Rio Grande Valley/Brownsville Texas.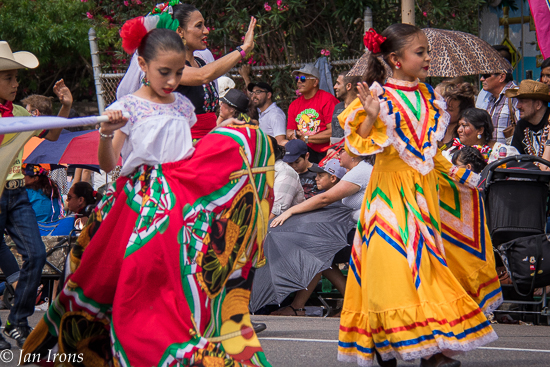 Everyone in the valley dresses in their most colorful outfits to dance to the distinctively upbeat music.  There are several parades, street dances, a carnival and many other events during the week, but the culmination of all is the Grand International Parade, held on Saturday afternoon.  One of the many pleasures of travel for us is getting to experience local traditions around our great country!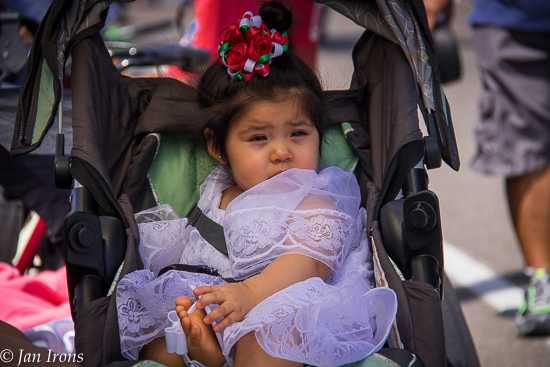 Folks start arriving to claim their seats for the parade overnight at midnight (the parade starts at 1 PM).  With close to 100,000 in attendance, we were lucky to get front row seats close to the reviewing stand, but only because a nice lady had accidentally claimed 2 more seats than she needed and gave them to us.  As our friend Doug says "Life's in the timing" and we lucked out!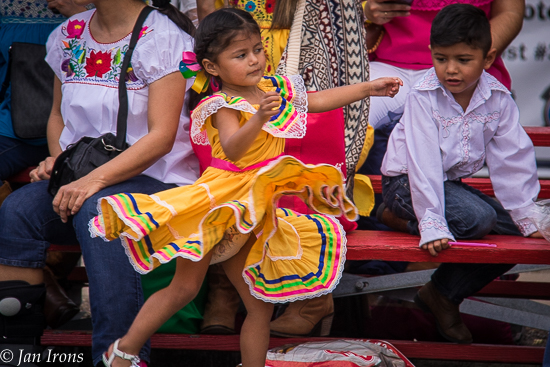 Now for "the rest of the story"… The Charro Days Fiesta is one of the primary reasons we chose to come to the Rio Grande Valley this winter. David's grandparents wintered in Brownsville for years .. and every year after they returned,  David, Ron & Connie were treated to (in their words) a thousand slides from the International Parade.  Since David had never experienced it in person, apparently several thousand colorful slides weren't enough to deter him.
A few photos … aren't you glad you aren't going to be subjected to the thousands that David & family "enjoyed"?   🙂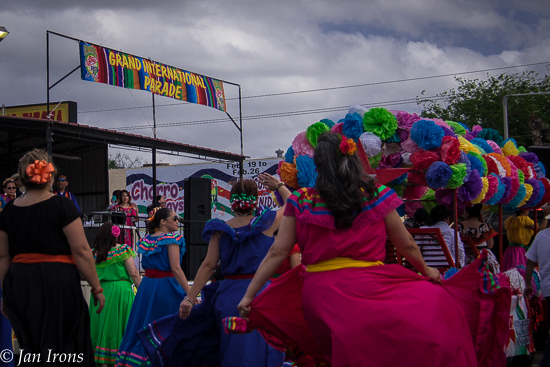 The reviewing stand, just a stone's throw away from our front row seats!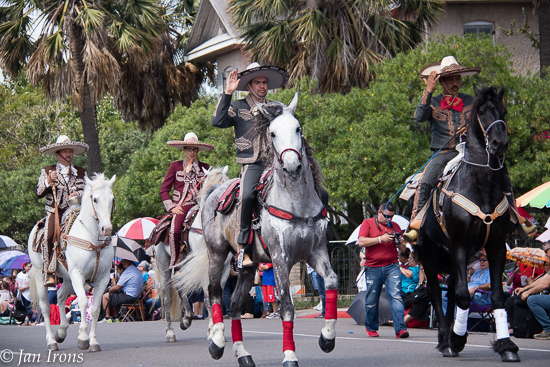 Interesting that the Charro Days International Parade features horses FIRST …. lots and lots of horses first!  Complete with cleanup crews after each horse club entry.  Thank goodness for those that follow!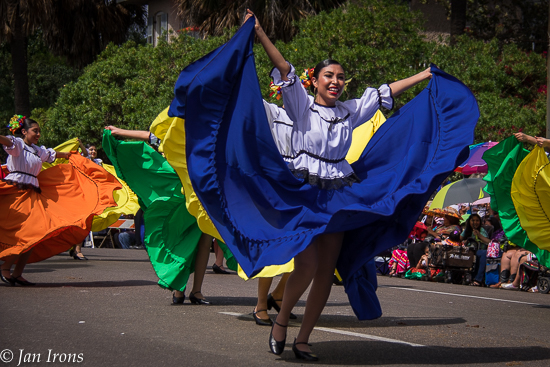 I'm sure these dancers were appreciative of the clean up crews efforts!   Plus they (and all those like them) were colorful and seemed to be having so much fun.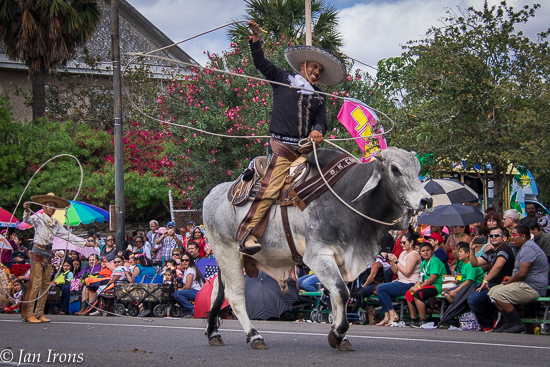 A little roping fun anyone?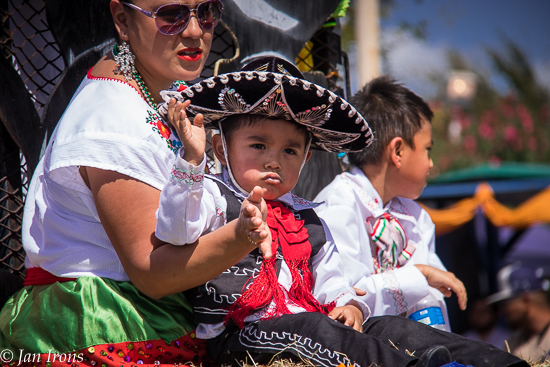 Not sure this little guy really wanted to be on this float.  🙂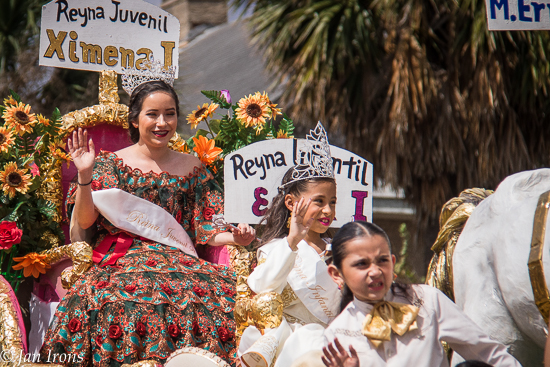 The International Days Parade is truly an international effort – Mexico has it's own section of the parade consisting of floats and entries from the parade that's just across the Rio Grande in Mexico.  These young ladies are the "Reyna's" — or Parade Queens.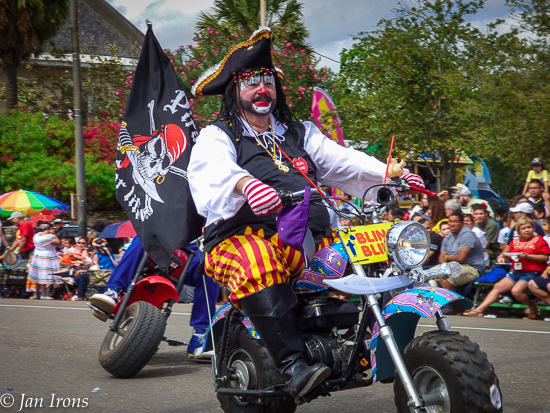 Along with a fire truck, Shriners Clowns are a staple of every parade I've ever attended, and Charro Days is no exception.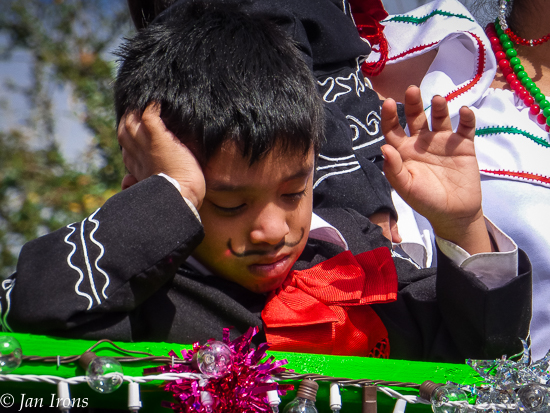 Have I put YOU to sleep yet?  This poor little guy is plumb tuckered out after the 3 1/2 hours of waving during the parade.  But he's still waving – or at least his hand is still in the wave position!
After the parade was fascinating too — the Lions Club put away hundreds (thousands) of chairs in a few minutes revealing a blanket of trash.  Pop cans, plastic bottles, funnel cake trays, cotton candy bags and more … and more….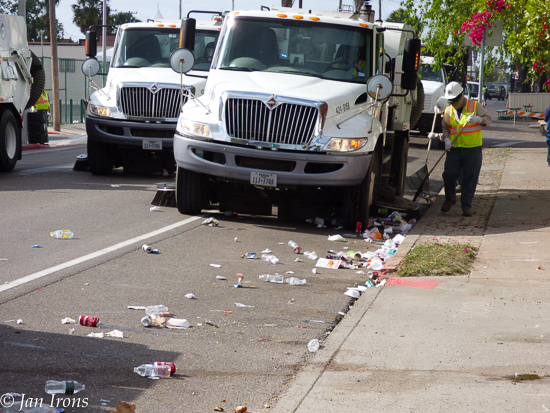 Then along came the street cleaners and VOILA!  Everything's back to normal in minutes – probably cleaner than when the parade started earlier in the day!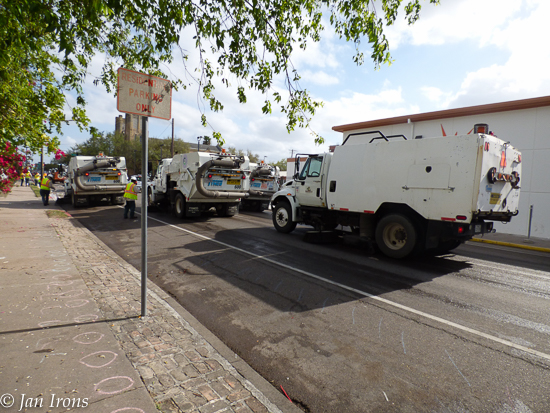 Elizabeth Street is washed and ready to open to traffic.
I love a good parade and Charro Days did not disappoint!  Now to torture Ron, Connie & the rest of the family with 1000 slides in a slideshow!  What's your favorite parade?  Please leave a comment and let us know!  Cheers!  Jan
Save
Save
Save
Save