Setting up camp at Custer State Park's Campground Grace Coolidge Campground seemed like heaven to us after driving for two solid days.  The campground is small and quiet and attracts wildlife – we saw several species of birds in the trees beyond our campsite as well as a HUGE owl that flew directly over our camper.
We also came back from exploring one late afternoon to find a bison/buffalo camped almost in our front yard!
Grace Coolidge Campground was maybe the smallest of the campgrounds in the park but it was conveniently located to visit Wind Cave Nat'l Park, all three Custer State Park scenic drives as well as Mt Rushmore National Memorial.  It was also the only campground in the park that still had reservations available by the time we decided to go – a month or so before our September visit.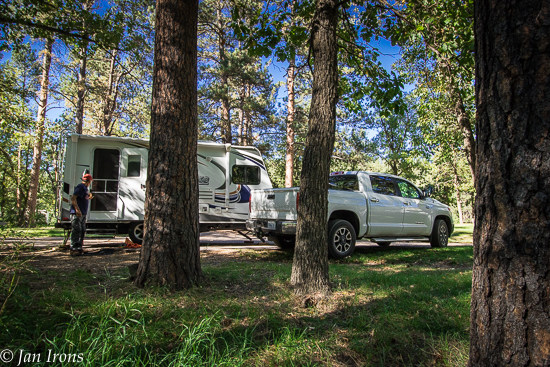 Website:  Custer State Park
Click for a Park Map showing locations of all campgrounds, as well as the scenic drives – Wildlife Loop, Iron Mountain and the Needles.  Here's the Custer State Park Campgrounds web page with a good overview and links to all the campgrounds, campground maps and reservations information:
Campground Map
Most of the 8 Custer SP campgrounds have electricity, running water, flush toilets and showers.
Grace Coolidge Campground Map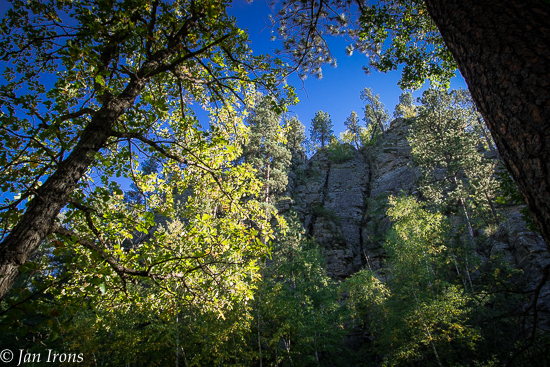 Grace Coolidge Campground is located directly on the main park road.  Grace Coolidge Creek nestles below towering rock cliffs on the back side of the campground providing bubbly brook white noise offsetting the road noise during the day.  In the evening there's essentially no traffic, so noise is not an issue.
Other campgrounds we visited:  Blue Bell, Center Lake (no electricity), Game Lodge (across from the new Visitors Center) and Sylvan Lake.
More campgrounds are listed on the main Custer State Park website.
Reservations:  1-800-710-2267 or online:  Custer State Park Campground Reservations
Local Park Telephone Number:  605.255.4515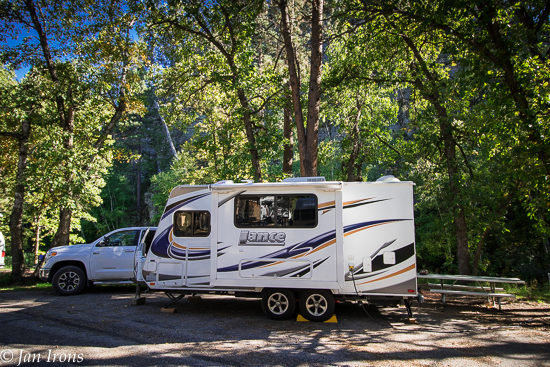 Showers:   Yes!  Nice clean showers with good water pressure & hot water!

Scenic Value:  Good, nestled alongside the main park road, Grace Coolidge Creek, towering trees and sheer rock cliffs, the campground is relatively scenic.
Mosquitos/Bugs:  NONE!   Well maybe one bug in the almost week we stayed there?  No one had screen enclosures up and the camp hosts told us one of the advantages of Custer State Park was NO BUGS. 

Noise Levels:   During the daytime hours, the main park road has some traffic noise, but if you get a site along the creek at the back of the campground, the traffic noise is minimal and the creek white noise is welcome.  After about sundown, the traffic is not a concern as it's almost nil.
Campsite: We were in Site #10E which is one of the pull-off sites.  These sites are not large and we had a bit of a challenge to get our #Lance 1685 21 foot trailer far enough off the road to keep the slideout out of traffic.  The sites also require leveling.  If we were going back, we'd reserve #6E – a back in spot on the corner so there's more room and still close to Grace Coolidge Creek.  

Claustrophobia Quotient.  Better than most, definitely better than commercial RV Parks!  We could see our neighbors but not intrusively.
Access to Essentials:  There is a park store that has some convenience items, as well as souvenirs.  Ice cream was available, but we were chilled and didn't opt for a treat.  Other essentials (gas, groceries & a few restaurants) are available in the town of Custer, SD, approximately 15 miles away.
Campsite Price: $25 per night (Fall 2016), plus a $7.70 non-refundable reservation fee, plus a park entrance fee.  Note that if you make a reservation over the phone, an additional $2 charge will be added.
Have you camped at Custer State Park?  Which campground did you like and why?  Please leave a comment and share with TrailerTraveler readers!  Cheers!  Jan
Save
Save
Save
Save