Being flatlanders with our #Lance 1685 at the dealer, we decided to visit #Lance friends in Montana … specifically, Glacier National Park.   Unfortunately, there are many wildfires burning in the Northwestern US.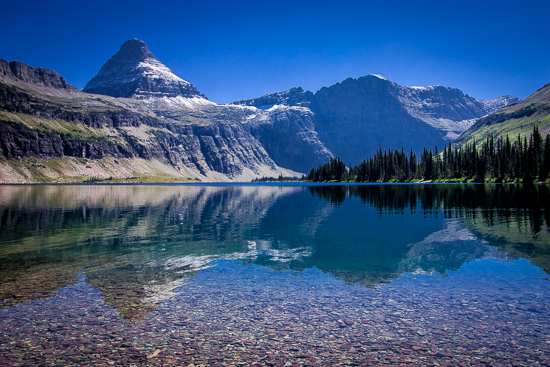 So what to do?  Do we sit at "home" with our friends in Whitefish, MT and moan and groan about the wildfires and smoke that cause less than ideal air quality and scenic beauty?  Or do we jump in the truck, head for wherever seemed likely to be less impacted?  Guess which we chose!   🙂
Surrounding areas were socked in with smoke.  In fact, the highway we took from Whitefish, MT to Many Glacier on the eastern side of Glacier National Park was closed shortly after we drove across limiting our choices on the way back – either through Canada or farther out of our way south.
We were lucky to get a campsite in Many Glacier NPS campground (first come, first served) – we arrived about 7:30 AM and were lucky to find someone just leaving spot #77, across from the river and a couple spots down from the bathroom (no showers).  Perfect!
From the minute their Lance 1885 (the big sister to our Lance 1685) was set up, our friends were on a mission to kill us Flatlanders.  No doubt in our minds.   Every hike was more spectacular than the last.  10 miles+ the first hike, then 12 miles+, then an "easy" day with "only" 6+ miles (but the steepest elevation gains/losses in the shortest distance) and the last hike, they labeled an "endurance" hike – David clocked 20 miles on his FitBit, mine only said 16.58 miles, but I'm pretty sure we hiked the same trail.
Some days the visibility was better than others.  Some days the smoke made our eyes water and noses run.  But every day was special and amazing.  Experiences to be treasured.
Because I love so many of the photos, I've split the hikes into separate posts – that way you're only subjected to 10-12 photos at a time instead of 50 in one post (seemed a bit much, even to me!). Click on the links below and ENJOY!
Iceberg Lake Trail – 4.8 miles one way, 1200 elevation gain — our first day at elevation and we're hiking over 10 miles … see what I mean about friends trying to kill us Flatlanders?   🙂
(Post Under Construction) Grinnell Glacier Trail – 5.5 miles one way, 1600 elevation gain — over 12 miles back to the truck and a chilled Mike's Hard Lemonade as a reward!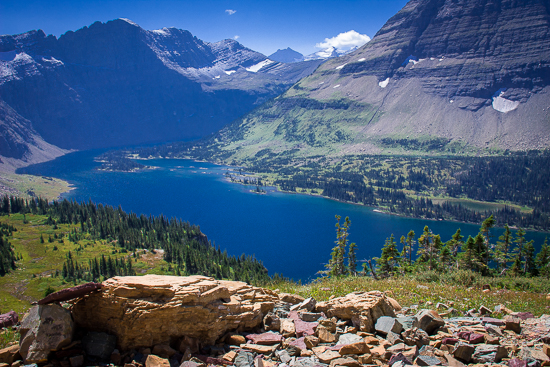 (Post Under Construction) Hidden Lake Trail – this is the "easy" day off hike – the "tourist trail" that begins just behind the Logan Pass visitor center.  What they failed to tell us is that this hike, while it may only be 6 miles round trip, contains more elevation gain and loss in a shorter distance than ANY of the other hikes.  I can only guess that Glacier National Park is out to kill the tourists as well as us!  🙂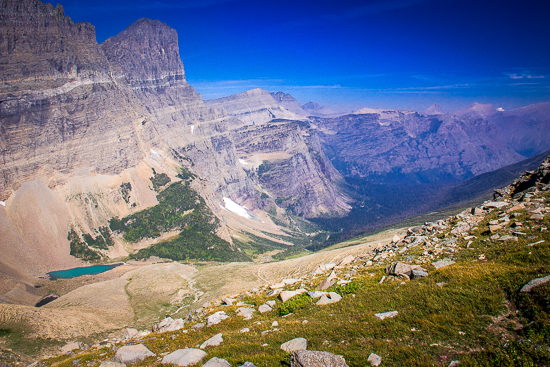 (Post Under Construction) Piegan Pass to Many Glacier – 1750 elevation gain, 2600 elevation loss – everyone's mileage varied on this trail – technically I think it's supposed to be somewhere around 15 miles, but depending on where you end up – like us at the campground – it can be more.  Our friends referred to it as "not a difficult hike, just an endurance hike".  But it allows access to Feather Plume Falls, an 880 foot stunning surprise after cresting Piegan Pass and feasting our eyes on the Garden Wall for a few miles.
ENJOY!  Now we've hiked 4 more trails in Glacier Nat'l Park.  For the 2nd time we missed Two Medicine – this time due to closure from wild fire exposure.  Any place else not to be missed?  We're thinking of towing our Lance 1685 out there next summer, starting at Glacier and working our way up to the Banff area and the several surrounding Canadian national parks.  Please leave a comment and share what we should not miss!  Cheers!  Jan