With the Chihuahuan Desert, Chisos Mountains and Rio Grande River Oasis ecosystems, a visit to West Texas' Big Bend National Park is three parks in one!  Once, not long ago, Big Bend was a remote, almost inaccessible location but the national park is now visited by over 300,000 people a year  — most of them during Texas Spring Break week, so check your dates before you go!  Endless scenic vistas, desert wildlife (including my new favorite, RoadRunner!), historic sites, and visiting a Mexican border town rank among the diverse variety of things to look forward to in Big Bend.
David's favorite new saying is "I've left the USA many times, but never in a rowboat until we visited Big Bend National Park".  🙂
Plan Ahead
1. Big Bend National Park is HUGE!  From Rio Grande Village Campground on the east side of the park to the Chisos Mountain Visitor Center is "only" 30 miles – but the last 10 miles is up a windy mountain road guaranteed to make you want to stop in awe at every pulloff (and pulloffs are frequent).  So the trip takes from 45 minutes to well over an hour.
From Rio Grande Village Campground (east side) to Cottonwood Campground (west side) is 86 miles, but again, part of the trip is down Ross Maxwell Scenic Drive, which is another awe inspiring drive that you will not do in regular travel times.  Plus, who wants to spend all their time in a national park driving in a vehicle?  Not us!
2. Having said that, despite relocating halfway through our stay (from Rio Grande Village Campground on the east end to Cottonwood Campground on the west end), we needed gas! There are no easy conveniently accessible towns if you stay in the park.  Fill up with gas in Terlingua or wherever you come in from. There is gas available at Rio Grande Village Store and Panther Junction, but it is not inexpensive and may be unavailable.  (We had to fill up once just because the territory is so vast and we were exploring so much.)
3.  Bring your passport to enjoy a day trip to Boquilla, Mexico,  Big Bend National Park has its very own US Border Patrol crossing – not always open, as we found out click the Boquilla link for up to date NPS information.  We returned another day to enjoy the adventure.  This was the first (and only) time we left (and returned) to the US in a rowboat!
4.  Lots of folks really enjoy rafting the Rio Grande. You have two choices, bring your own raft, canoe or kayaks or go with an NPS approved outfitter.  Information on both options is found by clicking on the link.  While we were there, the river was extremely LOW and rafting was not an option.  But IF you want to go rafting, check with an outfitter ahead of time and make arrangements.  Once you're in the park, you won't be able to easily make a phone call without driving somewhere.
Be Prepared
5.  Big Bend National Park has a harsh climate and unpredictable weather.  As in many parts of the world, weather patterns lately have been anything but patterns.  When we visited Big Bend in the early spring, it was HOT!  Hot as in 117 degrees during the day and rarely getting below 88 by 4 AM.  Obviously, this created a bit of a challenge – especially since we were camped in Rio Grande Village campground for the first several days.  RGV has no hookups … or shade.  We could run our generator to use the A/C to cool the trailer a bit inside, but generator hours ended at 8 PM (with temperatures still hovering around 100). Needless to say, it was difficult to get to sleep.
6.  WIND!  One would think that a nice breeze would help with the extreme temperatures, but in our case all it did was blow the sand around, leaving both us and our trailer & truck sandblasted!  Because of the unpredictable wind, the camp hosts encouraged campers leaving the trailer to bring in their awnings.  Obviously, without the awning, the sun was relentless. But we weren't there to sit in the campground all day, so …  in went the awning.
7.  Be sure to have adequate "Ready to Eat" foods.   And remember, once in the park, there are very limited options for getting food – maybe the Rio Grande Village store, but that's a very limited convenience store.  Bring what you want in with you.
Often we'd get back to our campsite after watching sunset, exhausted from the heat and not really hungry, but needing something for dinner.  Being out and about all day long, required snacks and hiking foods.  We kept our cooler in the back of the truck to keep more food available wherever we happened to find ourselves.  Dinner was a hodgepodge – usually something on the grill and a side – the pasta salad was a hit since it was chilled.
8.  Hiking.  Go early to beat the heat.  Go to the mountains to beat the heat.  Hike to the Rio Grande and play in the river to beat the heat.  Take a daypack with plenty of water and snacks!  Ours are Osprey Daylite hydration packs and we love them.  And be sure to have adequate broken in hiking boots or shoes and dress appropriately. Hiking in the desert is better with lightweight long pants, although we didn't always adhere to that concept with the heat.  Rangers recommend at least 2 quarts of water per person per 2 hours of hiking – or a gallon (4 liters/day).  You can get water bottles refilled only at the visitor centers, so plan appropriately especially if you're like me with only a 1.5 liter Osprey Hydration reservoir.  Assume you'll miss at least one meal, so take healthy snacks such as almonds, apples, protein/granola bars, hard boiled eggs, etc.  And don't forget a hiking first aid kit!
9.  Your cell phone won't work in  most of the Big Bend National Park.  But if you absolutely can't live without it, there's wifi at the Rio Grande Village Campground STORE and cell signal is OK at Panther Junction and on some of the Main Park Road north to Persimmon Gap Visitor Center.
Be Flexible
10.  Burn Ban means no wood fires.  This didn't affect us directly, we were able to use our grill to cook and it was too darn HOT to really enjoy a campfire anyway.  Rangers informed us that the park is usually under a burn ban, this is not an isolated situation.
11.  The unseasonably high temperatures meant that it was unsafe to hike during the late morning and middle of the day.  Hiking needed to be done early in the morning.  Unfortunately I'm not a morning person and hiking in the Chisos Mountains was almost an hour's drive from Rio Grande Village Campground.  But we managed to squeeze in a few hikes despite the challenge.  The Lost Mine hike, we didn't finish until almost 2 PM, which was NOT a smart idea. But we had plenty of water and it was somewhat cooler in the mountains.  The Santa Elena Canyon hike "required" that we be there before sunrise to get the sunrise photo, so it was not a problem.  🙂
For safety's sake, Rangers recommend that you NEVER start a hike if the temperature is over 85 degrees – there are even large thermometers at several of the trailheads.  Unfortunately for us, the temperatures didn't get below 85 degrees anytime during daylight the entire 10 days we were in BBNP.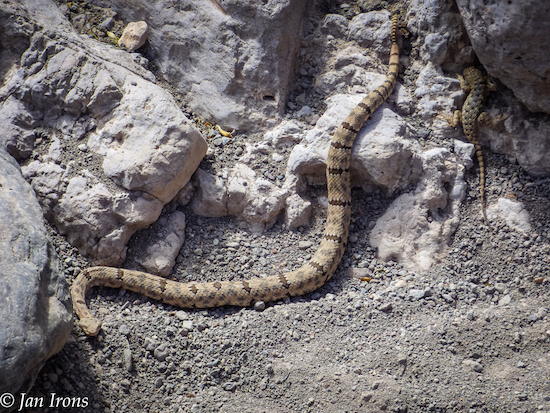 12.  Do NOT MISS Big Bend Ranch State Park, a Texas State Park with some of the most magnificent scenery in the entire Big Bend area, along with a scenic drive along the Rio Grande that is NOT to be missed.  We made the mistake of only allocating one day to this area, which might have been a big mistake.  In retrospect, we might have camped a couple nights in Lajitas to be closer to this magnificent state park with only primitive camping options.  We were able to hike Closed Canyon, a r/t 3 mile beautiful slot canyon hike that we immensely enjoyed (except for the rattlesnake….).
Oh, and the historic Starlite Theatre Restaurant & Saloon in the ghost town outside Terlingua is worth a visit and dinner.
Have you visited Big Bend National Park?  Have I missed anything?  Please leave a comment and share!  Cheers!  Jan
Save
Save
Save
Save
Save
Save
Save