The Gila Cliff Dwellings National Monument offers a glimpse of life in the Southwest US over 750 years ago – pretty impressive since not much in the US is that old! Long before the arrival of the first Europeans, the Mogollon made these remote narrow canyons their homes.  Stone and adobe walls strewn with pottery fragments, corn cobs, petroglyphs and pictographs are evidence of early life and readily enjoyed by us all these years later.
The Mogollon(pronounced: mug-ee-own) people built their homes in natural caves starting around 1260 and they vanished by 1300.  Archaeologists suggest that about 8 to 10 families lived the 5 caves, 42 rooms, in the Gila (pronounced:  HEE-luh) cliff dwellings for roughly one generation.
Evidence of how ancient cultures lived always fascinates me.  Standing in the cave dwellings, it was easy to envision the children squealing with laughter as they played, the moms grinding corn and fixing flatbread over the open fire and the men returning from the fields or from a hunt. And how in the world did the moms keep those kids from falling over the cliff edge?
Slight and small (average 5'1″ for women and 5'5″ for men), but muscular, they survived by growing corn, squash, and beans; grinding cornmeal, weaving cotton cloth, trading with other communities, hunting and gathering wild edible plants. They made beautiful pottery bowls with solid black interiors and black-on-white decorations on the outside.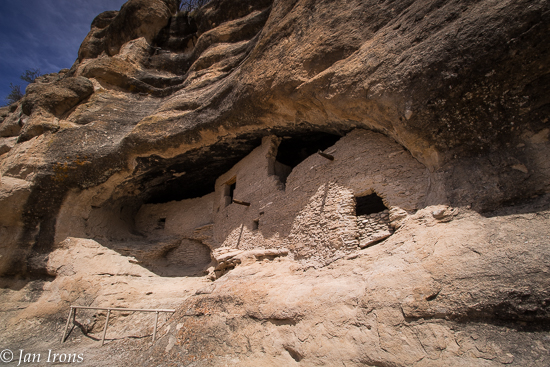 Amazingly and due to the dry desert climate, all the wooden beams seen in the dwellings are original. Tree-ring dates range from the 1260's through the 1280's.
By 1300 the Mogollons were gone.  No one knows why.  Speculation is that a drought or other food/water shortages may have sent them elsewhere.  How can an entire culture just vanish?  Such is the allure of the Southwest because the Mogollons aren't the only ones that vanished.  There are no bones or other evidence that they stayed,  just gone.
If You Go:  Camping
The Gila Cliff Dwellings are in the Gila Wilderness and Gila National Forest.  This means they're literally in the middle of NOWHERE – very much out of the way. Bring in your food and lots of water/drinks.
The closest RV campground is Gila Hot Springs RV Park near Doc Campbell's store and about 4 miles from the Gila Cliff Dwellings Visitor Center..  It gets good ratings and looked adequate when we stopped to inspect it, but NM Hwy 15 looked daunting and we didn't attempt it – in retrospect, we probably could have made it.  In the Gila Hot Springs RV Park there were larger rigs – even a 5th Wheel or two, so I guess it can be done.
The Upper and Lower Scorpion Campgrounds in the Gila National Monument are small gravel parking lots and not much else.  Tent campers would have spots, but anyone else would just be in the gravel parking area and not much of that.  Good idea to GoogleEarth it (that's what we did) prior to arriving.
We camped in the Gila National Forest nearby (maybe 45 minute drive?) at Mesa Campground/Lake Roberts. This campground is on NM35, a relatively easy approach road via Mimbres, NM.  All the spots are first come/first served and we arrived early in the week to get one of the 12 electric and water sites.
Beautiful spot up on a mesa overlooking Lake Gilbert!
Driving NM 15 was a twisty windy mountain road – leaving the Mesa Campground, we turned left until we intersected with NM 15 for the scenic drive in to the Gila Cliff Dwellings National Monument.
What Is There To Do?
The park and cliff dwellings themselves are small, the hiking can be difficult and NM 15, the road in is quite scenic…. and twisty and windy and narrow — all the things a mountain road should be.  🙂
After your scenic drive, you'll arrive at the small visitor center.  Watch the short movie (not on the scale of most national park movies) and join a ranger tour of the cliff dwellings if possible.  When we were there, it was too early in the spring for ranger tours, but there was a very knowledgeable volunteer at the cliff dwellings that explained the workings, showed us some fascinating details – like the hand prints of a construction worker – that we would have never found on our own.  Must do!
Depending on the time of year, hiking can be challenging – for us no matter what trail we wanted to hike,  it meant crossing the Gila River with waist to chest deep crossings in ice cold rushing water.  17 river crossings to hike the hot springs trail made us re-evaluate hiking in the Gila Wilderness.
If you're interested in hiking, do yourself a big favor and stop at the Wilderness Ranger Station just outside Mimbres – talk to the rangers.  We bought a map and they marked the trails that were the shortest and least like to have serious water crossings.
Other than that hiking to area hot springs or "discovering" other more remote cliff dwellings, exploring the featured cliff dwellings (which won't take more than part of an afternoon), you can  enjoy the dark dark night skies and relax with the beautiful scenery.
We were ready to move on to Saguaro National Park after three days when we had planned to stay longer and do some serious hiking.  But gotta be flexible and somehow crossing icy rivers up to chest deep just didn't seem like our agenda!
Have you been to Gila Cliff Dwellings, Gila Wilderness or Gila National Forest?  What did we miss that we should have enjoyed?  Please leave a comment and share!