Interrupting the high rise condominium continuam on the Alabama/Florida stretch of panhandle coastline is a jewel of a state park:  Gulf State Park.  With its wide sunny beaches, the soft powder white sand is kissed by a gentle surf, perfect for children – and adults not requiring getting knocked down by the Atlantic coast surf.  The gentle slope out to the Gulf means beach-goers of all ages can wade in the clear gentle waters beach combing and discovering seashells, sand dollars and the occasional starfish.
The beach may be the main attraction, but that doesn't mean there's not lots to love about Gulf State Park away from the beach…  like the Monarch Butterfly migration.
Not just a few, but a gazillion, all on their way to Mexico because it's too cold on the panhandle in the winter for them to survive.  Monarch's are the only butterfly species to make such a dramatic migration.
We rode 16 miles of bike trails inside the park … level smooth trails, easy to ride, no loose sand …
More wildlife … but no alligators, despite the warning signs.  Not sure if I'm bummed or glad about no alligators ….
Oh wait, that's not wildlife, it's my brother, Jeff, and the Park's Halloween decorations.
The beach is definitely the main attraction … wander for miles, relaxing …..  Build a sand castle or teach your youngsters to enjoy the surf.   Or try your hand at fishing on the Gulf's longest fishing (or just enjoying) pier.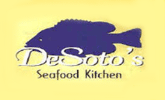 And if you're hungry after all that relaxation…. be sure to try DeSoto's Seafood Kitchen – one of the few restaurants that understands that not everyone wants everything fried.  AND a 55 & older senior menu with  my favorite Yellow Fin Tuna, Blackened or Grilled with two side dishes (rice pilaf & steamed veggies for me, plz) for $11.99!!!  I love this place!  David gets the grouper, plus there's mahi mahi, shrimp, oysters, and a dozen other choices on the senior menu.   I've never been so excited to be a senior in my life!   🙂
Enjoy!