A hidden gem of geological catastrophe, Providence Canyon is still breathtaking.  In the 1820's when pioneers moved to this area of  southwest Georgia, it was all rolling hills.  They stripped all the natural vegetation to plant cotton, plowing downhill year after year.  Within 20 years (20 YEARS!!!) the sandy soil's continued erosion grew from ditches to gullies to dramatic canyons.  60 million years ago this area was covered with ocean, accounting for the very sandy loose soil.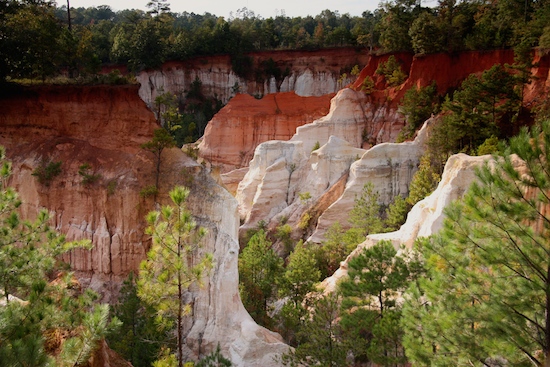 Today cotton farm fields with rolling hills still surround the area, except for occasional canyons that are now protected as Providence Canyon State Park.
The 3 mile hike to the canyon floor starts just behind the visitor center, which is closed due to budget restrictions.  In the past it was required to register before starting the hike but now there's only a wooden box and a registration pad requiring you to sign in before the hike.
With all the dramatic signs and registration requirements, we were anticipating a rigorous hike, but this hike is actually pretty easy.  Keep in mind, the trail slopes downward to descend into the canyon and upward to climb out of the canyons on the other side.  But it's a slope and not a climb.
The trail itself mostly loops the rim of the canyons except for descending and ascending to reach the canyon floor.  The 3 miles does not include any exploration of the canyon floor where there are signs posted directing you to all 9 canyons.  When we were there in late October, the canyon floor had about an inch or less of water except for canyon 9 which we decided not to hike because the water was a few inches deep and thus far we'd managed not to get totally wet feet (the temps were in the low 60's).
The canyon walls tower 150 feet above you as the streambed winds in and out of each of the nine canyons.  You can explore one or all, or just follow the trail through and up the other side.
Sunrise and sunset would make dramatic times to enjoy the canyons, unfortunately, unless you register (who knows where?) for a backcountry hiking/backpacking permit, the gates are locked at sunset until after sunrise.  So no drama in the mid-day photos, but it was still a spectacular hike, well worth exploring.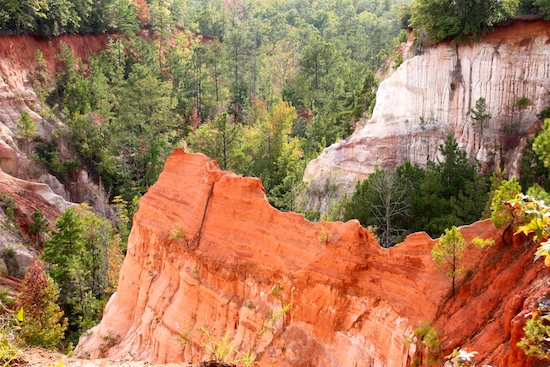 Climbing out the other side, the trail winds through an abandoned homestead where there's nothing left but rusted out vehicles left for the natural vegetation to cover.
Critters includes mosquitoes – big enough to carry us away — we found our way quickly past this part of the trail and shortly were following the rim of the canyons with their great views again.
Have you visited Providence Canyon and hiked the rim trail?  What was your favorite part and what have I left out?   Please leave a comment and share!  Cheers!  Jan