Wildlife watching opportunities are ample in many places, especially parks and forests. Unfortunately wildlife is just that … wild… which means unpredictable, especially with vast areas of parks to roam.  So many times we've heard visitors complain to park rangers …  "I didn't see a single (fill in the blank)".  How to spot more wildlife?
#1 … SLOW DOWN!!! Vehicles zoom around park wildlife loops – sometimes zooming right by large critters without seeing them!  I took the photo of the bear below from the car window driving up Going to the Sun Road in Glacier National Park.  Meanwhile, several cars zipped by, not even looking.  Maybe they didn't want to see a bear munching on Mountain Ash berries?  Slow down, get out of your vehicle (unless the bear is this close , look around, be quiet maybe you'll see something unexpected.
I won't deny that part of seeing wildlife is luck, but a big part is how you approach it.  Slow down …
2. Stop often and get out of your car (as long as there are no wild critters right there). Take a nice slow look around.
3. While scanning the landscape, look first for movement – animals on the move or grasses/leaves moving in one spot differently than everywhere else are good indications there's something else to see.
4. If there are specific species of wildlife that you really want to see, do some research ahead of time on where they're likely to be at what time of year.  For example, some wildlife gradually moves up to higher elevations as the weather gets warmer and back down when the weather turns cool.  September and October are good times of the year to spot some species you might not see during mid-summer.  The internet makes it easy – just google whatever you want to know and plan your trip accordingly.
5. When arriving at a park, ask Park Rangers where and when you're most likely to encounter the species you would like to see.  They generally have a good idea where and when they're hanging out (or at least were hanging out).
6. Talking to others, we found out that elk (our most elusive species) like to lay down/hide at the edge of the trees during the day and come out into meadows early and late to feed.  We learned moose like to feed in swampy areas of willows, tall grass or cattails along the edges of rivers, streams, lakes or ponds.
7. Generally daybreak and late afternoons are when wildlife moves around … not the middle of the day.  We saw over 10 large species not including birds, but rarely between noon and 3 or 4 PM.  During mid-day, we literally saw almost nothing.
8. (again) GO SLOW!  This is the most important tip in our experience.  If you're driving around a "Wildlife Loop" or "Scenic Drive" – take your time.  Stop at many locations, take a walk or hike, get out the  binoculars and look around.  Wildlife blends into the scenery as protection from predators.
How often did we hear people complain that they drove "Alligator Alley" in Everglades Nat'l Park and never saw an alligator.  We never drove it that we didn't see lots of alligators!  Warm sunshine makes for more alligators — look in the high grass along the creeks.  It's easy to spot where they've been lying due to the flat grass.
9. Look around the edges of ponds, streams, rivers, lakes early and late for wildlife emerging to get a drink.
10. We've had good luck when we get a campsite backing up to a river or stream.  Because we're there more often, we can often spot wildlife coming down to the river for a drink.  In Theodore Roosevelt National Park (ND), wild horses ran right through our campsite on the way to the river!
In Custer State Park (SD) a bison (buffalo) was in our "front yard" the same night as an owl flew directly over our heads enroute to the rock cliffs/trees across the stream.  Even in metro Denver, we saw a coyote as well as several deer sneak through the treeline bordering a meadow on the other side just at the back of our camper.
11. Sign up for a Park Ranger Wildlife Tour – Rangers usually know where wildlife is in their parks and can take you to that area … maybe you'll see some wildlife. Or ask around, find a local wildlife guide and take a hike.  Or maybe better yet, get a spot recommended by the experts and just sit quietly — see what wanders into your field of view.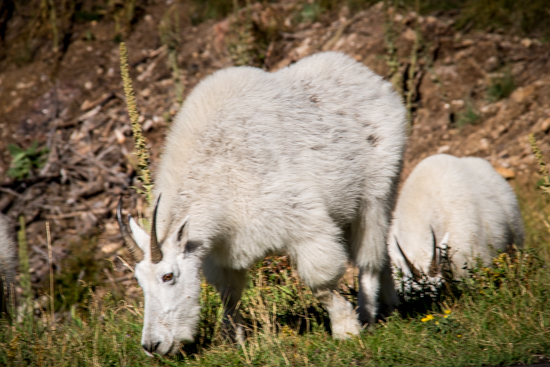 We also enjoy booking wildlife specific tours to see hard to see wildlife up close. One of our favorites was a USDA Forest Service bear observatory trip to the Anan Wildlife Observatory Site outside of Wrangell, AK … but the Ranger's carried rifles to protect our small group! Google to find out what wildlife experiences might be available where you're going.
12.   Remember to make yourself as unobtrusive as possible — QUIET – little or no chatting, no perfume, quiet movements.  SSSSssshhhh!!!
If all these ideas fail, try try again tomorrow.  Remember, GO SLOW at the right times (early or late), stop often, look carefully around with binoculars or a spotting scope.  And if you don't see what you're looking for? Try again the next morning … or next late afternoon.
Let us know how it goes & if you have more tips for finding wildlife!  Cheers!  Jan
Save
Save
Save
Save
Save
Save
Save
Save
Save
Save
Save
Save
Save
Save
Save
Save
Save
Save
Save
Save
Save
Save
Save