I got my toes in the water, ass in the sand
Not a worry in the world, a cold beer in my hand
Life is good today. Life is good today.    — Thank you Zac Brown Band! 
Our first national park campsite!  Oregon Inlet Campground is a windswept sand dune campground, where we walked out our door onto a footpath leading over the dunes and onto the beach.  The music of ocean waves crashing just over the dunes accompanied our camp set up.
Needless to say, we couldn't wait to go explore – Bodie Island Lighthouse, the Wright Bros First Flight Memorial, Currituck Lighthouse, Jockey Ridge State Park, the island of Roanoke and the Alligator River Nature Refuge were all within easy driving distance.   We also drove to Cape Hatteras village just to check out the ferry & see if we wanted to camp there before catching the ferry.  It's over an hour drive so we opted to move south to a commercial campground (the two other national park campgrounds referenced on the link above were closed already) to take in the Cape Hatteras Lighthouse – we stayed a day and a half in Hatteras Village and for us, that was plenty of time.
Upon arrival we were instructed to find a vacant spot,  back the trailer in and before we set up, report back and register.  That way we'd be sure the site wasn't already reserved by someone who drove away and forgot to change the "Vacant" sign to "Occupied".    We paid our $10 a night (half price with our National Parks Senior Parks Pass — if you're 62 or older and don't have this treasure, you can buy a LIFETIME pass for $10 at most National Parks Visitor Centers.  The Senior Pass entitles you to all kinds of good stuff, AND half price camping at National Park Campsites.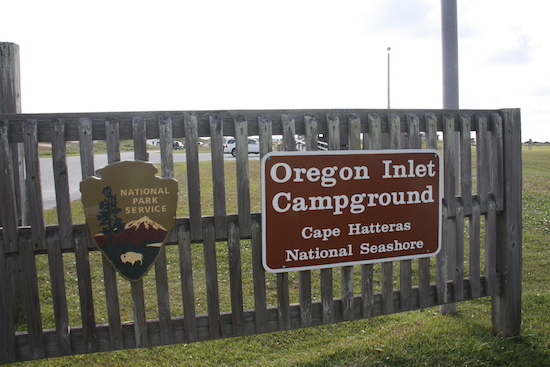 $10 a night at Oregon Inlet to be literally next to a beautiful windswept sand dune with a short path leading to the beach.  There are a few things to know …
1.  Check the opening and closing dates – Oregon Inlet closes Columbus Day, this year, October 13, we just made it!  Opening dates are usually around the 3rd week of April.
2.  We thought the campsites were spacious and wonderful.  There was no shade however so beware if you're coming during the summer.  Note that several Trip Advisor reviewers seemed to think the sites were cramped.  Since we're newbies at this, we can only say I've been claustrophobic in a couple campgrounds but not Oregon Inlet.  The above photo illustrates our campsite and you can see one beyond it, but nothing close on the other side.
2.  No reservations, first come first served.  Not sure how busy the campground is during the summer, but it was half empty in October.
3.  No electricity and no water at the sites.  Flush toilets and cold water showers are cleaned and re-supplied daily.  But don't wash your dishes or clean your fish in the bathrooms!
4.  The dump station and potable water fill is across the street from the campground.  You'll turn right off the main road, just past the campground and it looks like you're going to the US Coast Guard Station.  Hang the first left – almost immediate – toward the sportfishing marina, otherwise you'll be turning around in a parking lot.  Keep going and eventually you'll see the water and dump station on the left across from the sportfishing docks.  There's also gasoline available at the marina.
5.  Quiet time is 9 PM to 7 AM daily – no generators or other noise during quiet time, so plan accordingly.
Two minor annoyances … Rte. 12 is the only major route down the Outer Banks, therefore there's traffic including commercial traffic making noise both ways.  Try and get a dunes side campsite to be further from the traffic noise.  Also, the campground is next to a beach drive on – yes, you can get a permit to drive on the beach. And if you're into surf fishing, this is a great spot.  Check the dates, I believe it didn't open until September 15 and runs through March 31 – to avoid driving on the nesting turtles.  So there may be a few cars on the beach south of the campground.  While we were there it was only a handful and didn't bother us particularly until we got as far south as Cape Hatteras Lighthouse – then it was like Daytona Beach… subject for another post.   🙁
For reviews from Trip Advisor and Yelp, click on the approriate link.
Trip Advisor Oregon Inlet Campground Reviews
Yelp Oregon Inlet Campground Reviews 
Do you have more information to share about Oregon Inlet Campground?  Please leave a comment and share!  Cheers!  Jan