Location, Location, Location!  If you want to be on South Padre Island, there are only 3 places to camp/glamp: South Padre KOA or Cameron County's Isla Blanca or Andy Bowie Parks.  We chose the South Padre KOA for its LOCATION, close to everything but tucked away from the main traffic and hubbub.  Isla Blanca is a huge RV park – over 600 spots – with few amenities other than the beach & jetty at the far south end of the island.  Andy Bowie Park is a rather small asphalt parking lot about mid-island, across from the Convention Center – over the dunes to the beach.
Were we happy with our choice?  Yes. Tom & Stacie are amazing people.  They go out of their way to make sure everyone is having fun and included – even going as far as offering a weekly Free Hot Dog night and  instructing FREE Zumba classes several times a week – sometimes even in the pool!  I never thought I'd enjoy Zumba, but never say never – we became regulars.  And don't forget the usual Bingo Night, Texas Holdem (Poker) Night, Games Night, Cards Night.  Then there were the "special events" – musical entertainment on the sunset deck, "spuds" night, Super Bowl Party, a group trip to Mexico, card making parties, on & on….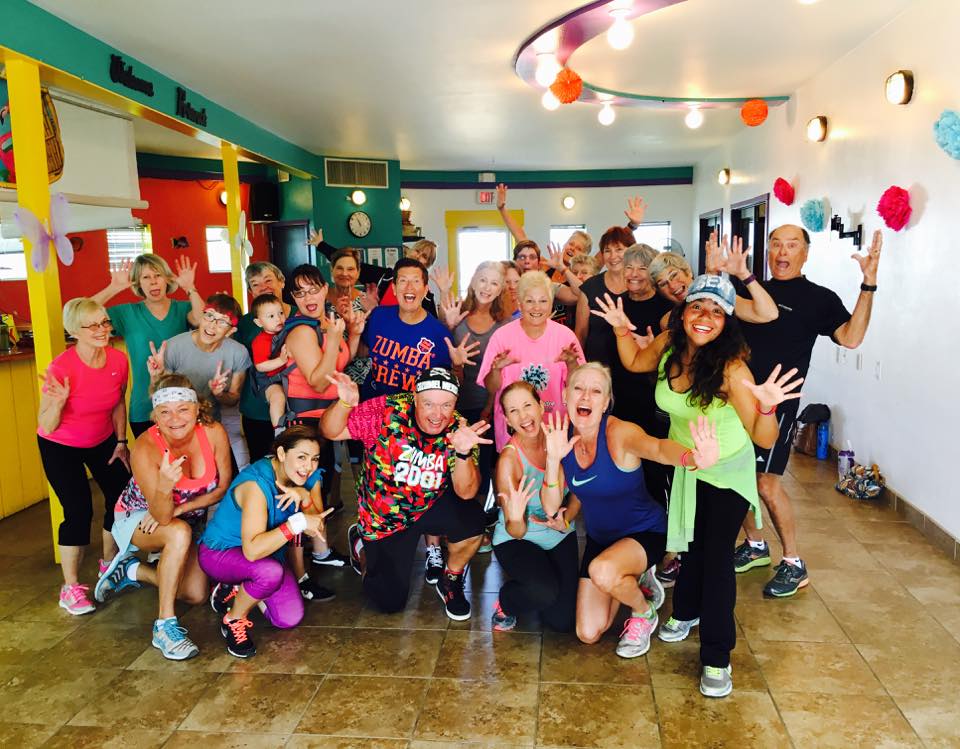 The amenities and activities were nonstop and appreciated.  It's nice to come back from a full day exploring the island to relax with a dip in the heated pool or meeting new friends on the sunset deck, sipping a cold one while the sun sinks colorfully beyond the horizon.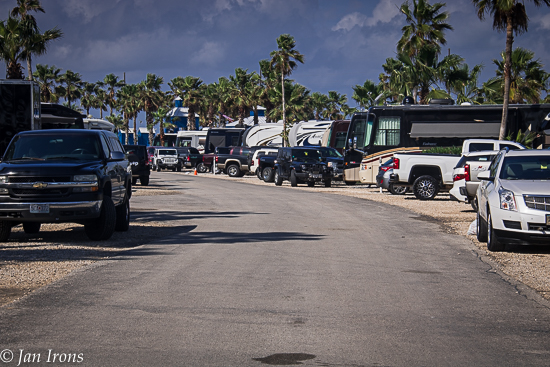 But we discovered something about ourselves very quickly – we're not fans of commercial RV resorts.  Too confined, not enough space.  The South Padre KOA sites are small, but again, Location, Location, Location.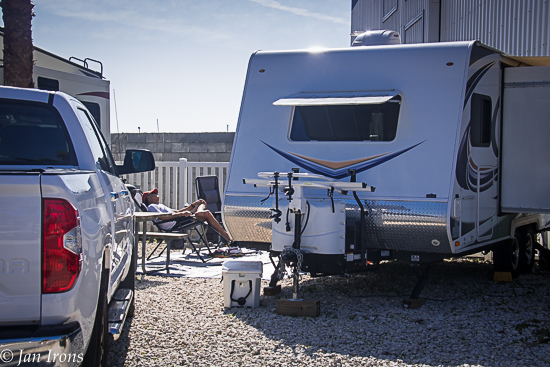 We had a picnic table and gravel patio – we should have been smarter and opted for one of the premium sites with a nice patio, picnic table and adirondack chairs. But all those sites were already reserved when we made up our minds to go to South Padre Island.  Too bad.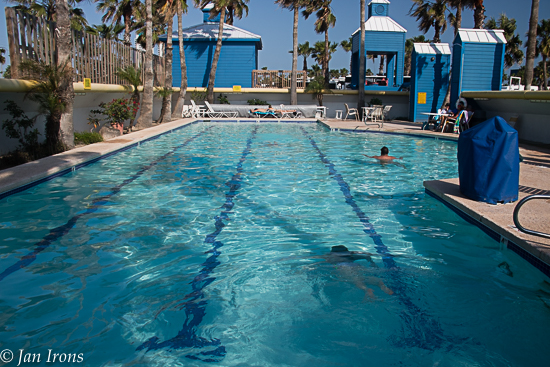 When both sides of our site were full, often it was hard to park.  Can someone tell me WHY in a commercial RV park, so many need 2 vehicles?  Really???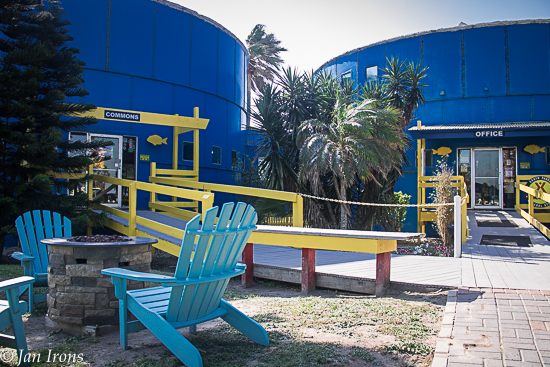 Specifics….
Website: South Padre Island KOA
Campground/Park Map:  Click Here
Local Park Telephone Number: 956-761-5665; email:  southpadre@koa.net
When To Go:  January is very very windy!  Almost every day it was blowing 20+ and often from the southeast.  Beach fun could turn into sandblasting quickly!  But it was mostly warm. And EVERYONE says avoid the month of March like the plague.  The 3rd week in February is Bike Week, which if you're a biker could be lots of fun, but if not, the traffic may be nightmarish.
If you're looking for a warm winter location, South Padre Island is on the same latitude as Miami, but isn't quite as warm and far windier!  We figure it has something to do with the Gulf Stream around Florida.  On the other hand, South Padre Island has it's own charm and is far far far less expensive than the Florida Keys!
Showers  4 Mens & 4 Womens showers in two different comfort stations – good, but older, built in "recycled" storage bins.  Plenty of hot water and water pressure!  The shower heads in the womens were way above my reach (I'm 5'3″) so there was no adjusting.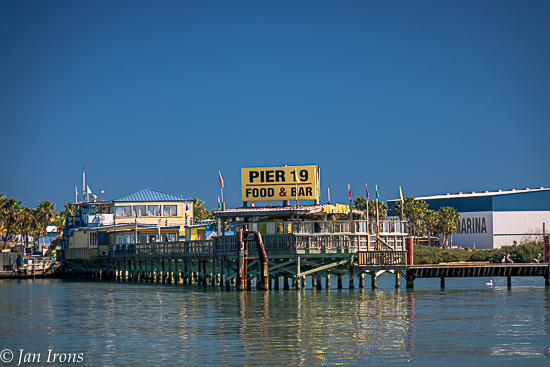 BONUS POINTS!  The POOL!  The Sundeck.  The Commons Area.  Pier 19 Restaurant on site – with 10% discount for KOA campers.  ZUMBA & other activities.  The Great Workout Room/Gym.   2 Laundry Facilities with nice big washers and dryers. And Tom & Stacie!!!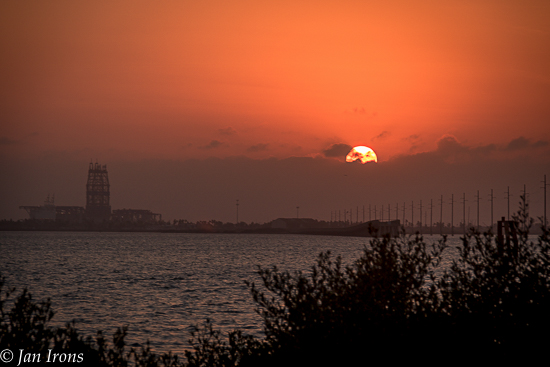 Scenic Value/Claustrophobia Quotient:   Sunsets from the Sunset Deck were nice, the views of Laguna Madre were good.  The park and sites themselves have already been discussed above, no need to elaborate.
Communications/Satellite TV:  Verizon had 4-5 bars and our Verizon Wifi worked great.  The park Wifi worked sometimes, but was slow – and other times wasn't slow, and sometimes didn't work at all.  I think it probably had to do with too many people online trying to do things other than e-mail and web surfing.   The KOA had cable tv, but didn't have David's Big 10 channel – so we used KOA cable for local TV news and our DirectTV for David's Big 10 Channel sports.
Mosquitos/Bugs:   When the wind dropped we had a few bees and flies, but the wind didn't drop more than a few days, so no problem.  There was no space on our site to put up our screen enclosure, although others had them.
Noise Levels: Not bad for the number of people and RVs.  Little to no road noise.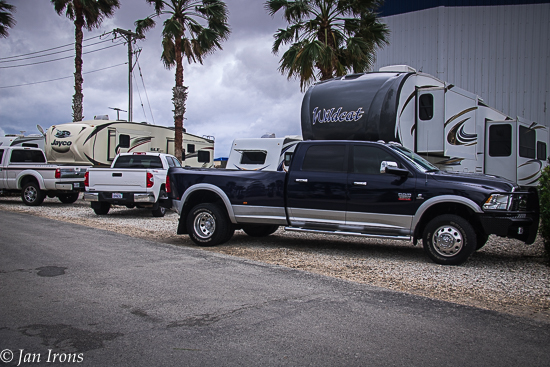 Campsite:  #90 was our spot.  It backed up to the marina building and marina doors – when the marina guys were cutting or welding, it could be noisy. I would not choose Site #90 again. Having said that we also would NOT choose the other small sites, they were worse.  Unfortunately online it states that the nicer sites with patios are only for big RV's but we saw 5th Wheels and even a trailer in one, so be sure to ask.
Access to Essentials:  IGA and Ace Hardware are right on the island as is a gas station.  Propane is refilled right at the KOA which was very convenient (and priced less than most outside places we've been!).  If you need more, WalMart is just over the bridge in Port Isabel.
Campsite Reviews:   Reviews from RV Park Reviews give the KOA a 4 Star Rating, Click Here for More Reviews.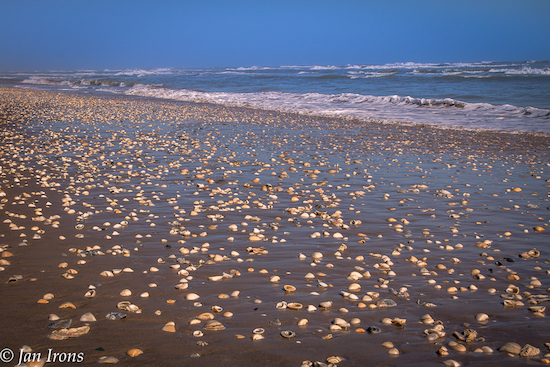 Be sure to check out our 17 FUN Tips for Visiting South Padre Island for all the fun we had and things we did during our month stay on South Padre Island!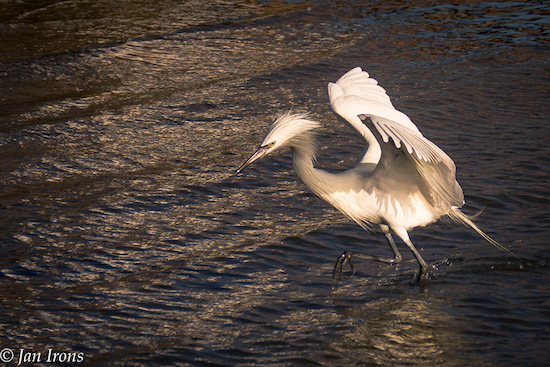 So if you're looking for somewhere to stay on South Padre Island, give the South Padre KOA a look.  In our estimation, it's better than the other options.  (One more comment … if you want to use common facilities – i.e. take a shower or use the restroom – do NOT choose Isla Blanca RV Park unless you're not picky  – the restrooms we saw were metal toilets (the kind with no seat) and some were even common showering areas, although some had concrete block "stalls".)
Anyone with other comments about camping on South Padre Island?  Please leave a comment and share! Cheers!  Jan
Save
Save
Save
Save
Save
Save
Save
Save
Save