Sedona is a tourist mecca which we had no intention of visiting … until our trailer axles badly needed realignment.  Spectrac Suspension in Gilbert, AZ was recommended by Lance and others. Because springtime is their busiest season, we had to leave the trailer for 3 days.  Hmmm… what to do?  Enter Sedona.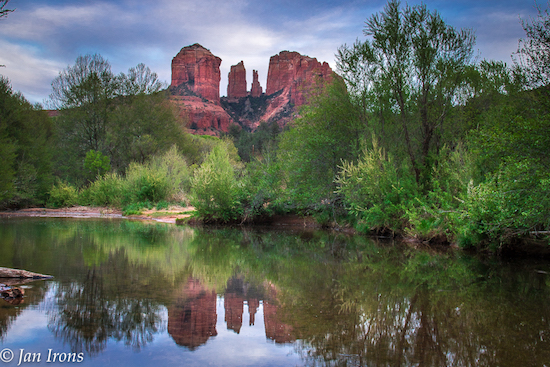 A quick check of Trip Advisor's Top 10 Things to Do in Sedona revealed almost an unlimited wish list, but "free" activities were generally limited to hiking or ATV'ing (if you happen to have your ATV with you and don't mind the noise).  We opted to play tourist and enjoyed our time immensely despite the fact that we generally stay away from tourist traps.
Here's how we kept busy while waiting to see if our dual trailer axles could be bent back into shape, or if we needed new axles (not a happy outcome).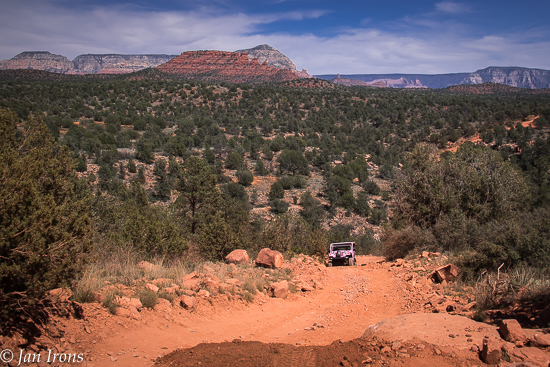 Day 1: Pink Jeep Day.  In all our travels, we've seen Pink Jeep tours many places.  We've generally shied away since they are not inexpensive and we generally prefer to see nature with our own two feet. This particular trip however, we opted for a Pink Jeep tour based on several folks recommendation while we were in Tucson. The Pink Jeep tour was scenic, covered much more territory than we could have covered ourselves, and mostly fun – although there weren't nearly enough stops for photos.  I guess that's the advantage of using your own two feet!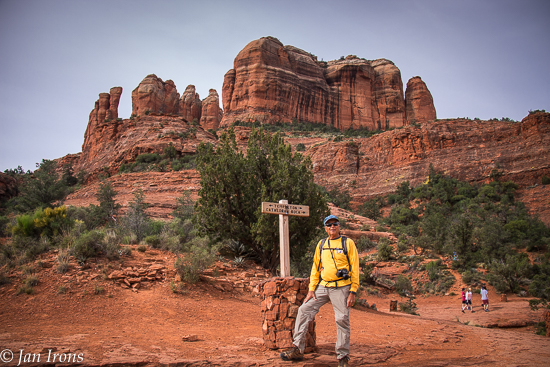 Day 2:  Hike Cathedral Rock (a red rocks icon).  Arrive early before the parking lot is overflowing and the trail wall to wall people!  A fun clamber up rocks to a sweeping vista over the entire 360 degree area at the top.  It was hot by the time we started our descent and since we had nothing else to do, we starting hiking a trail that we thought would allow us to circumnavigate Cathedral Rock.  Turned out the trail continued for too many miles to another trailhead.  Since we had no way back, we opted to try and find a good place to eat our picnic lunch.  Bad choice!  We sat in traffic waiting to get up to the Chapel of the Holy Cross – another great view at a church built into the red rocks.  When we arrived, we couldn't get a parking spot for the short walk up, so disgusted, we turned around and left.
More hiking photos …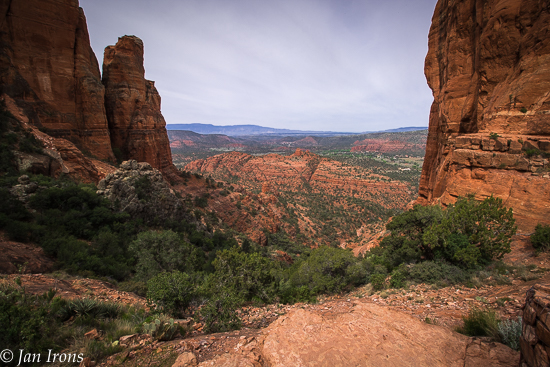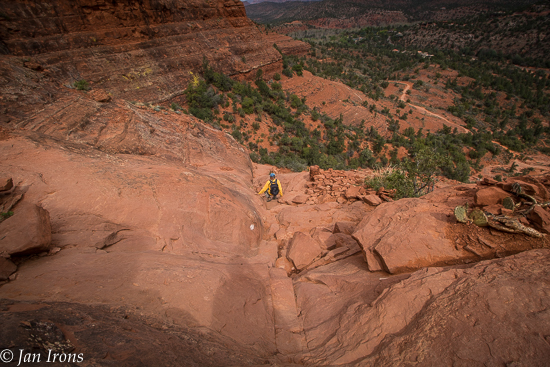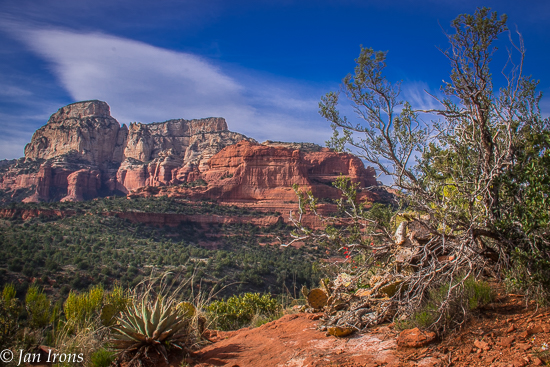 Day 2 Continued:  A photography seminar for Jan … we met a Sedona photographer who gave tours and enjoyed both the instruction and the locations that we would have never found on our own.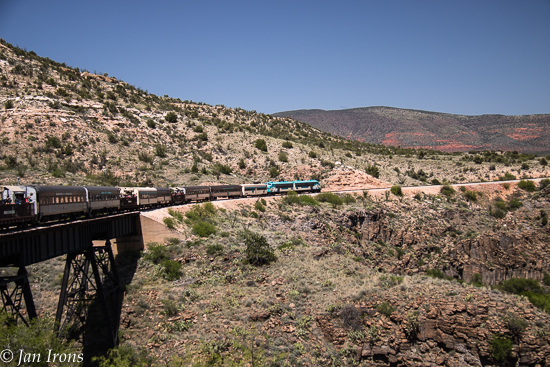 Day 3:  We loved the Durango & Silverton Narrow Gauge Railroad when we were in Durango, CO a couple of years ago, so we opted to try the Verde Canyon Wilderness Trail Train ride .  The Verde Canyon train probably would have been phenomenal except we kept comparing it to the Durango & Silverton version.  While the desert scenery was OK and it was really fun to be on a train – especially on the outside cars which were attached to each seated car – the tour guide's propensity to make every perched rock into a disney character got old after the first half hour or so.  Would we do it again?  Maybe, or maybe not.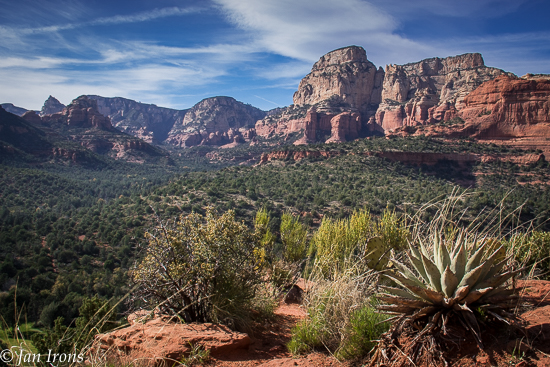 Day 4:  Get out of Sedona and back to peace & quiet! Luckily our sturdy Lance only needed the axles realigned which wasn't an easy task, but Spectrac got it done.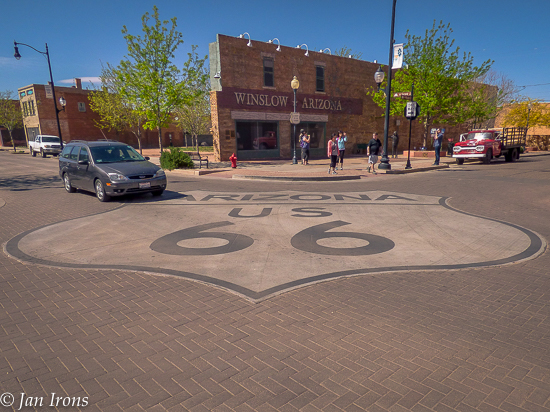 On our drive to Petrified Forest National Park,  we had to stop in Winslow, Arizona of Eagles fame.  We stood on the corner at the intersection complete with a flatbed ford, bought our t-shirts (off the clearance rack) and we were back to national parks and hiking again!
Anyone camped around Sedona?  If you have recommendations for a good spot, please leave a comment and share!  Cheers!  Jan