Leaving Illinois headed east to Cape Hatteras National Seashore, over 900 miles from the lake, we needed a place to stop for the night.  West Virginia was about halfway … I googled West Virginia National Parks, not expecting to find anything.  Lo & behold … New River National Park!  We were going to stay for a day and a half, stayed for three … and still didn't go white water rafting, the area's main attraction (Gauley River & New River).
First stop … Canyon Rim Visitor Center to learn about what the park has to offer & discuss with the rangers which hikes and places we should make sure to visit given our short time frame.  This area is known for coal, trains and beauty. Many years ago, there were 75 coal mines in 15 miles and railroads everywhere.  Coal mining company towns and railroad towns took over and due to the rugged terrain, the only way to travel was railroad, not many roads.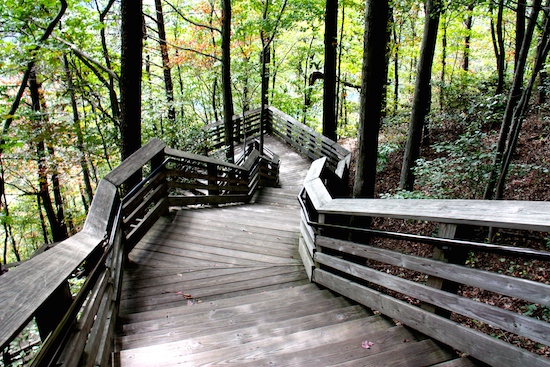 At Canyon Rim Visitor Center, talk to the rangers and figure out a plan for your visit based on your interests.  We wanted to do a couple hikes, visit an abandoned railroad town, drive the "old" road under the new bridge, check out a coal mine, plus find Sandstone Falls.   You can also walk down 177 stairs … and back up 177 stairs … everyone step more than worth it for the view of the bridge above.
The Rangers convinced us that if we only have time for two hikes, Endless Wall/Diamond Overview and Long Point Trail have to be the two.  Here's a view from the Endless Wall trail – a 3.6 mile out & back trail.  The highlight … other than the views of the gorge … was the wall climbers.  New River Gorge is famous for it's wall/rock climbing and climbers from all over congregate here to enjoy over 1600 climbing routes … as evidenced by the full parking lot at the trailhead!
After Endless Wall, we traveled back in time along the Fayette Station Road — "Exploring Fayette Station Road is to travel back in time before the modern New River Gorge Bridge was built in 1977. This one hundred year-old road of hairpin turns winds down to the bottom of the gorge, across a narrow bridge, and up the other side. Visible along the way are vistas of the river and bridges, a hardwood forest, and remnants of the New River Gorge communities that once teemed with activity." 
If you decide to drive the Fayette Station Road, be SURE to get a CD and a map at the Canyon Rim Visitors Center.   The CD is free and tells the history of each marked spot along the route.  To say it adds to the experience is the understatement of the trip.  And the best part?  It's FREE!  NPS just requests you turn it in when you're done to another visitor center (there are 4).
While we were there, there was added excitement.  The night before at 10 PM, two railroad cars had derailed and tumbled down to the river with their loads of soybeans. Everyone was hard at work trying to get them unloaded and then cut up & removed.  Such excitement!
The next morning we hiked the Long Point Trail  to a rock outcropping with a great view.  3.2 miles round trip.  Nice start to the day.
Then on to Thurmond, a ghost town with a train depot – that still handles Amtrak passengers despite the town being deserted – and another view into the past when rail traffic was just about the only way to travel in remote Appalachia.
One of the remaining abandoned buildings was the old bank … I'm wishing I could open an account….   who would have ever thought getting 3% on a savings account would sound attractive???
After Thurmond, we hiked what was supposed to be a 1.2 mile trail – to where the trail was closed.  Supposedly there were 5 railroad trestles on the trail – sounded perfect for photography.  Wrong … we discovered after a couple of miles that the railroad trestles had been covered by modern foot bridges and the trail wasn't closed at 1.2 miles … so now we've hiked over 7 miles.   Not in the plan.
Since we'd seen trains, we were in search of a coal mine.   We found one at the Beckley Exhibition Coal Mine – an original mine donated to the city of Beckley for historical purposes … fascinating tour.  I'm always amazed at how much I can learn on a good tour!
The day draws to a close with a visit from a big mama black bear to the campsite next to ours.  A bit more excitement after a great day.
Our last day in the area, we followed the "scenic drive" down to Sandstone Falls, which involved some interesting twisty mountain roads, ending at a parking lot for the trailhead to the falls.  Since it's late September, the water over the falls isn't as amazing as it would be earlier in the year, but it was still well worth the drive … wouldn't you say?   🙂