Why in the world would anyone want to camp at a place called Goose Island State Park?  Just outside of Rockport, Texas and on the bay, Goose Island (more like a peninsula) seemed the perfect place to explore the Corpus Christi/Aransas Pass area.  With 44 campsites by the bay or 57 nestled in the windswept oak trees, this campground ranks as one of our Top Ten!  Those tangled oak trees fascinated me – don't miss "The Big Tree", one of the largest and twisty-ist live oak trees still alive today!
We didn't explore as much as we might have without the 28 degree nighttime temperatures and downright cold windy days, but Corpus Christi was less than an hour – I got to see the US Coast Guard ships in exactly the same spot as when David was in the Coast Guard.  And the Aransas Wildlife Refuge has WHOOPING CRANES!  New species for us, too bad they weren't closer, but wildlife doesn't always cooperate on location.  We were lucky enough to see them at all!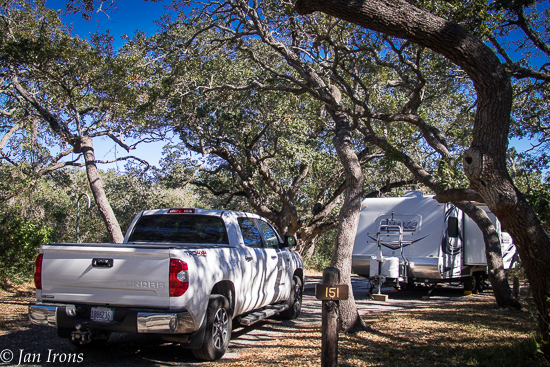 Website:  Goose Island State Park Campground
Campground/Park Map  Click here to download the Goose Island State Park PDF Map including the campgrounds.
Reservations: Texas State Parks Online Reservations
Local Park Telephone Number: (361) 729-2858 or Reservations By Phone:  (512) 389-8900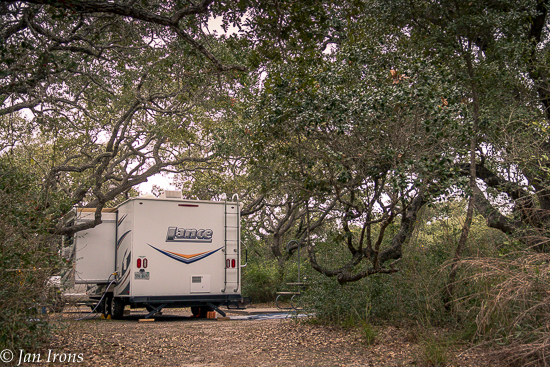 Showers:  Yes, but chilly!  Water was hot, water pressure good, but the furnace didn't seem to be working well and with the overnight temperatures hovering around 28 degrees, we took QUICK showers!
BONUS POINTS!   Goose Island State Park was a "find" so we didn't have to endure a commercial RV park while seeing where David lived for several years when he was in the Coast Guard!  The only other state park we found was an hour north of Corpus Christi and didn't sound nearly as interesting.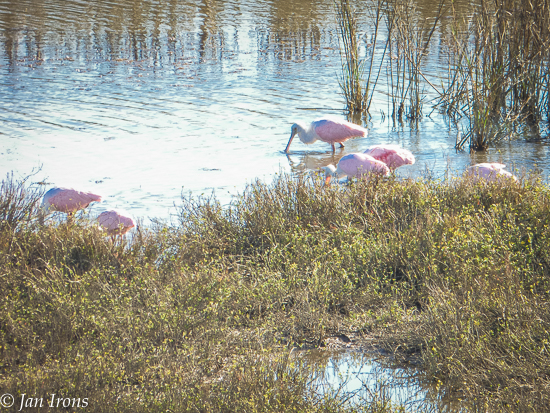 Scenic Value:  Privacy and twisted windswept oak trees, plus lots of birds. There's a birdwatcher garden built close to one of the comfort stations that had a surprising number of birds.  Cardinals seemed to love it – and watching them take baths was much fun.  The Aransas Wildlife Reserve in the area has Whooping Cranes in season.
Mosquitos/Bugs:  Surprisingly there were none.  But it could have been the chilly breezy conditions keeping them all from descending on us!
Noise Levels:  Quiet on the oak tree side.  Not sure about bayside, spots were closer there and not much in between.
Campsite:   We were in campsite #151.  After talking with the Park Rangers who told us to take our pick and let them know which spot we chose, we liked #150 or #151 best.  Both had a few low hanging challenging limbs, but nothing we couldn't easily maneuver around.   Only downside was the slightly longer walk to the shower.
Claustrophobia Quotient:  None as you can see from our campsite photos.  Bayside sites have less privacy.  Other sites in the twisty oaks section had less privacy, but all had more than the bayside sites.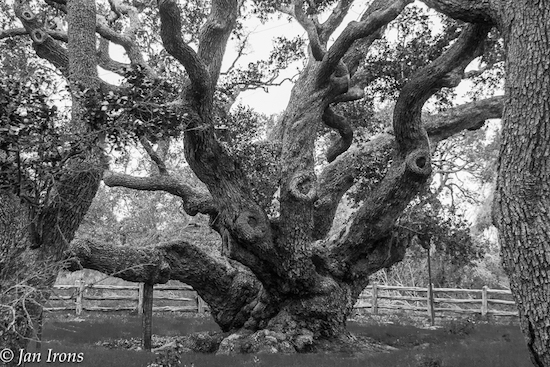 Access to Essentials: Goose Island State Park is fairly isolated on it's peninsula.  There is a gas station where you turn off.  A few miles away is Rockport.  We found a grocery store and Ace Hardware for propane refills when we ran out in the middle of the night on one of our tanks.
Communications:  No wifi or cable TV.  Our Direct TV portable satellite dish worked well after re situating it a few times to clear the trees.  Verizon had a signal, although it varied depending on where we were in the park.
Campsite Price:
$18/night for a Standard Campsite (in the trees, not on the bay), plus the daily state park admission fee of $5/day.  IMPORTANT!  Never pay a Texas State Park entrance fee again!  If you plan to visit a few Texas State Parks, the $70 Annual Pass is a must have!  For the 5 nights we stayed at Goose Island, the daily entrance fee would be $10 for two of us, times 5 = $50 at just Goose Island.  PLUS, the 2nd night camping is half price, so we saved a total of $59 at our first park.  Since we already have reservations at others, it made financial sense for us.  Buy one at any Texas State Park office.
Save
Save
Save