Yellowstone National Park wasn't on our original itinerary,  but when we ended up with two extra days, we decided to spend one in Yellowstone and one in the Grand Tetons.  If, like us, you only have one day to spend at Yellowstone National Park, keep in mind that it's vast – i.e. allow much driving time between areas.  We chose to limit our explorations to a couple areas to so we had time to hike & view wildlife. Of course, it's an even better idea to allow more than one day.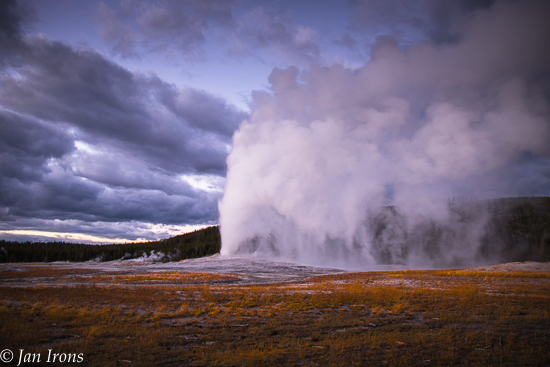 Old Faithful.  Old Faithful is a must see, but it's a long drive between Old Faithful and other must do sights. If possible, arrive early enough in the day to catch the last daily eruption of Old Faithful (ours was 6:30 PM if I recall).  If you happen to be staying in West Yellowstone (which we were since the Yellowstone campground was full due to our lack of advance planning), even though it's "only" 30 minutes allow at least an hour – more for wildlife stops.  We enjoyed sunset and Old Faithful's eruption at almost the same time. The visitor center is a great place to spend some time while you wait. Priceless!
Unfortunately, due to a "buffalo jam" the drive back to West Yellowstone took us almost 2 hours.  Watching the buffalo herd would have been cool if we were close to the front of the jam, but all we could see was tail lights for miles before finally getting close enough to weave our way around the determined herd headed the same direction.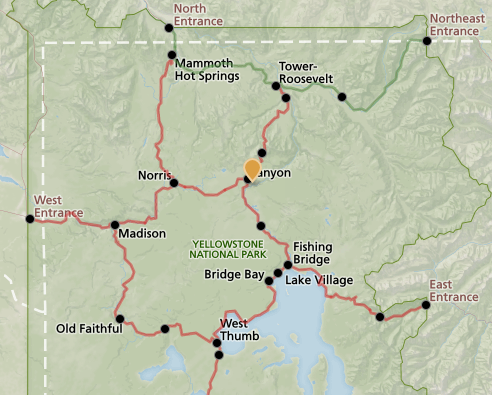 One Day Loop – this loop will ensure seeing some of the highlights of Yellowstone.  If you missed Old Faithful the night before, start with an early morning eruption at Old Faithful, then head south 17 miles to West Thumb, then along Yellowstone Lake to Fishing Bridge (21 miles), up the Hayden Valley (renowned for wildlife) 16 miles to Canyon Village, then 12 miles to Norris Basins and back to West Yellowstone.
Recommended One Day Loop (if you caught Old Faithful the night before)
Norris Basin.  Leave West Yellowstone early for a wildlife spotting 28 mile drive to Norris Basin.  Norris Geyser Basin is the hottest, oldest, and most dynamic of Yellowstone's thermal areas. Winding wooden walkways wind through two areas,  Porcelain Basin and the Back Basin. Porcelain Basin is wide open and provides a sensory experience in sound, color, and smell.  Back Basin is has more trees and geysers scattered through the area via a 1.5 mile trail of boardwalk and dirt loop trail.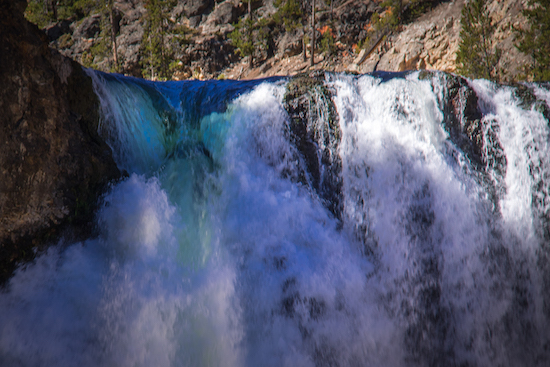 Canyon Village.  Wander through the Canyon Village Visitor Center to get the lay of the area, chat with the rangers to decide which things not to miss.  We opted for the South Rim Drive on the ranger's advice, hiked the 328 steps down Uncle Tom's Trail, then continued to Artist's Point (with dozens of our best tour bus friends) for the famous Yellowstone Canyon/Falls view.  The North Rim Drive would have been good too, but we decided while the views were from the other side, the falls and canyon were the same and we needed to move on.
After Canyon Village, there are two choices – we opted for the Hayden Valley wildlife drive south since the road to Hot Springs was closed.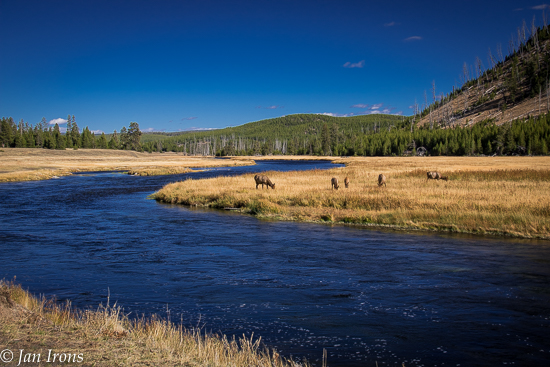 Hayden Valley Wildlife.  Once a lake, Hayden Valley is now a wildlife paradise, home to elk, coyotes, waterfowl, grizzly bears, and wolves.  But the biggest claim to wildlife for Hayden Valley is bison – often you'll spot herds of bison/buffalo.  Keep in mind, spotting wildlife is best either early or late, so we timed this drive for late afternoon – which meant we didn't get back to West Yellowstone until late late late.  You could stop for dinner overlooking Yellowstone Lake on the return trip.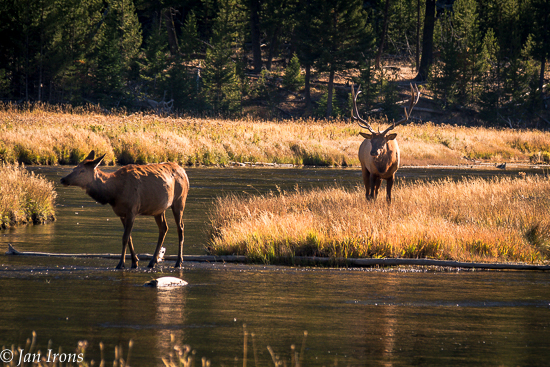 Note that driving the park roads after dark can be stressful due to all the wildlife.  Be careful, go slow and eventually you'll get back to where you're going.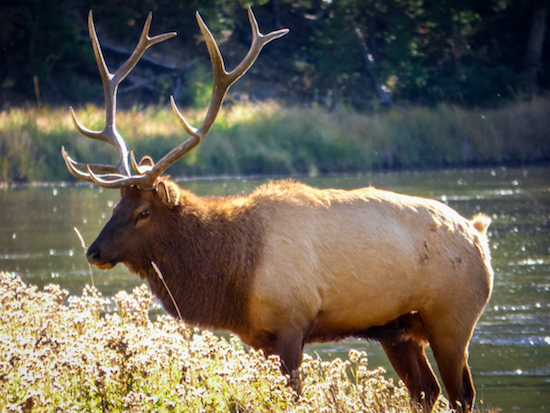 Hot Springs.  We missed the Hot Springs area due to road construction, but had the road been open, we would have opted to end our day up at Hot Springs rather than drive down through Fishing Bridge and back past Old Faithful… it's 75 miles (2 1/2 hours) on the road through the park, so try not to have to drive after dark.  The Lamar Valley drive (which was closed) is reputed to have as much or more wildlife than Hayden Valley which would have been great.  But on this trip, it was not meant to be.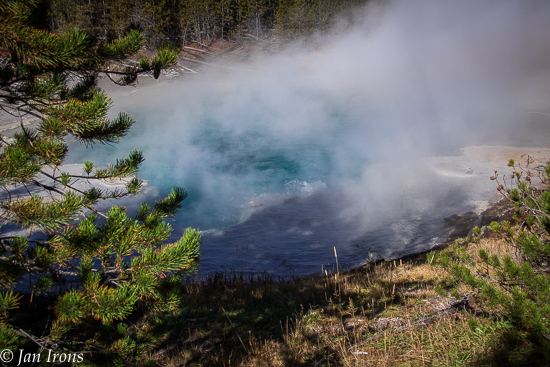 Maybe next time since this spur of the moment visit to Yellowstone was meant to be a preview to tempt my brother into visiting with us!   Do you have other "don't miss" tips for a short time in Yellowstone?  Please leave a comment and share!  Cheers!  Jan
Save
Save
Save
Save