Sitting just a few miles from Providence Canyon State Park, this quiet park offers the perfect campground location to hike to the canyon bottom for Georgia's "Little Grand Canyon" . The campground is also adjacent to a natural deep-water marina with an accessible fishing pier, boat slips and boat ramp.  Overnight guests can choose from a variety of accommodations, including fully equipped cottages, small efficiency units and a modern campground.
Website:  Florence Marina State Park
Campground/Park Map:  PDF Map of Campground
Reservations:  ReserveAmerica Florence Marina State Park
Local Park Telephone Number: 229-838-6870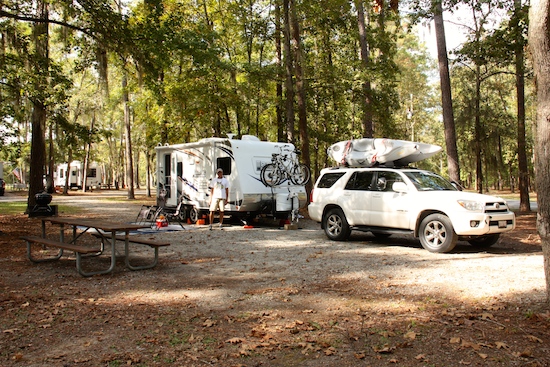 Showers:   ********* 9 (out of 12) stars!  But these are not "showers", at least not according to the sign out front — it clearly says "Comfort Station" and it is very comfortable!   Points for hot water, water pressure and a good shower head, a soap dish in the shower large enough for my soap, shampoo and razor, separate enclosed changing area with bench & hooks and electrical outlets at each sink.  For more on the 12 Star Shower Rating System, click here. 
BONUS POINTS!   Washer & Dryer:   And not just one, but two washers and two dryers!
Scenic Value:  *** Average … it's a nice campground, on a nice lake with big trees draped with Spanish Moss, but it's nothing spectacular.  The scenery at nearby Providence Canyon State Park however, makes up for the level lake campsite at Florence Marina Campground, the closest campground to Providence Canyon.
Mosquitos/Bugs:  **** Very few bugs!  We sat outside at sunset with our citronella candle, but there was no sign of mosquitos despite the wooded surroundings and nearby lake.  The only bug we had in two nights was a stinkbug who invaded the trailer … and was promptly carefully scooped up without squishing and released outside.
Noise Levels: **** – No noise at all, but that could be because we were here in October with only a handful of other trailers around.
Campsite:  *** Average, but nice.  A level pull-through #11, gravel base, but when they say full hook-ups, they mean FULL hook-ups – electric, water, sewer and cable TV!  All for the price of a state park campground.  Kudos!
Claustrophobia Quotient:  *** Average.  State parks generally have well spaced campsites and Florence Marina State Park is no exception.  No claustrophobia here!

Access to Essentials: *  No place close, we drove over 15 miles just to get gas, so come well-stocked and enjoy your time in this beautiful area of the country!
Campsite Price:  $29 a night, but only $24 with the 20% senior discount — must be 62 years old, but don't have to be a resident of Georgia to qualify.  Nice!