Located in directly in Gulf Shores on the Gulf coast of Alabama, Gulf State Park Campground features two miles of sugar white sun-kissed beaches, a calm surf, seagulls and seashells in addition to an interactive Nature Center, new tennis courts with pickleball, a beautiful pool and splash area for kids and Lake Shelby, a 900 acre lake for fishing and an adjacent golf course. The campground is across the road from the beach, but there's close easy access.
Website: Gulf State Park Campground
Campground/Park Map:  Gulf State Park & Campground PDF Map
Reservations: Online Reservations for May 1 – Oct 31 only.  Reservations from November 1st to April 31st are made through the reservation office. Please call 1-800-ALA-PARK or 251-948-7275.
Local Park Telephone Number:  251-948-7275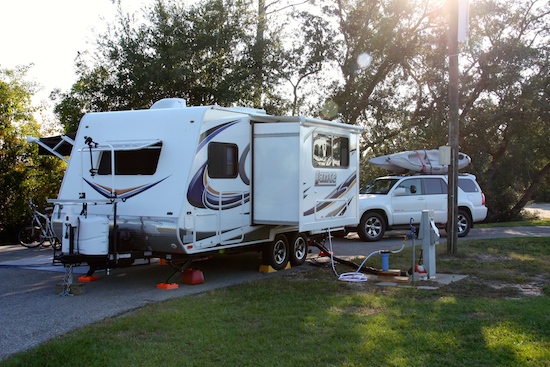 Showers:   9 Stars on my 12 Star rating system! Click the link to see my shower rating system.  Gulf State Park Campground gets stars for plenty of hot water, good water pressure, clean, a good shower head, big enough that the shower curtain doesn't stick to my legs, somewhere to put my soap/shampoo/razor, adequate light, separate changing area and a bench.  The only negative is that when it's cold, the heat doesn't seem to keep up.  But at least there is some heat to take off the chill.
BONUS POINTS!   The Hugh S. Branyan Backcountry trails begin at one end of the campground.  They are building more miles of boardwalks and trails for both hiking and biking in 2017 – a significant improvement since we were there last in 2014.  Big laundry center, open 24 hours.  Tennis courts (with pickleball nets and paddles for campers use in the camp store, an adjacent golf course, beautiful swimming pool with a splash park for kids, bike rentals ($15 a day), and a camp store.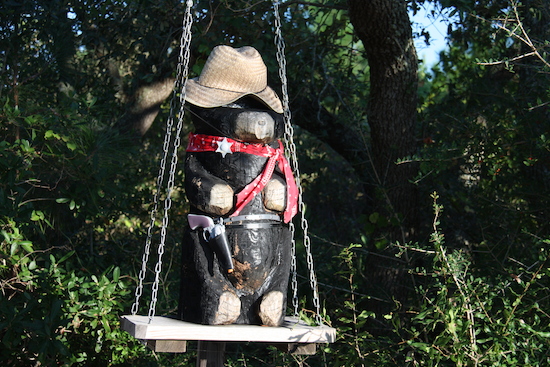 Scenic Value:  The park is mostly sand dunes and scrub natural vegetation.   Some of the campsites back up to what almost looks like a drainage ditch, we chose the other side of the road.  On the positive side, while the vegetation in the area is mostly scrub, most of the sites are large and spaced well enough that there's not someone looking in your window every day and night – particularly if you choose a pull through lengthwise site.
Mosquitos/Bugs:   Surprisingly, not bad.  We could sit outside most evenings and enjoy, but we chose to be on the beach or on the trails and not at the campsite, so we don't have a complete perspective.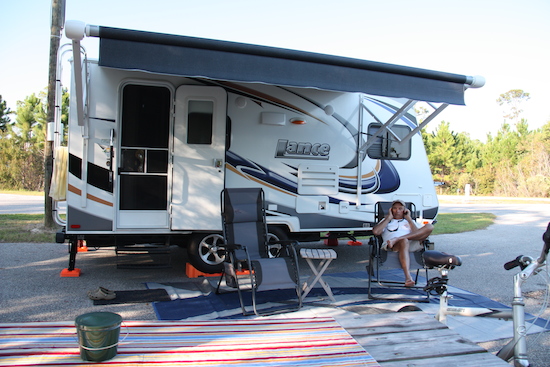 Noise Levels:   Other than the A/C or furnaces from the huge RV buses and their a/c, no noise at all.
Campsite:  Campsites were gravel, but mostly level and easy access.  Full hookups were nice – water, electricity and sewer.   The sites are mostly full sun, although we managed to find a tree, and not much natural flora to provide privacy.   But they're large enough that it wasn't a problem.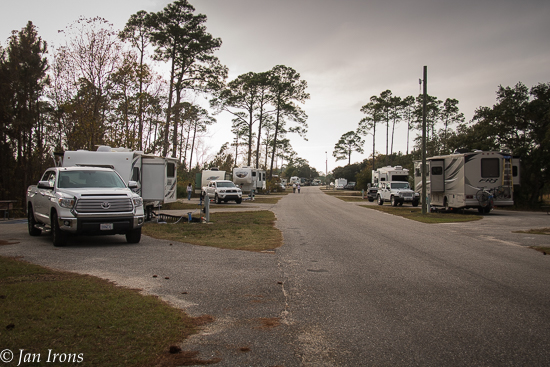 Best Campsites:  Both times we've been to Gulf State Park, we've camped along Raccoon Road – dead ends in a turn around just before the trail system starts.  We like these sites because they're "lengthwise" pull through, meaning you may have someone next to you, but not beside you.  The nearest neighbor is across the road.  Canal Road odd numbered sites are lengthwise pull through same as Raccoon Road and are overlooking the canal – these are further off the beaten path, meaning less traffic.
The "prime" spots along the lake are nice – they're side by side, but staggered so you're not looking into your neighbors windows and their picnic table isn't directly under your dining slideout!
Claustrophobia Quotient:   No problem here, I'm happy to report!

Communications:  Verizon had several bars – enough for both wifi and cell service, we didn't notice any issues, so apparently it was good.  The wifi in the park is lacking – despite being close to an antenna, we could see the signal but could not connect.  The park office gave the typical response "we're aware of it and working on it".  OK.  Since there were limited trees in our area, we had no problem with our portable satellite TV dish providing David with the Big 10 channel and anything else he wanted to watch.
Access to Essentials:   Anything and everything you could want since this park is in the middle of Gulf Shores Alabama. Click here for our Top 10 Things To Do In Gulf Shores list. There's even a "real" outlet mall with great prices (not all outlet malls are outlets, some are factory stores FYI).    Be sure to try DeSoto's Seafood Kitchen — if you're over 55 they have an amazing seniors menu — my yellowfin tuna, blackened with rice pilaf, steamed veggies and rolls was $11.99!   And not just early either!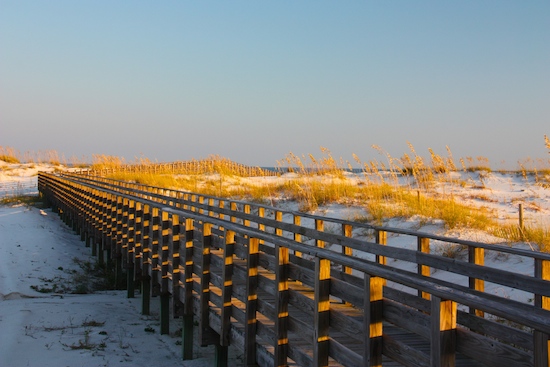 Campsite Price: $26/night (with our 15% senior discount) Sunday – Thursday and $34 on Friday & Saturday.  Senior discount only applied Sunday – Thursday, not on weekends.   First time we've encountered a seniors pay full price on weekends policy.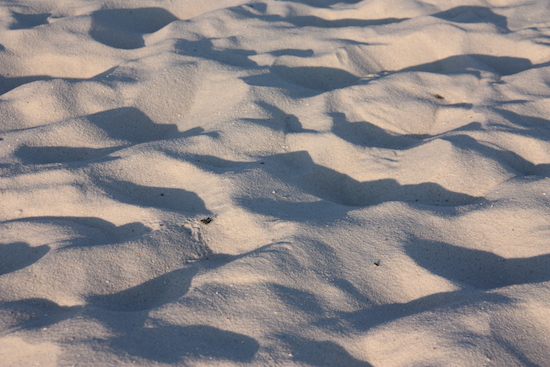 Aaaahhhhh…..   Have you stayed at Gulf State Park Campground?  Did I miss anything?  Please add a comment and share!   Cheers!  Jan
Save
Save
Save
Save
Save
Save
Save