Full of pleasant surprises!  Texas Hill Country was one of our best "accidental" discoveries as Winter Texans.  Hard to imagine before visiting, but Texas Hill Country was named the 11th Best Spot in the WORLD for wine country by Wine Enthusiast Magazine in 2014.  Since then, the wines are getting better and if the crowds in Fredericksburg and along Wine Route 290 (One Road, 18 Award Winning Wineries) are any indication, people must like both the wine and the experience.  Live music coupled with sipping wine or a newly discovered craft beer … dancing and just plain fun!
We knew nothing about Hill Country & discovered it only by accident – all the campsites in Big Bend were FULL for the week we wanted to go.  Rangers were quick to inform us that Texas spring break is the same week across the state, so everywhere is swamped with families that week.  So we opted to go north, first to San Antonio and then to Texas Hill Country.  It was busy, but we were able to get a campsite at Lady Bird Johnson Municipal Park Campground (a municipal park just south of Fredericksburg, TX).
Fredericksburg Itself…
Fredericksburg was recently named No. 2 on Southern Living's "The South's Best Small Towns 2017" list, noting that in addition to "a historic downtown straight out of a Western, this German town has a happening food, brew, and winery scene." Southern Living went on to say that great small towns "all have a few things in common: a thriving downtown with locally owned restaurants, shops, and galleries; a touch of the artsy; loads of character; friendly locals; and, of course, a beautiful location."
And it's a perfect base for exploring Texas Hill country, including not only Wine Road 290 but the LBJ Ranch & Texas White House, Luckenbach & the Museum of the Pacific/Nimitz Museum to name a few …
Wine Road 290
Uncork & Unwind with over 18 wineries along Wine Road 290.  "Visit a countryside reminiscent of the wine growing regions of central Italy and the Rhone Valley in France. Our Fredericksburg Wine Road 290 is an association of Texas wineries along US Highway 290 on either side of Fredericksburg, Texas (see map). The wine, ambience and experience at each winery is unique and affords visitors a perfect wine getaway."
I'm always a sceptic when it comes to visiting "local" wineries – usually overpriced sweet wine that I have to choke down.  But I will admit Texas Hill Country wineries were a nice surprise!  Not inexpensive, but the selection of dry red wines surprised me!  I could even do a tasting at a winery and request only dry red wine selections!   Or a combination of dry reds & dry whites or another combination of sweets and dry.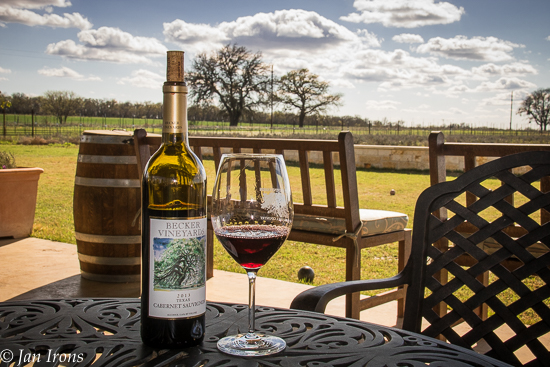 Becker Vineyards, 4.0 Cellars and our favorite, Grape Creek Vineyards were the three we sampled – can't do too much in one day and still be able to TASTE the wines!  🙂  We opted for a tour at Grape Creek Vineyards and enjoyed sampling dry merlot right out of the barrels – three different types of oak barrels – american oak, french oak and american oak being reused (barrels are reused several times).  Three different tastes.  Not that I'll remember but we liked the American Reused Barrel the best – mellower and fuller flavor to our uneducated palets.  After the tour we enjoyed sampling another 6 wines in a private tasting room – part of the tour.  Becker Vineyards had the best ambiance to sit overlooking the vines while you sipping wine.
German Cuisine
Yum!  We're not huge German cuisine fans, but when in Fredericksburg …  you know the saying.  🙂  The original settlers German influence is apparent everywhere – in the architecture, food, bakeries, ongoing entertainment…. even the street and country road names.  So we had to sample some of the homemade bratwurst, other sausages, sauerkraut & fresh German potato salad.  We didn't get brave enough to order anything with fried eggs on top, although apparently lots of folks loved them!
Although we normally don't dine out, we tried the Silver Creek Saloon and Beer Garden as well as the Fredericksburg Brewing Company for lunch and dinner respectively.  Both had good food, I'd have to give the edge to Silver Creek for atmosphere and live music on the porch.  These were just two of what seemed like thousands of dining choices as you wander the Western Themed Main Street in Fredericksburg.  Maybe it's not a "theme", it's just Fredericksburg!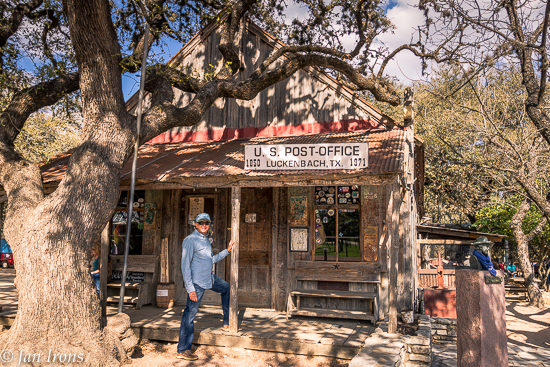 Luckenbach, Texas
When is a post office also a dance hall?  Only in Luckenbach … but then, there are alot of things that are only in Luclenbach.  The post office closed a few years back, but the continual live music, country ambiance, and a cold longneck beer draw crowds daily.  Daily music is "pickers" – not sure if anyone can walk up and join the jam session, but it was good.  Luckenbach is so special, we have a blog post just for it with loads of photos – you have to be there to believe it!
Museum of the Pacific/Nimitz Museum
Rather a strange place in the middle of a German town for the National Museum of the Pacific: a fascinating museum on everything World War II, including a restored PT boat, several airplanes – including a Japanese Zero, and a Japanese Submarine.  Turns out Fredericksburg is where Admiral Chester Nimitz was born.   In three parts, the main part, the George HW Bush Gallery, the Pacific Combat Zone and the Nimitz Museum,  this comprehensive museum:  informative and educational in a non-put-me-to-sleep kind of way.
All the major battles are highlighted, how they fit together and impacted the outcome.  Plus things like Japanese and US culture at the time, wartime fashion, and how normal people supported the war on the homefront.  Very thought provoking.  When you buy a ticket, it's actually good for 2 days because there's so much to see if you're so inclined.  Or if you just want to spend an hour or two, you can skim the highlights and still learn a great deal.  Very well done – kudos!
LBJ Ranch & the Texas White House
President Lyndon B. Johnson and his wife LadyBird spent a great deal of time on their LBJ Texas Ranch, even during his White House years – causing the general public to call their house the Texas White House.  He put in an airstrip, but overall, this is a very down to earth, "real" working ranch.  So much stuff is original and the Ranger Tour of the Texas White House was excellent with insights into the family's personalities.  Beautiful location and worth the trip.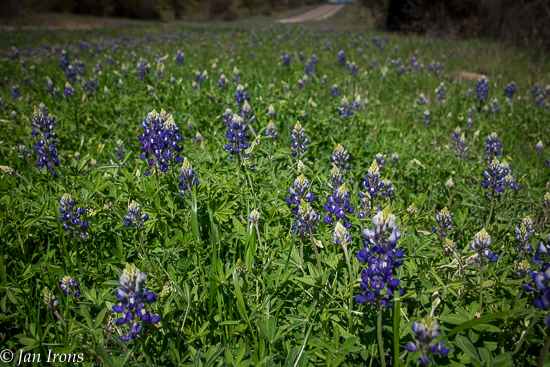 Wildflowers
Oh and the wildflowers … if you happen to visit Texas Hill Country during Spring, you're in for a treat!  Texas BlueBonnets and a variety of colorful blossoms adorn not only rolling fields, but also the countryside blue highways.   There's even a Texas BlueBonnet Festival held the 2nd weekend of April in Burnet, Texas (also Hill Country).  Unfortunately we missed it, but we've seen tons of these beautiful lawns of flowers!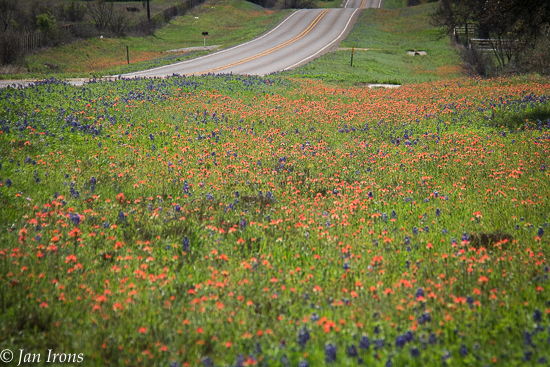 If you happen to be traveling to Texas, do NOT miss Texas Hill Country!  We recommend staying in or around Fredericksburg – Kerrville was also recommended to us, but it's very much a modern sprawling town, unlike the old time western ambiance and german influence of Fredericksburg!
What did we miss that others ought to make sure to see?  Please leave a comment and share!  Cheers!  Jan
Save
Save
Save
Save
Save
Save
Save
Save
Save
Save
Save