Towing anything – boat, travel trailer, trailer – can be complicated.  Some treat it like calculus with lots of Xs and Os in complicated formulas. Unfortunately, I was never very good with math. Shopping for a travel trailer, we were looking for a less complicated way to evaluate our little Toyota 4 Runner's Towing Capacity.  I discovered a lot of misinformation – and alot of travel trailer salespeople that had little regard for our safety!
When thinking about towing with a vehicle on the light side of safety, it's important to make informed decisions based on correct information.
There are multiple numbers you need to know to make the best decisions for your safety.
 Safe Towing Capacity of your vehicle.
Cargo/Passenger Capacity for your vehicle.
Cargo/"Stuff" Capacity for your travel trailer
Your Travel Trailer Tongue Weight
Safe Towing Capacity For Your Vehicle
The first step is knowing your vehicle's safe towing capacity, assuming your vehicle has a factory towing package.   Unfortunately, this information is not usually easily accessible on a door sticker like the GVWR (gross vehicle weight rating).
With a bit of perseverance, you can find it either in your owners manual, online or with a call to the manufacturer.  If you call, be sure to have the vehicle VIN number handy because Toyota asked – every vehicle is different and towing capacity depends sometimes on rear axle ratios and things I never knew existed, as well as extras such as passengers, options, propane tanks, batteries and stuff in the trailer.  Here's a quick online guide for some resources, remember that the year of the vehicle may make a difference and these are primarily for 2017, so you may need to find your actual years information.
Checking With The Vehicle Manufacturer
Toyota 4 Runner – scroll to Towing
Toyota Tundra Trucks – scroll to Page 32, Weights and Capacities
Toyota Tacoma Trucks – scroll to Page 29, Weights and Capacities
Chevrolet Trailering and Towing Guide
Dodge RAM Trucks – click on your model and scroll down until you see Towing Capacity
Nissan Titan Towing Capacity – scroll down to Towing, Payload & Capacities
Jeep Trucks Towing Capabilities – click & scroll to find your model
Volkswagen Touareg – scroll down to Towing Capacities
If your tow vehicle isn't listed above, check your owners manual for Weights and Capacities.  It's usually in the small print somewhere so read or skim carefully!
If it's not there, do a google search for YOUR MAKE & MODEL "Technical Specifications".  If that doesn't work try YOUR MAKE & MODEL "Weights and Capacities".
If all else fails, call your manufacturer.
A quick call to Toyota confirmed that our 4 Runner with the factory tow package could tow a MAXIMUM of 5,000 pounds, despite the fact that TrailerLife Magazine's Towing Guide specified 6000 plus pounds – misinformation that seems to have been corrected for later year 4 Runners.
But that's not the end of the story, there's more information necessary to tow safely.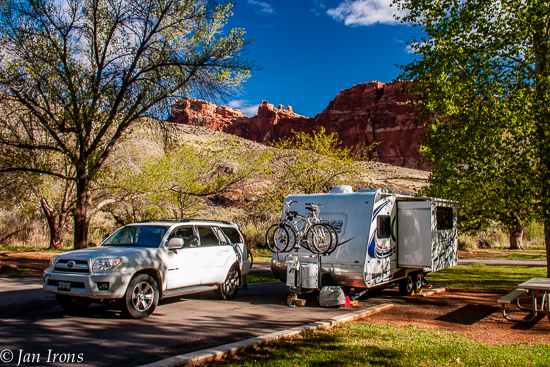 Cargo/Passenger Capacity for Your Vehicle
You also need to understand vehicle loaded weight and trailer loaded weights because both impact your safety.
Gross Vehicle Weight Rating GVWR.  It took me a long time to realize that BOTH the trailer and the truck have a separate GVWR.   There's a sticker on the inside of your vehicle's driver side door and on your travel trailer.  Mostly it seems like it's talking about axles, but there are two very important numbers on the sticker that are specific to YOUR vehicle and the way it was manufactured.
The sticker for 4 Runners says 6300 pounds.  The sticker for our Tundra says 7200 pounds.  That means LOADED, your vehicles total weight should never exceed this number.  We took our 4 Runner to a scale at a truck stop and had it weighed so we knew exactly since its safe towing capacity was much more marginal than our Tundra.
But of that 7200 or 6300 pounds, how much can the truck actually safely transport?  That's where the sticker above which shows 1210 pounds comes in – this sticker is also inside the drivers side door.
1210 pounds sounds like alot, BUT that includes some things you'd never expect, like the tongue weight of the trailer!  See where this starts to get totally confusing? Be sure to check and make sure you aren't exceeding the safe occupant/cargo capacity of the 4 Runner or truck …
Safe Cargo Capacity Formula
Total 1210 pounds (for our 2016 Toyota Tundra 5.7 V8):
Subtract:     People:  2 people:  275 pounds
"Stuff" in the truck:  Honda Generator:  45 lbs; Grizzly Cooler Loaded:  35 lbs  Estimated Total:  300 lbs
Weight Distribution Hitch:  30 pounds
Tongue Weight (more later):  Estimated at 600 pounds for our 5000 pound fully loaded travel trailer)
Estimated Total:  1230 — oops!  More than our 1210, good thing we're little people, even in the Tundra!
OK fine. But that's just the truck.


Safe Cargo/Loaded Weight for Your Travel Trailer
The travel trailer also has a GVWR – a number that loaded should never be exceeded.  The only way to accurately know what your trailer weighs is to take it to a scale at a truck stop or other and weigh it.  Short of that, you should be able to estimate the weight.  Be warned though, we personally know several people who were shocked at how much more the actual weight of the trailer was versus the following estimate when they took the trailer to a scale.
Our Lance 1685 has a GVWR of 5500 pounds according to the latest Lance specifications.  The net weight is 3805, leaving cargo capacity of 1,695.  Our 2014 Lance 1685 only had a GVWR of 5000 pounds, so we calculate our cargo capacity at more like 1200 pounds.  This has to include two batteries: 50 lbs each = 100 lbs, two full propane tanks:  37 lbs each = 74 lbs; Arvika bike rack:  100 lbs; 2 bikes on rack:  22 lbs each = 44 lbs.  Plus stuff in the front two storage compartment, we're probably close to 1200 lbs after adding our personal stuff as well.
That would make the tongue weight (at the standard 10-15% figure) somewhere around 650 lbs.
Other Necessary Stuff
Weight Distribution Hitch.  Does a weight distribution hitch increase your towing capacity?  It seems the consensus answer is NO…   "the vehicle manufacturers stated towing capacity or rating will always be the final determination of how much the vehicle can tow. Any towing system will only be as strong as its lowest rated component."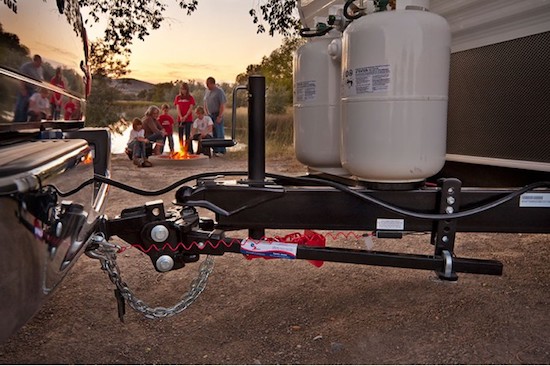 The weight distribution hitch does exactly what it says – it redistributes the weight of the trailer between the axles on your vehicle making it easier on the vehicle to tow the trailer.  There are several varieties of weight distribution hitches – Anderson and Fastway are two brand names that we see alot while out on the road.  Our weight distribution hitch, recommended and installed by our RV dealer originally for our 4 Runner is a Fastway E-2 6000 pound round sway bar hitch.
We really liked the Anderson weight distribution hitch when an acquaintance demonstrated it last winter, but we already have the E2 and it does the job, so why switch.
Sway Control.  Sway control is usually in the form of bars or chains that connect from the weight distribution hitch to the trailer to control sway. We assume our Fastway E2 with 6000 lb round sway bars is effective because the trailer doesn't seem to sway. Be sure to match the sway bars to the weight of your trailer.   E2's come in 6000, 8000, 10000 & up weight control.
Brake Controller. What does a brake controller do?  Instead of the vehicle's brakes controlling the entire set up, the brake controller allows the trailer brakes and vehicle brakes to work together – so the trailer isn't pushing you down a mountain!  Yikes!!!  Believe me, you NEED this with a travel trailer.
Our 2006 4 Runner didn't have one, so our RV dealer added it before they'd let us leave their lot with our Lance 1685 travel trailer.  Most newer vehicles with built in factory towing packages have an internal brake controller – our 2016 Tundra has one built in along with a Tow/Haul switch that also helps control the trailer.  If you don't have a built in brake controller, be sure to have a reputable dealer add one (or DIY if you're confident with that type of modification).
Other Recommended Reading
Towing A Travel Trailer With a 6 Cyl Toyota 4 Runner
The Dark Side of Towing With a Toyota 4 Runner
Toyota 4 Runner vs a Toyota Tundra as a Travel Trailer Tow Vehicle
Have I forgotten anything?  Please leave a comment and share if I still don't have this entirely figured out.  It's all a fairly muddled mess still after owning our travel trailer for 3 years – but we opted to err on the side of safety by replacing our 4 Runner with a Tundra when the time came.  Cheers!  Jan